At The Horn
02/27/2023
By: Jeff Yoder
Welcome Back
That was fun… Buzzer-beaters were everywhere this weekend. Two must-see game-winners in college hoops and three epic finishes in the NBA brought a weekend full of chaos. March is less than 48 hours away, and hoops hysteria is near. If you like highlights of beating the horn, continue with excitement. It's an all-basketball feature.
Letter Rip!
NCAA
Here Comes Chaos
Four Top-10 Teams Fall in Wild Weekend of College Basketball Upsets & Buzzer-Beaters
The madness is here! There are still 48 hours until March 2023 officially arrives, but the college basketball chaos is in full effect. The weekend produced four losses by top-10 teams, and another three top-10 teams narrowly survived upset bids. A half-court buzzer-beater in Arizona and a top-10 dogfight in Texas was as "March" as it comes. Meanwhile, Indiana and North Carolina upset Purdue and Virginia, respectively. But it wasn't just madness in the men's game. Iowa stunned Indiana on Caitlin Clark's buzzer-beating 3, and Utah knocked off Stanford in a top-10 battle. Your bracket isn't ready. If it was, it would already be busting.
We'll be crowning regular-season conference champs this week. Here's a look at the chaos from the weekend that was:
Men's Scoreboard
#1 Houston def. East Carolina (76-57)
#2 Alabama def. Arkansas (86-83)
#3 Kansas def. West Virginia (76-74)
#17 Indiana def. #5 Purdue (79-71)
*Jalen Hood-Schifino Scores Career-High 35 Points
North Carolina def. #6 Virginia (71-63)
Arizona State def. #7 Arizona (89-88)
*Desmond Cambridge Jr. Hits Half-Court Game-Winner
#9 Baylor def. #8 Texas (81-72)
#10 Marquette def. DePaul (90-84)
#12 Gonzaga def. #15 Saint Mary's (77-68)
Women's Scoreboard
#1 South Carolina def. Georgia (73-63)
#6 Iowa def. #2 Indiana (86-85)
*Caitlin Clark (34 Points) Buries Game-Winning 3
#8 Utah def. #3 Stanford (84-78)
#5 LSU def. Mississippi State (74-59)
#7 Maryland def. #16 Ohio State (76-74)
#9 Virginia Tech def. Georgia Tech (65-52)
#10 Notre Dame def. Louisville (68-65)
#22 North Carolina def. #11 Duke (45-41)
Partner: Fan of Purdue or Indiana? Then Homefield is the premier place to go if you're looking to represent your school. With vintage-inspired designs that properly tell the unique story of each university, you won't be able to find college gear like this anywhere else. Find unique, premium shirts, hoodies, and more from not only Purdue or Indiana but over 150 schools for you and your family today. Shop Homefield Now
______________________________________________________________________________________
NBA
Dame's Big Game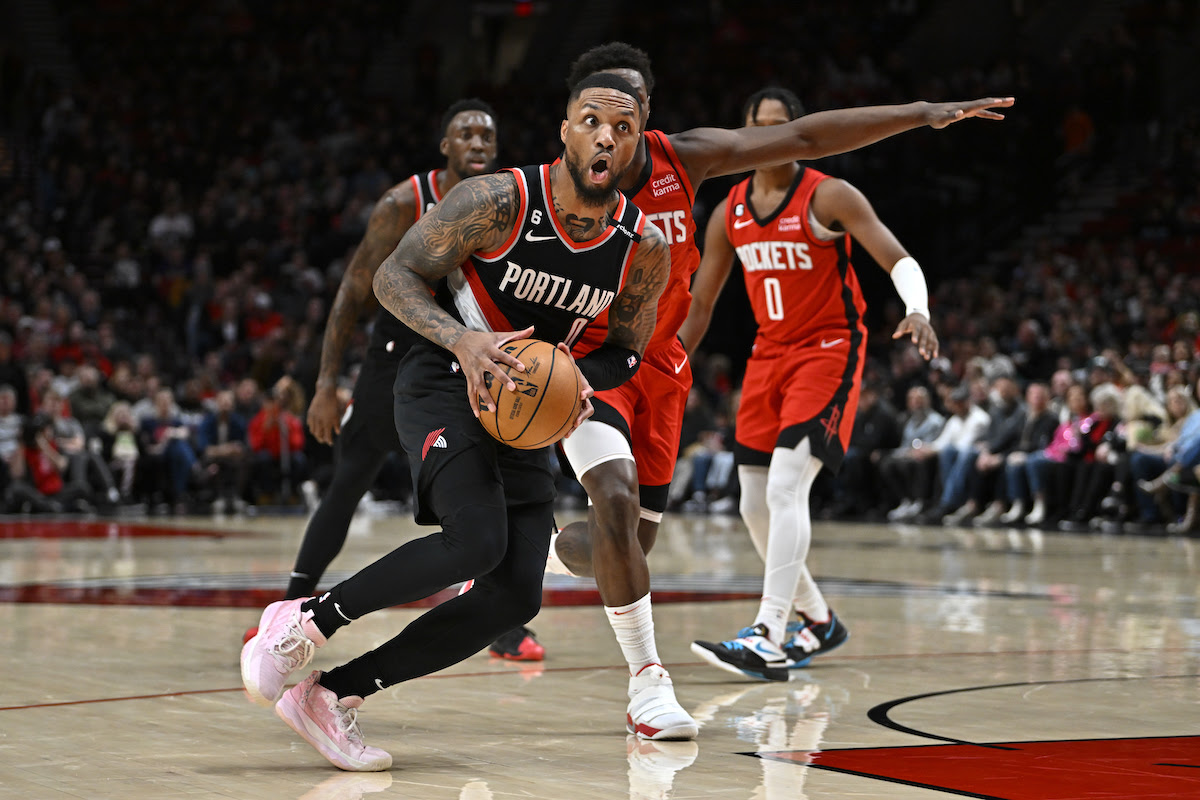 Damian Lillard (Career-High 71 Points) Sets Franchise Records With 13 3s On Epic Shooting Night
Have a night, Dame! The NBA's whacky scoring-palooza continued Sunday night with a 71-point career-high from Damian Lillard. Dame went 22-for-38 from the floor, including 13-for-22 from 3-point range en route to a 71-6-6 stat line as the Blazers pounded the Rockets (131-114). It was the second 70-point game of the season (Donovan Mitchell, 71, Jan. 2), and it was his fifth career 60-point game. Only Kobe Bryant (6) and Wilt Chamberlain (32) have more. It wasn't just a 3-point fiesta either — although his 13 triples were one shy of the NBA record. Dame also hammered down a poster dunk on Jabari Smith. He exited with 44 seconds left to a standing ovation and a plethora of Blazers franchise records, including most points and 3s in a game.
Dame History: At age 32, Lillard is the oldest player in NBA history with a 70-point game. He became just the eighth player to score 70 in a game, joining Chamberlain, Bryant, Elgin Baylor, David Thompson, David Robinson, Devin Booker and Donovan Mitchell. He also became the fourth player to score multiple 60-point games in a single season.
Watch: Lillard Scores Career-High 71 Points
Other NBA Highlights
Bucks Edge Suns for 14th Straight: No Giannis Antetokounmpo or Kevin Durant in action on Sunday, but the Bucks got 33 points from Jrue Holiday to beat the Suns (104-101) and extend their win streak to 15 games.
Celtics-76ers Wild Finish: One of the craziest finishes in recent memory took place Saturday night in Philly where the Celtics beat the 76ers (110-107) after Philadelphia made a late comeback. Jayson Tatum hit the go-ahead 3 with 1.7 seconds left before Joel Embiid (41-12-5) netted a 75-foot prayer that would've sent the game into overtime, but the ball was still in his hand when the clock hit zero.
 Trae Young's Buzzer-Beater: After news that the Hawks hired their new coach Quin Snyder, Atlanta celebrated with a game-winning jumper from Trae Young to beat the Nets (129-127). Young had 34 points and 8 assists, and the Hawks are 2-0 since firing head coach Nate McMillan.
Lakers Rally From 27 Down: The new-look Lakers have a new attitude, too. After an overhaul at the trade deadline, Los Angeles won its third straight by completing a 27-point comeback to beat the Mavs (111-108) — the largest rally of the NBA season. Anthony Davis led the way with 30 points and 15 rebounds.
Jokic Drops 40-Pt Triple-Double: Another wild finish closed out the weekend in Denver where the Nuggets outlasted the Clippers (134-124, OT) behind Nikola Jokic's 40-17-10 night. Paul George hit a half-court heave at the end of regulation that didn't count, but it would've capped a magical weekend of buzzer-beaters.
Additional Storylines
ESPN: Damian Lillard Sizzles With Career-High 71 on 13 3-Pointers
CBS Sports: Quin Snyder Agrees to 5-Year Deal to Become Coach of Hawks
______________________________________________________________________________________
NHL
NHL Trade Deadline Tracker
A number of NHL trades went down over the weekend culminating in the blockbuster that sent Timo Meier from the Sharks to the Devils. Below is a list of the major trades from the weekend. We'll have full coverage and a complete recap of the NHL trade deadline this week as it gets closer (Friday, March 3).
F Timo Meier + 4 Players + 5th-Round Pick (Sharks) → Devils
Sharks Get: 4 Players + 1st, 2nd & 7th-Round Picks
F Nino Niederreiter (Predators) → Jets
Predators Get: 2nd-Round Pick (2024)
F Tanner Jeannot (Predators) → Lightning
Predators Get: D Cal Foote + 1st, 2nd, 3rd, 4th & 5th-Round Picks
F Evgeni Dadonov (Canadiens) → Stars
Canadiens Get: F Denis Gurianov
F Ivan Barbashev (Blues) → Golden Knights
Blues Get: F Zach Dean
______________________________________________________________________________________
 THE HIGHLIGHTS
EFL: Manchester United Take Carabao Cup
Manchester United shut out Newcastle on Saturday (2-0) in the Carabao Cup finale to claim their first hardware of 2023. Casemiro (33') and Marcus Rashford (39') struck fast just a few minutes apart late in the first half, and the Red Devils cruised to their sixth EFL title — the first since 2017.
NHL: Kaprizov's Late Hat Trick Saves Wild
Among the weekend highlights in the NHL was a Sunday night spectacular from Kirill Kaprizov and the Minnesota Wild. After trailing the Blue Jackets (2-0) in the third period, Kaprizov scored twice to force overtime before completing the hat trick and earning their fifth win in six games.
BOXING: Tommy Fury Hands Jake Paul 1st Loss
The highly anticipated boxing match between Tommy Fury and Jake Paul went a full eight rounds before Fury was declared the winner in a split-decision victory (76-73, 76-73, 74-75). Paul finally answered the call to fight a "real boxer," and he put up a strong performance while even sending Fury to the canvas once.
PGA: Kirk Captures Honda Classic for 1st Win
After eight years, Chris Kirk is a winner on the PGA Tour once again. Kirk (-14) defeated Eric Cole (-14) in a playoff to win the Honda Classic on Sunday for his first victory since 2015. He even stepped away from golf in 2019, but the 37-year-old took home $1.5 million on Sunday.
______________________________________________________________________________________
THE STORYLINES
So far, forwards Bo Horvat (New York Islanders), Vladimir Tarasenko (New York Rangers), Ryan O'Reilly (Toronto Maple Leafs) and Dmitry Orlov (Boston Bruins) are the biggest names who have moved, but there are plenty of other candidates who could be dealt. (USA Today)
Cactus League and Grapefruit League play began in earnest Saturday and that means the entire league is experiencing the new pitch timer for the first time. Early returns from spring training have seen hitters being called on violations far more than pitchers. (CBS Sports)
The NFL Scouting Combine is days away (Tuesday). Hundreds of prospects hope to impress evaluators in interviews and workouts that will impact their standing on draft boards around the league. Here's what scouts are watching for this year… (FOX Sports)
______________________________________________________________________________________
 THE HEADLINES