36 & Counting
03/28/2023
By: Jeff Yoder
Good Morning,
Perfection remains intact for South Carolina. The Women's Final Four is now set, and the Gamecocks are two games away from becoming the 10th team in women's college basketball history to complete a perfect season. There's just one problem… Caitlin Clark.
Letter Rip!
NCAAW TOURNAMENT
Still Perfect: 36 & Counting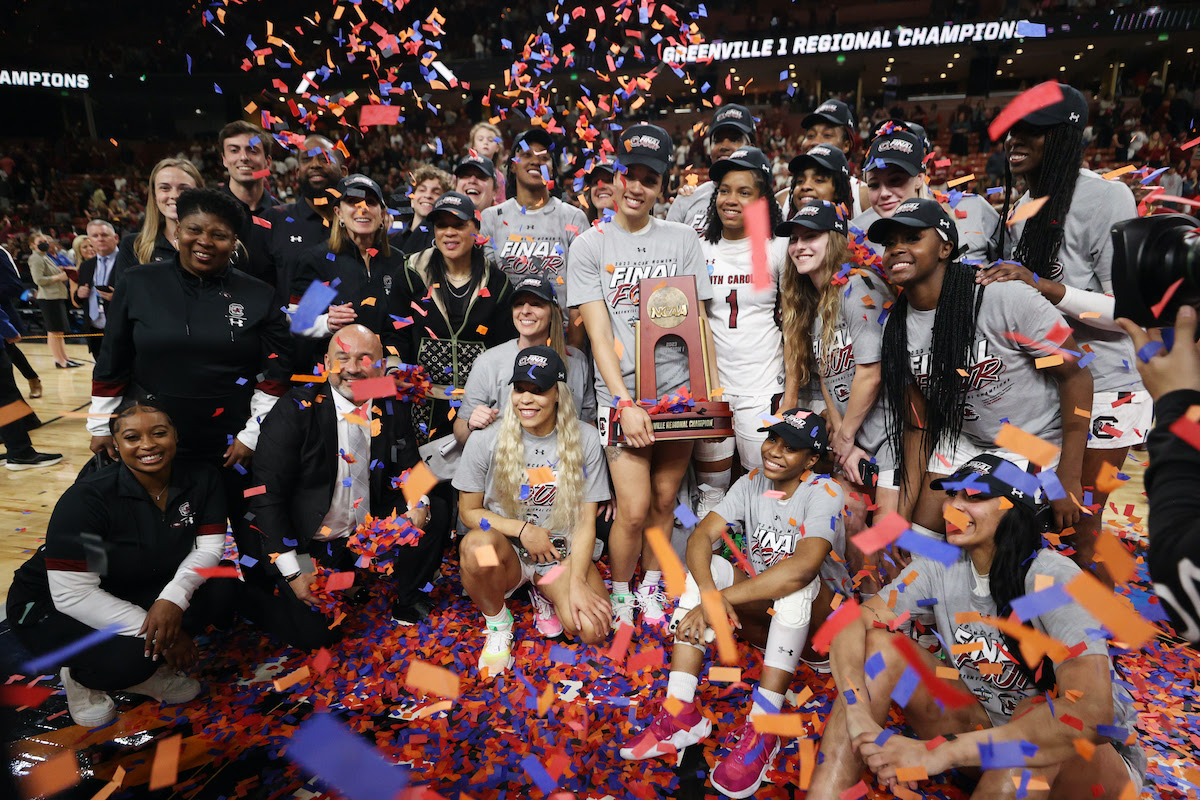 #1 South Carolina & #1 Virginia Tech Join #2 Iowa & #3 LSU in Women's Final Four
Still perfect! The Women's NCAA Final Four is set after Monday's double feature where South Carolina staved off Maryland to stay unbeaten and Virginia Tech outlasted Ohio State. The path to a title sets up for Aliyah Boston vs. Caitlin Clark (SC vs. Iowa) and a pair of underdog stories in LSU and Va-Tech. There's no UConn, Notre Dame or Stanford as we fly toward Dallas for the last stand in the women's game. Here's how Monday happened:
#1 South Carolina def. #2 Maryland (86-75)
The undefeated Gamecocks got Maryland's best shot early in Monday's Elite 8 showdown, falling behind by six after the first quarter. South Carolina flipped the script in the second and third quarters to take a 12-point lead into the 4th that didn't waver. Maryland shot 50 percent from the field and from 3, but it wasn't enough to upend the favorites. Aliyah Boston had a 22-point, 10-rebound night to lead the way, and South Carolina (36-0) is two wins away from a perfect season. The defending champs get Caitlin Clark and the sharpshooting Hawkeyes on Friday.
#1 Virginia Tech def. #3 Ohio State (84-74)
Virginia Tech's dream season continues! Va-Tech surprised the NCAA with a run to a 1-seed at the end of the season, but they've proven they belong with the program's first trip to the Final Four. Ohio State hung with the Hokies through the first half, but Va-Tech's dynamic duo was too much. The Hokies got 49 combined points from Georgia Amoore (24) and Elizabeth Kitley (25). Amoore knocked down four 3s. For Ohio State, Taylor Mikesell (25 points) went 7-for-11 from deep, but the rest of the team shot 0-for-9. Virginia Tech gets Angel Reese and LSU for a shot at the title game.
Women's Final Four History
#1 South Carolina: 6th Final Fours | 2 National Titles
#1 Virginia Tech: 1st Final Four | 0 National Titles
#2 Iowa: 2nd Final Four | 0 National Titles
#3 LSU: 6th Final Four | 0 National Titles
Women's Final Four (Friday)
#1 Virginia Tech vs. #3 LSU (Fri. 7:00 pm ET)
#1 South Carolina vs. #2 Iowa (Fri. 9:00 pm ET)
Women's NCAA Tournament Bracket
Additional Storylines
CBS Sports: Virginia Tech Heads to Final Four for 1st Time in School History
USA Today: There's No Stopping South Carolina's Wave Of Talent
Yahoo! Sports: Still Perfect: No. 1 South Carolina Holds Off No. 2 Maryland for 3rd Straight Final Four
______________________________________________________________________________________
NFL
LJ's Trade Request
The Latest on Lamar Jackson After QB Goes Public With Trade Request
It's been a month of madness for NFL free agents and offseason moves, and no storyline (sans Aaron Rodgers) has had more chaos than Lamar Jackson and the Ravens. The disgruntled and recently franchise-tagged quarterback went public with his trade demands on Monday just before Ravens head coach Jim Harbaugh was set to speak to the media at the NFL's annual meetings. Coincidence? Jackson — a former MVP who represents himself as his own agent — was given the franchise tag earlier this month. He's allowed to negotiate with other teams, but he's taking it upon himself to force the Ravens' hand.
"As of March 2nd, I requested a trade from the Ravens organization for which the Ravens has not been interested in meeting my value, any and everyone that's has met me or been around me know I love the game of football and my dream is to help a team win the super bowl." — Lamar Jackson
Who Should Target LJ?
The fascinating developments of the Jackson saga center around the fact that the Ravens have allowed the 31 other teams in the league to set Jackson's value before matching any deal that comes in. Teams that could be good fits include the Commanders, Falcons, Vikings, Titans, and Colts. The Patriots and Jets don't seem interested, while the Texans and Panthers are likely to draft quarterbacks next month.
Additional Storylines
CBS Sports: 11 Logical Landing Spots for Former MVP Lamar Jackson
ESPN: The Biggest Questions Following Lamar Jackson's Trade Request
______________________________________________________________________________________
THE HIGHLIGHTS
Clinching Season
Toronto Maple Leafs & New York Rangers Clinch NHL Playoff Bids; Sacramento Kings (NBA) Still On Hold
We're just a few weeks away from the start of the NBA and NHL playoffs, and that means it's clinching season. Both league's Eastern Conference standings are definitively stacked with nine total teams already clinching postseason berths. Both Western Conference outlooks tell a different story. Only two NBA teams from the West have locked down their playoff spots — Denver Nuggets and Memphis Grizzlies. No West teams in the NHL have secured postseason bids, but two more East teams clinched on Monday. Let's break down both leagues and the end-of-season jockeying for playoff positions.
Playoff Bids & Latest Updates
NBA (Clinched)
East: Bucks (54-21)
East: Celtics (52-23)
East: 76ers (49-26)
East: Cavaliers (48-28)
West: Nuggets (51-24)
West: Grizzlies (47-27)
NBA News & Highlights
Timberwolves Deny Kings From Clinching Playoffs
Pelicans Win 5th Straight to Move Back Into Playoff Picture
Quickley Scores 40 as Knicks Nearing 5-Seed in East
Nikola Jokic Posts 29th Triple Double as Nuggets Top 76ers
NHL (Clinched)
East: Bruins (119 points)
East: Hurricanes (103 points)
East: Devils (100 points)
East: Maple Leafs (97 points)
East: Rangers (96 points)
NHL News & Highlights
Maple Leafs Clinch 7th Straight Playoffs With Panthers' Loss
Rangers Clinch Postseason Berth on Monday
Matt Boldy's Hat Trick Keeps Wild Atop Central
Oilers Rally in 3rd to Stay Alive in Pacific Race
______________________________________________________________________________________
THE STORYLINES
MLB Offseason's Most Chaotic Moments
The opening week of the 2023 MLB season is just three days away following a baseball offseason that was, in a word, chaotic. What did the offseason moves mean for the teams that made them — and for the rest of MLB? (ESPN)
The 2023 NFL draft is one month away, and while it remains to be seen how things will unfold, we have a much clearer picture than we did a month ago. Here are 10 early predictions for the April 27-29 draft. (Bleacher Report)
This season, teams have conducted Pride celebrations to varying degrees – with Pride warm-up jerseys, rainbow-colored tape on sticks, outreach programs, and more. But some teams and players have drawn scrutiny with opt-outs and a lack of participation. (USA Today)
______________________________________________________________________________________
THE HEADLINES