And Then There Were 4
03/27/2023
By: Jeff Yoder
Didn't See That Coming…
No 1-seeds in the Elite 8 for the first time ever? No 1s, 2s, or 3s in the Final Four for the first time ever? No teams from the Big Ten, Big 12, Pac-12, or SEC? The Final Four is set, and it's the second-highest combination of seeds in tournament history (23). Cinderella has more feet than slippers.
The madness continues…
BRACKETS
The Leaderboard
We already have a champion in The Sportsletter's Bracket Challenge. Congrats to Peter F.! Peter charged ahead with UConn leading him to the top. Mathematically, he's uncatchable due to the number of sleepers in the Final Four. Plenty of participants are still eligible for 2nd and 3rd as Final Four weekend nears.
The Sportsletter Brackets
1. Peter F. — 71 Points (UConn)
2. Parker O. — 68 Points (Texas)
3. LeBaron J. — 67 Points (Houston)
4. Duke S. — 66 Points (Kansas)
T5. Andrew S. — 64 Points (Texas)
T5. Anita X. — 64 Points (Purdue)
Eligible With Points Remaining: Nate L. (63 pts), Jeff J. (63 pts), Bernard A. (59 pts), Ronel P. (56 pts)
______________________________________________________________________________________
NCAAM TOURNAMENT
And Then There Were 4…
Men's Final Four: #9 Florida Atlantic, #5 San Diego State, #5 Miami & #4 UConn
If you don't believe in the madness, it will find you anyway. We entered Sweet 16 & Elite 8 weekend with two 1-seeds, two 2-seeds, and a trio of 3-seeds. None of those top seven squads remain, and we have one historic Cinderella-filled Final Four. It's the first time in NCAA Tournament history that no 1-seeds even reached the Elite 8. By Sunday night, four teams are still alive — one 4, two 5s, and a 9. Two of the three March Madness weekends are in the books. It's Owls vs. Aztecs and Hurricanes vs. Huskies. Let's do it.
Fun With Seeds: The 2023 Final Four features the second-highest combination of seeds in NCAA Tournament history (23). Only 2011 featured a higher seed count — UConn (3), Kentucky (4), Butler (8), and VCU (11). All four of this year's teams finished the regular season in the AP top-25 — UConn (10), Miami (16), San Diego State (18), and Florida Atlantic (25).
Elite 8 Highlights
#9 Florida Atlantic def. #3 Kansas State (79-76)
History in the East! The 9-seed Florida Atlantic outplayed 3-seed Kansas State in Saturday's opener. The Owls weathered a scorching-hot performance from K-State's Markquis Nowell (30 points, 12 assists, 5 steals) to carry a seven-point lead into the final minutes before K-State made it interesting. FAU hit nine of their last ten free throws in the final four minutes to escape. And in their second trip to the NCAA Tournament, the Florida Atlantic Owls of Conference USA punched the first ticket to the Final Four.
#4 UConn def. #3 Gonzaga (82-54)
Saturday's nightcap was a no-contest as UConn flexed their muscles on Gonzaga in the West region. The Huskies got 20 points on six 3s from Jordan Hawkins and used a 21-5 run to open the second half and stroll into Houston. Connecticut held Gonzaga to just 2-for-20 from deep (10 percent), and the Huskies boast an average margin of victory of 22.5 points per game through four games in the NCAA Tournament. They're heading back to the Final Four for the sixth time and the first since they won the title in 2014.
#5 San Diego State def. #6 Creighton (57-56)
A thriller in the South! Sunday's Elite 8 games started with a bang as San Diego State and Creighton went down to the wire. Neither team led by more than eight, and neither team could connect from deep — a combined 5-for-30. Low turnovers and strong defense led to a low-scoring game that came down to the final possession. SDSU's Darrion Trammell drew a foul on a floater with 1.2 seconds left. He hit the second free throw to give the Aztecs the advantage and their first Final Four appearance in program history.
#5 Miami def. #2 Texas (88-81)
Comeback, 'Canes! The last Elite 8 matchup of the weekend might've provided the best comeback of the tournament. Texas led Miami by double digits with just eight minutes to play (70-60), but Miami went on a run to tie the game at 77-all. The Canes hit ten consecutive free throws down the stretch, and they outscored Texas by 20 in the final 12 minutes to complete the comeback. Jordan Miller (27 points) made NCAA Tournament history as the second player ever with a perfect game — 7-for-7 from the floor and 13-for-13 from the line — joining only Christian Laettner. Head coach Jim Larranaga is leading the Hurricanes to their first Final Four in program history. It's Larranaga's first since leading 11-seed George Mason to the Final Four in 2006.
Elite 8 Top Performers
Markquis Nowell (KSU): 30 points, 12 assists, 5 steals
Jordan Miller (MIA): 27 points (Perfect 20-for-20)
Jordan Hawkins (CONN): 20 points, 6 rebounds
LaMont Butler (SDSU): 18 points
Johnell Davis (FAU): 13 points, 8 rebounds, 6 assists
Final Four Team History
#9 Florida Atlantic: 1st Final Four | 0 National Titles
#5 San Diego State: 1st Final Four | 0 National Titles
#5 Miami: 1st Final Four | 0 National Titles
#4 Connecticut: 6th Final Four | 4 National Titles
Last year was a blue-blood Final Four with Duke, North Carolina, Kansas and Villanova boasting a combined 61 Final Four appearances and 17 championships. This year's group comes in with just five previous Final Fours and four titles — all belonging to UConn.
Final Four (Saturday)
#4 UConn vs. #5 Miami (6:09 pm ET)
#5 San Diego State vs. #9 Florida Atlantic (8:49 pm ET)
Additional Storylines
USA Today: UConn is the Team to Beat in Final Four — And the Huskies Know It
ESPN: The FAU Owls & The 10 Most Amazing Runs to the Final Four
SI: Drew Timme's Gonzaga Era Accomplished Everything But the Ultimate Prize
CBS Sports: Miami Stages Massive 2nd-Half Rally to Knock Off Texas & Reach Final Four
______________________________________________________________________________________
NCAAW TOURNAMENT
Deadeye, Hawkeye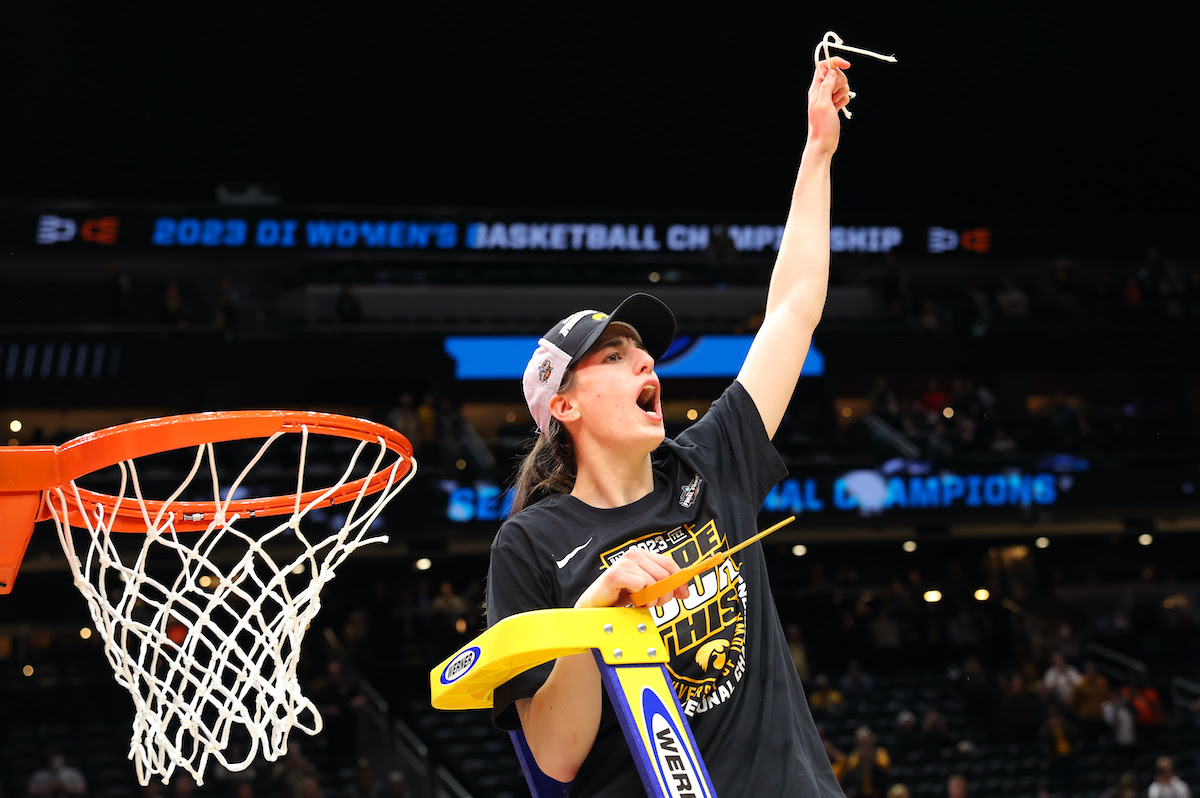 Caitlin Clark Fires Historic 41-Point Triple Double; #2 Iowa & #3 LSU Secure 1st Half of Women's Final Four
Half of the Women's NCAA Final Four is locked, and there's history on both accounts. Kim Mulkey is leading LSU to the Final Four in Year 2, and Caitlin Clark overwhelmed the scoreboard to send Iowa to their first Final Four in 30 years. Both UConn and Notre Dame were knocked out in the Sweet 16 by Big Ten teams. Here's how the first half of the Women's Final Four came to be with two more games tonight.
The 3-seed LSU and head coach Kim Mulkey outlasted 9-seed Miami in a slug-it-out defensive struggle. The Tigers won the scoreboard in every quarter, but they did most of the damage just before and after halftime. Angel Reese was dominant despite not scoring well from the field. She tallied 13 points, 18 boards, four assists, three steals, and two blocks while Alexis Morris dropped a game-high 21 points. Mulkey — who left Baylor for LSU — enters her 12th Final Four eyeing her fourth title. She's leading LSU to Dallas in Year 2 with nine new players, and that's astonishing. LSU awaits the winner of Virginia Tech and Ohio State.
#2 Iowa def. #5 Louisville (97-83)
Take a bow, Caitlin Clark! Iowa's sharpshooter poured in the first 40-point triple-double in women's NCAA Tournament history (41-12-10). She went 8-for-14 from 3-point range. Louisville's star Hailey Van Lith went for 27 in the loss. The Hawkeyes slow-danced with the Cardinals for the first half and led by just five at the break, but a 30-16 third quarter padded the cushion. It's Iowa's second Final Four appearance and their first since 1993. Iowa awaits the winner of Maryland and South Carolina.
Tonight's Schedule (Elite 8)
#1 South Carolina vs. #2 Maryland (7:00 pm ET)
#1 Virginia Tech vs. #3 Ohio State (9:00 pm ET)
Additional Storylines
SI: Caitlin Clark Records Historic Triple-Double to Lead Iowa to Final Four
Yahoo! Sports: LSU, Kim Mulkey Turn Doubt & Unknowns Into Final Four Berth
______________________________________________________________________________________
OTHER HIGHLIGHTS
NBA Recaps
LeBron Returns But Lakers Lose to Bulls
Morant Leads Grizzlies to 6th Straight, Playoff Berth
Jaylen Brown Drops 41 as C's Throttle Spurs
Jokic Tops Giannis in Nuggets-Bucks Battle
Cavaliers Clinch 1st Playoff Berth in Post-LeBron Era
NHL Recaps
Avalanche Top Coyotes in Shootout for 8th Win in 9 Games
Kings Extend Point Streak to 12 With 7-Goal Outing
Pastrnak Scores Twice, Bruins Escape 'Canes for 7th Straight
Devils Beat Sabres to Clinch 1st Playoff Berth Since 2018
SOCCER: USA Crushes Grenada in Concacaf
The U.S. Men's National Team buried Grenada Friday night in the Concacaf Nations League (7-1). Ricardo Pepi and Weston McKennie scored two goals apiece. They'll face El Salvador tonight for the sixth and final match of the group stage.
PGA: Underdog Burns Captures Match Play Title
Rory McIlroy and Scottie Scheffler both fell in the extra-hole semifinals Sunday at the WGC-Dell Technologies Match Play event, paving the way for Sam Burns and Cameron Young to duke it in the finals. Burns ran away with the title (6 & 5) using immaculate putting to birdie eight out of 10 holes in the final match.
______________________________________________________________________________________
THE HEADLINES