Bracket-Busters, Identified
03/17/2023
By: Jeff Yoder
Happy Friday
Cinderella might have two names in 2023. Both #15 Princeton and #13 Furman are dancing into Round 2 against the odds. Just 12 of Thursday's 16 games went chalk (75%), leaving busted brackets across the world. Less than 0.003 percent of all brackets (787 total) are perfect. Yours isn't one of them. Day 2 tips off shortly…
NCAA Tournament Bracket | Check Your Bracket
Letter Rip!
NCAA TOURNAMENT
Bracket-Busters
#15 Princeton & #13 Furman Play Bracket-Busters On Day 1 of the NCAA Tournament
Are you not entertained? The opening game in the Round of 64 went down to the wire between Maryland and West Virginia before the Terps escaped in the 8-9 matchup (67-65). And that was just the beginning. Moments later, 13-seed Furman stepped into Cinderella's slipper with a game-winning 3 from JP Pegues to beat #4 Virginia, a shot that epitomizes what we love about March. The chaos didn't stop there. As the day rolled on, 15-seed Princeton finished off 2-seed Arizona with a 9-0 run to shock the Wildcats (59-55). The 10-seed Penn State also put a beatdown on 7-seed Texas A&M. When the dust settled, three double-digit seeds are playing into the weekend.
Day 1 Upsets
#13 Furman def. #4 Virginia (68-67)
#15 Princeton def. #2 Arizona (59-55)
#10 Penn State def. #7 Texas A&M (76-59)
Any Perfect Brackets Left?
Not in our group. Just 10 percent of The Sportsletter's Bracket Pool participants correctly picked 12-or-more of the first 16 games, and no one called more than 13. Elsewhere in the world — from a collective analysis of 20 million-plus brackets across the internet — just 787 had a perfect first day. That's less than 0.003 percent.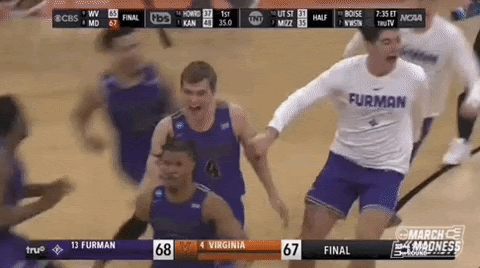 Top Seeds Who Looked Good
Kansas (1) and UCLA (2) had the largest margins of victory in their opening-round matchups, but that was to be expected from the 1- and 2-seed in the West Region. Alabama (1) and Texas (2) also cruised to victories of 20-plus points while 5-Seed Duke played as well as any team on Day 1 by handing pesky Oral Roberts a blowout loss.
Top Seeds Who Looked Bad
Houston (1) struggled to put Northern Kentucky (16) away, and they played Marcus Sasser who re-aggravated a groin injury that could be detrimental moving forward. Tennessee (4) and San Diego State (5) also look shaky at times before narrowly escaping their mid-major opponents.
Sharpshooters From Day 1
Andrew Funk (PSU): 27 pts (8-for-10, 3pt)
Sir'Jabari Rice (TEX): 23 pts, 6 rebs, 3 asts (7-for-10, 3pt)
D'Moi Hodge (MIZZOU): 23 pts (5-for-10, 3pt)
Other Top Performances
Gradey Dick (KU): 19 pts, 11 rebs, 5 asts, 3 stls
Jaime Jaquez Jr. (UCLA): 17 pts, 8 rebs, 5 stls
Jeremy Roach (DUKE): 23 pts
Boo Buie (NU): 22 pts, 5 rebs, 5 asts
Johni Broome (AUB): 19 pts, 12 rebs, 5 blks
Round of 64 Highlights (Yesterday)
#8 Maryland def. #9 West Virginia (67-65)
#7 Missouri def. #10 Utah State (76-65)
#1 Kansas def. #16 Howard (96-68)
#1 Alabama def. #16 Texas A&M-CC (96-75)
#5 San Diego State def. #12 Charleston (63-57)
#8 Arkansas def. #9 Illinois (73-63)
#9 Auburn def. #8 Iowa (83-75)
#5 Duke def. #12 Oral Roberts (74-51)
#2 Texas def. #15 Colgate (81-61)
#7 Northwestern def. #10 Boise State (75-67)
#1 Houston def. #16 Northern Kentucky (63-52)
#4 Tennessee def. #13 Louisiana (58-55)
#2 UCLA def. #15 UNC Asheville (86-53)
Men's Round of 64 Schedule (Today)
#7 Michigan State vs. #10 USC (12:15 pm)
#3 Xavier vs. #14 Kennesaw State (12:40 pm)
#3 Baylor vs. #14 UC Santa Barbara (1:30 pm)
#5 Saint Mary's vs. #12 VCU (2:00 pm)
#2 Marquette vs. #15 Vermont (2:45 pm)
#6 Iowa State vs. #11 Pittsburgh (3:10 pm)
#6 Creighton vs. #11 NC State (4:00 pm)
#4 UConn vs. #13 Iona (4:30 pm)
#1 Purdue vs. #16 Fairleigh Dickinson (6:50 pm)
#6 Kentucky vs. #11 Providence (7:10 pm)
#5 Miami vs. #12 Drake (7:25 pm)
#3 Gonzaga vs. #14 Grand Canyon (7:35 pm)
#8 Memphis vs. #9 Florida Atlantic (9:20 pm)
#3 Kansas State vs. #14 Montana State (9:40 pm)
#4 Indiana vs. #13 Kent State (9:55 pm)
#6 TCU vs. #11 Arizona State (10:05 pm)
*All Times ET
Updated NCAA Bracket | Check Your Bracket
The madness continues today. Let's go!
Additional Storylines
SI: Princeton is the New Cinderella 15-Seed on the Block
B/R: Men's NCAA Tournament 2023: Thursday's 1st-Round Winners & Losers
FOX Sports: March Madness Upset Tracker: How Far Can Furman & Princeton Go?
USA Today: Houston Ruined Its Title Hopes by Playing Marcus Sasser Before He Was Ready
______________________________________________________________________________________
 OTHER HIGHLIGHTS
NBA: Kings Ready to Break Playoff Drought
The Sacramento Kings are on the brink of snapping a 17-year playoff drought (2006) after beating the Nets on Thursday (101-96) behind a stellar night from Damontas Sabonis (24 pts, 21 rebs, 5 asts, 4 blks). The Kings (42-27) have won eight of their last ten, and they can clinch a postseason bid as early as next week.
NHL: Panthers Make History in Crucial Win
The Panthers and Canadiens combined for ten goals in the first period on Thursday — tied for the most in a period in NHL history — before Florida won (9-5). Carter Verhaeghe and Aaron Ekblad each scored twice, and the Panthers pulled within three points in the wild card race.
PGA: Spieth in the Mix at Valspar Championship
Round 1 of the Valspar Championship at Innisbrook is in the books with a plethora of low numbers. Three players are atop the leaderboard at 5-under, but Jordan Spieth (-4) reeled off three straight birdies on the back-nine.
______________________________________________________________________________________
THE STORYLINES
Despite future Hall of Fame quarterback Aaron Rodgers' stated desire to play for the New York Jets in 2023, the Green Bay Packers are reportedly "not close" to trading him to the Jets yet. The Packers want a haul for their Hall of Famer. (Bleacher Report)
The NBA's most prestigious end-of-season award is heading toward another photo finish. It's a three-horse race with Nikola Jokic (Nuggets), Joel Embiid (76ers) and Giannis Antetokounmpo (Bucks) in a dead heat. Let's look at the key stats. (Sporting News)
The Boston Bruins entered the 2022-23 NHL season with modest expectations. The team amassed 107 points last season, before bowing out in the first round of the 2022 Stanley Cup playoffs. Now, they're on the brink of the best season in NHL history. (ESPN)
______________________________________________________________________________________
THE HEADLINES
______________________________________________________________________________________
WEEKEND SCHEDULE
The Must-Watch List
Bring on the madness! This weekend's must-watch list has more than just college hoops, but we'll be locked in on the NCAA Tournament for the next 72 hours. Here's a full list of sports on the docket this weekend.
March Madness
Men's NCAA Tournament Schedule
Women's NCAA Tournament Schedule
NBA
Mavericks at Lakers (Fri. 10:30 pm)
Nuggets at Knicks (Sat. 1:00 pm)
Warriors at Grizzlies (Sat. 8:00 pm)
Raptors at Bucks (Sun. 8:00 pm)
Full NBA Weekend Schedule
NHL
Hurricanes at Maple Leafs (Fri. 7:00 pm)
Oilers at Kraken (Sat. 4:00 pm)
Penguins at Rangers (Sat. 8:00 pm)
Devils at Lightning (Sun. 7:00 pm)
Full NHL Weekend Schedule
Soccer
MLS: Seattle Sounders vs. LAFC (Sat. 4:00 pm)
SPA: Barcelona vs. Real Madrid (Sun. 4:00 pm)
ITA: Inter vs. Juventus (Sun. 3:45 pm)
World Baseball Classic
USA vs. Venezuela (Sat. 7:00 pm)
UFC 286
K. Usman vs. L. Edwards 3 (Sat. 10:00 pm)
PGA Tour
Valspar Championship (All Weekend)
Tennis
Indian Wells Finals (Sunday, TBD)
*All Times ET