Done Deal
04/25/2023
By: Jeff Yoder
Good Morning,
Monday was one of the busiest sports days of April. The Packers-Jets trade for Aaron Rodgers is finally complete. Jimmy Butler is on an absolute heater in the NBA Playoffs. The Kraken are going toe-to-toe with the defending champs in the NHL. And the NFL Draft is just two days away. Plus…
The Underdog is back! Scroll to the bottom of today's edition for a mid-week feature on the Welsh football club that keeps winning hearts.
NFL
Done Deal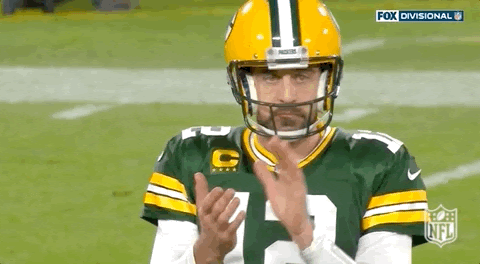 Packers & Jets Finally Agree to Aaron Rodgers Trade in Draft Week Blockbuster
Finally… After two years of head-butting with the front office in Green Bay, the Packers are traded Aaron Rodgers to the Jets ahead of this week's NFL Draft. The trade had been expected since the end of the 2022-23 NFL season, and Rodgers made public comments 40 days ago about his desire to play in New York. The 39-year-old Rodgers is a four-time MVP, including back-to-back awards in 2020 and 2021. And the Jets? They're loaded at every position except quarterback, until now. It's a short window before Rodgers' age finally catches up, so it's Super Bowl or bust in the next two years for New York.
Jets Get: QB Aaron Rodgers, 2023 1st-Round Pick (No. 15)
Packers Get: 2023 1st-Round Pick (No. 13), 2023 2nd-Round Pick (No. 42), 2023 6th-Round Pick (No. 207) & Conditional 2024 2nd-Round Pick
*The 2024 conditional pick becomes a 1st if Rodgers plays 65 percent of New York's snaps this season.
Aaron in the Big Apple
The Jets and Hall of Fame QB Joe Namath gave Rodgers his blessing to wear the retired No. 12 jersey, but he's expected to don No. 8 — the same number he wore in college at California. The Jets are suddenly contenders in the AFC after seven consecutive losing seasons and no playoff appearances since 2010.
Leaving Green Bay Behind
Rodgers' departure marks the end of an era in Wisconsin. The 4-time MVP led the Packers to 11 postseason appearances and one Super Bowl win over 15 seasons as the starter (18 total). Things got contentious between Rodgers and the front office in the past two seasons after the team failed to surround him with talent. For 12, it was a trade to the Jets or retire from football.
Rodgers in the Record Books
Passing Yards: 59,055 (9th All-Time)
Passing TDs: 475 (5th All-Time)
Passer Rating: 103.6 (2nd All-Time)
Reminder: Tom Brady (Bucs) and Matthew Stafford (Rams) both won the Super Bowl in their first season with a new franchise and a luxury of weapons after a decade or more with one team. Those are the only two QBs not named Patrick Mahomes to win a Super Bowl in the last four seasons. Both teams were in the NFC.
Additional Storylines
B/R: How Aaron Rodgers Trade to Jets Impacts the 2023 NFL Draft
ESPN: Aaron Rodgers Trade: Super Bowl or Bust for Jets?
FOX Sports: Aaron Rodgers Trade Analysis: How Jets, Packers Did & What's Next
______________________________________________________________________________________
NBA PLAYOFFS
The Jimmy Takeover
Jimmy Butler (56 Points) & LeBron James (22-20-7) Fuel Heat & Lakers to 4th-Quarter Comebacks, 3-1 Series Leads
Are you ready for some upsets? Ignore the seeds in the NBA Playoff bracket. The Miami Heat (8-seed) and Los Angeles Lakers (7-seed) are taking over in Round 1. Both teams needed to survive the play-in rounds, and they now hold 3-1 leads over the Bucks (1-seed) and Grizzlies (2-seed), respectively. Superstar performances from Jimmy Butler and LeBron James fueled their teams in Monday's doubleheader with a pair of fourth-quarter comebacks. Butler hit another gear and put up 56 points — 22 in the first quarter on 9-for-10 shooting — and delivered a 12-point rally for the Heat down the stretch. Out west, James (22-20-7) dropped in a game-tying layup to force overtime after the Lakers climbed out of a seven-point deficit. James took over in the OT in vintage LeBron fashion, and both the Bucks and Grizzlies are on the brink of elimination.
Editor's Note: Teams that go up 3-1 win the series 95 percent of the time.
Star History: LeBron James became the oldest player ever (38 years, 115 days) and the fifth player in Lakers franchise history with a 20-20-5 performance in the playoffs. Jimmy Butler's 56 points were also a franchise playoff record for the Heat. Butler has 146 points in 140 minutes through four playoff games (1.04 points per minute / 36.5 ppg).
1st-Round Series Highlights
Gm 4: Heat def. Bucks (119-114) | MIA Leads Series (3-1)
Gm 4: Lakers def. Grizzlies (117-111) | LAL Leads Series (3-1)
Star Spotlight
J. Butler (MIA): 56 points, 9 rebounds
L. James (LAL): 22 points, 20 rebounds, 7 assists
Other Top Performers
B. Lopez (MIL): 36 points, 11 rebounds
D. Bane (MEM): 36 points, 7 rebounds, 3 assists
G. Antetokounmpo (MIL): 26 points, 10 rebounds, 13 assists
A. Reaves (LAL): 23 points, 4 rebounds, 6 assists
Tonight's Schedule
Gm 5: Hawks at Celtics (7:30 pm ET) | BOS Leads (3-1)
Gm 5: T-Wolves at Nuggets (9:00 pm ET) | DEN Leads (3-1)
Gm 5: Clippers at Suns (10:00 pm ET) | PHX Leads (3-1)
Additional Storylines
SI: Jimmy Butler Crowns Himself King of the Playoffs
B/R: Jimmy Butler Says 'Playoff Jimmy' is 'Not A Thing' After 56-Point Night
CBS Sports: LeBron Takes Over Late to Power Lakers Past Grizzlies in Game 4
______________________________________________________________________________________
NHL PLAYOFFS
Kraken Still Kickin'
Devils & Kraken Win Game 4s to Even Series (2-2); Maple Leafs & Golden Knights Go Up 3-1
The first round continued in the Stanley Cup Playoffs on Monday with two overtime games and a pair of series that could go seven. The Devils got one back on the Rangers and the Kraken evened things with the Avalanche courtesy of Jordan Eberle's OT winner. The Golden Knights pushed the Jets to the brink of elimination. And the Maple Leafs — using a three-goal third period comeback — topped the Lightning with Alexander Kerfoot's OT winner. All eight opening-round series are still going strong, but the Hurricanes can be the first team through to the quarterfinals tonight.
1st-Round Series Highlights
Gm 4: Devils def. Rangers (3-1) | Series Tied (2-2)
Gm 4: Maple Leafs def. Lightning (5-4) | TOR Leads (3-1)
Gm 4: Golden Knights def. Jets (4-2) | VGK Leads (3-1)
Gm 4: Kraken def. Avalanche (3-2, OT) | Series Tied (2-2)
Tonight's Schedule
Gm 5: Islanders at Hurricanes (7:00 pm ET) | CAR Leads (3-1)
Gm 5: Wild at Stars (8:00 pm ET) | Series Tied (2-2)
Gm 5: Kings at Oilers (9:30 pm ET) | Series Tied (2-2)
Additional Storylines
ESPN: Jets Lose Mark Scheifele to Injury as Golden Knights Take 3-1 Lead
SportsNet: Maple Leafs' Kerfoot Caps Massive Game 4 Comeback
______________________________________________________________________________________
MLB
MLB Quick-Hitters
Strider Makes Braves History: The Braves shut out the Marlins (11-0) and halted a four-game losing streak last night with a near no-hitter from Spencer Strider (8 IP, 13 Ks, 2 H, 0 ER). It wasn't perfect, but Strider's 13-K gem made him the first pitcher in Braves history to record nine-or-more strikeouts in nine consecutive starts.
Rays Improve to 14-0 at Home: Make it 20-3 and 14-0 at Tropicana Field for the Rays. Tampa Bay took down the Astros on Monday (8-3) thanks to a big night from Wander Franco (4-for-5, 2 Runs, 1 RBI). It's the longest home-winning streak to start a season in the modern era.
______________________________________________________________________________________
THE STORYLINES
The playoff field is set for the first season of XFL version 3.0. The eight-team league is down to its final four. This marks the first time since the original incarnation of the XFL that the league will have playoff games. (USA Today)
Here's a novel concept: When you pitch well, you play well. The Rays are still MLB's top dog, but surprise teams — Pirates, Orioles, and Rangers — are riding pitching fast starts. Here are the MLB Power Rankings after baseball's first month. (FOX Sports)
So what if three of the Premier League's top-half contenders were on FA Cup semifinal duty, leaving only eight matches on the weekend docket: Week 32 of the 2022-23 Premier League season delivered the goods. (NBC Sports)
______________________________________________________________________________________
THE HEADLINES