Draft Day Viewer's Guide
04/27/2023
By: Jeff Yoder
Happy Draft Day
Dreams come true tonight in Kansas City as 31 players get drafted to the NFL. We've got the official Draft Day Guide for your viewing pleasure. Plus, more Jimmy Butler heroics for the Heat. The Knicks break a decade-long drought. And one MLB debut you won't want to miss.
Draft Day is always a spectacle. The Carolina Panthers are on the clock…
Letter Rip!
NFL DRAFT
The Draft Day Guide
Draft-Day Notes & Top-5 Players at Each Position — Tonight (8:00 pm ET, ESPN)
After three months of offseason shuffling since the Chiefs topped the Eagles in Super Bowl LVII, the NFL's marquee offseason moment is finally here. Your team looks different than it did just three months ago, and the draft gives each franchise a chance to select their pieces of the future. We shared The Sportsletter's Mock Draft 2.0 in yesterday's edition. We'll go a little deeper in today's edition, featuring potential trades, team needs and the best players at each position. The Panthers already know who they're taking with No. 1 overall, but no one else does. One of sport's greatest live-action off-the-field events is about to launch. Let's strap in.
Teams With Multiple 1st-Round Picks
Texans: Pick #2, Pick #12
Seahawks: Pick #5, Pick #20
Lions: Pick #6, Pick #18
Eagles: Pick #10, Pick #30
Potential Trades & Swaps
Almost every year one team swaps a first-round pick for a veteran player they know will make an immediate impact. Watch for the teams with multiple picks (above) to use that capital for trading back and grabbing veterans. Don't be surprised to see the Titans (Pick #11) move up for a quarterback or the Cardinals (Pick #3) to move back. The Eagles and Seahawks are also teams to watch with a long history of draft-day trades.
Veteran Draft-Day Trade Candidates
A few aging veterans in not-so-great situations could be viable options for draft-day trade bait. Here are a few we'll keep an eye on: WR DeAndre Hopkins (Cardinals), RB Dalvin Cook (Vikings), RB Austin Ekeler (Chargers), and RB Derrick Henry (Titans).
Surprising Fact: Believe it or not… If the Panthers select QB Bryce Young with the No. 1 pick, he'll be the first Alabama player selected No. 1 overall in the history of the NFL.
Top-5 Players at Each Position
QB: 1. Bryce Young (ALA), 2. C.J. Stroud (OSU), 3. Will Levis (UK), 4. Anthony Richardson (FLA), 5. Hendon Hooker (TEN)
RB: 1. Bijan Robinson (TEX), 2. Jahmyr Gibbs (ALA), 3. Tyjae Spears (TUL), 4. Zach Charbonnet (UCLA), 5. Devon Achane (TEX A&M)
WR: 1. Jaxson Smith-Njigba (OSU), 2. Zay Flowers (BC), 3. Jordan Addison (USC), 4. Quentin Johnson (TCU), 5. Jalin Hyatt (TEN)
TE: 1. Dalton Kincaid (UTAH), 2. Michael Mayer (ND), 3. Darnell Washington (UGA), 4. Luke Musgrave (ORE ST), 5. Sam LaPorta (IOWA)
OT: 1. Paris Johnson Jr. (OSU), 2. Peter Skoronski (NU), 3. Broderick Jones (UGA), 4. Darnell Wright (TEN), 5. Anton Harrison (OU)
OL: 1. O'Cyrus Torrence (FLA), 2. Steve Avila (TCU), 3. John Michael Schmitz (MIN), 4. Luke Wypler (OSU), 5. Joe Tippmann (WIS)
DL: 1. Jalen Carter (UGA), 2. Calijah Kancey (PITT), 3. Bryan Breese (CLEM), 4. Mazi Smith (MICH), 5. Adetomiwa Adebawore (NU)
EDGE: 1. Will Anderson Jr. (ALA), 2. Tyree Wilson (TEX TECH), 3. Lukas Van Ness (IOWA), 4. Myles Murphy (CLEM), 5. Keion White (GA TECH)
LB: 1. Nolan Smith (UGA), 2. Jack Campbell (IOWA), 3. Drew Sanders (ARK), 4. Trenton Simpson (CLEM), 5. Henry To'oTo'o (ALA)
CB: 1. Christian Gonzales (ORE), 2. Devon Witherspoon (ILL), 3. Joey Porter Jr. (PENN ST), 4. Emmanuel Forbes (MISS ST), 5. Cam Smith (SC)
S: 1. Brian Branch (ALA), 2. Jordan Battle (ALA), 3. Antonio Johnson (TEX A&M), 4. Ji'Ayir Brown (PENN ST), 5. Sydney Brown (ILL)
NFL Draft Schedule
Tonight: Round 1 (8:00 pm ET)
Tomorrow: Rounds 2-3 (7:00 pm ET)
Saturday: Rounds 4-7 (Noon ET)
Here we go. The Panthers are on the clock…
Additional Storylines
SI: Breaking Down Strengths & Weaknesses of Each Presumptive First-Round QB
USA Today: 12 Big-Name Veterans Who Could Be Traded During the Draft
B/R: A 2023 Draft-Day Trade That Makes Sense for Every NFL Team
FOX Sports: 2023 NFL Draft Sleepers: The 10 Favorite Day 2 & 3 Prospects
______________________________________________________________________________________
NBA PLAYOFFS
Heat Checked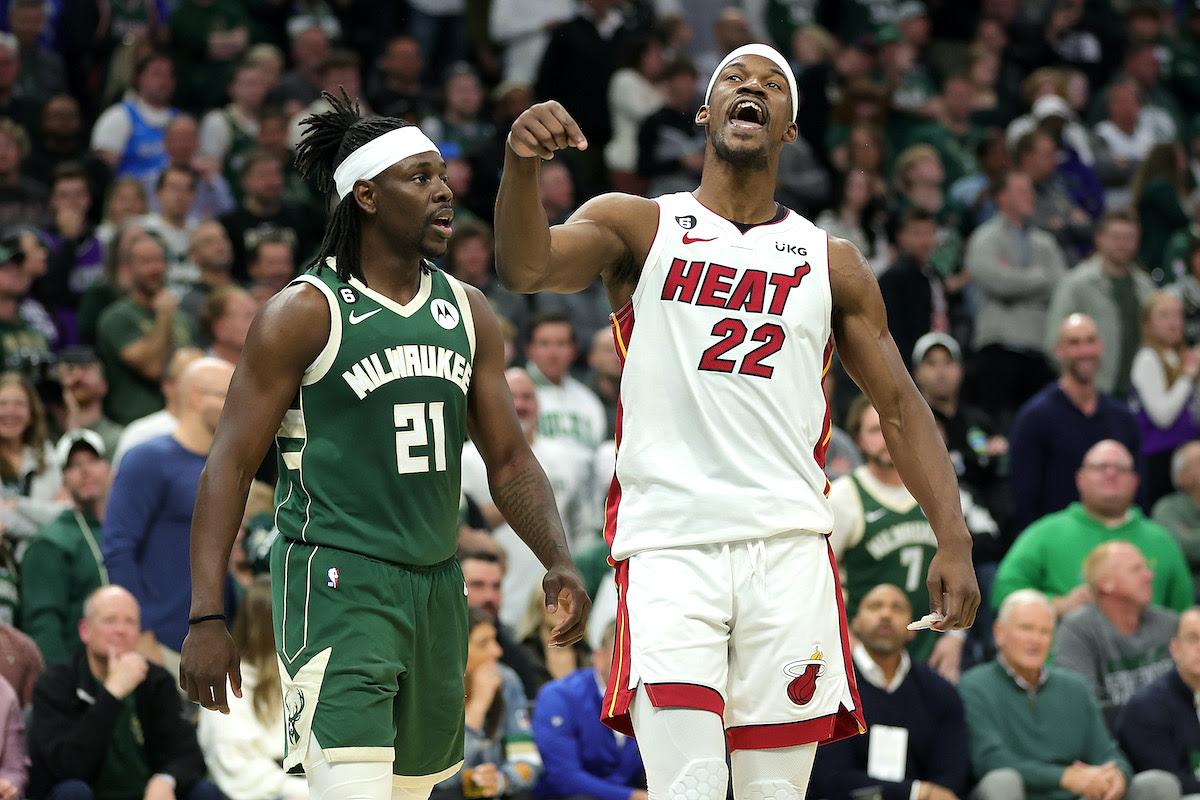 Jimmy Butler Circus Shot Forces OT Before Heat Eliminate Bucks; Knicks Win 1st Playoff Series in a Decade; Warriors & Grizzlies Win Game 5s Out West
The night owls got a treat! If you stayed up late to watch basketball, you weren't disappointed. Four critical games took over Wednesday night with two closeout road upsets in the East and a pair of swing games in the West.
Game 5 Recaps: The Knicks closed out the Cavs to win their first playoff series in a decade before the Heat — with another epic performance from Jimmy Butler (42 points) — rallied from 16 down in the fourth quarter to beat Milwaukee in an overtime thriller. Butler hit a game-tying inbounds circus shot at the end of regulation to force OT before the Heat survived foul trouble to close out Giannis and the 1-seed Bucks. Meanwhile, in the West, the Grizzlies staved off elimination against the Lakers and the Warriors outlasted the Kings on the road to take control of the Highway Series. Overall, five teams are now through to Round 2 with the remaining three series all 3-2 heading to Game 6. But if there's one player putting his stamp on these NBA Playoffs, his name is Jimmy flippin' Buckets…
Heat History: The Heat became just the sixth 8-seed ever to upset a 1-seed in 1st round of the NBA Playoffs.
Knicks History: The Knicks won their first playoff series since 2013 — the Carmelo Anthony era. They haven't reached the conference finals since 2000 and the NBA Finals since 1999.
1st-Round Series Highlights
Gm 5: Heat def. Bucks (128-126, OT) | MIA Wins Series (4-1)
Gm 5: Knicks def. Cavaliers (106-95) | NYK Wins Series (4-1)
Gm 5: Grizzlies def. Lakers (116-99) | LAL Leads Series (3-2)
Gm 5: Warriors def. Kings (123-116) | GSW Leads Series (3-2)
Advanced to Round 2: Nuggets, Suns, 76ers, Knicks & Heat
Star Spotlight
J. Butler (MIA): 42 points, 8 rebounds, 4 assists
G. Antetokounmpo (MIL): 38 points, 20 rebounds
K. Middleton (MIL): 33 points, 6 rebounds, 6 assists
D. Bane (MEM): 33 points, 10 rebounds, 5 assists
J. Morant (MEM): 31 points, 10 rebounds, 7 assists
A. Davis (LAL): 31 points, 19 rebounds
S. Curry (GSW): 31 points, 8 assists
Tonight's Schedule
Gm 6: Celtics at Hawks (8:30 pm ET) | BOS Leads (3-2)
Additional Storylines
ESPN: Knicks Oust Cavs for 1st Playoff Series Win Since 2013
Yahoo! Sports: Heat Overcome 16-Point 4th Quarter Deficit to Stun 1-Seed Bucks
FOX Sports: NBA Playoff Dispatches: Grizzlies Stay Alive, Heat Shock Bucks in 5 & More
______________________________________________________________________________________
NHL PLAYOFFS
Champs on the Brink
Kraken Put Avalanche in 3-2 Series Hole; Panthers Stay Alive Against Bruins With Tkachuk's OT Winner
A pair of Game 5s in the Stanley Cup chase saw the Kraken take advantage of the series against the defending champs and the Panthers delay the Bruins for another day. Florida is hanging on by a thread as Boston takes its historic season into a Game 6 in the opening round. Matthew Tkachuk (1 goal, 1 assist) was the catalyst for the Panthers who got 44 saves from Sergei Bobrovsky. It might just be a matter of time before the Bs bounce Florida. But the Kraken? Seattle's expansion franchise is making waves and just put the Avs on the brink of elimination.
1st-Round Series Highlights
Gm 5: Panthers def. Bruins (4-3, OT) | BOS Leads (3-2)
Gm 5: Kraken def. Avalanche (3-2) | SEA Leads (3-2)
Updated Stanley Cup Playoffs Bracket
Tonight's Schedule
Gm 5: Lightning at Maple Leafs (7:00 pm ET) | TOR Leads (3-1)
Gm 5: Rangers at Devils (7:30 pm ET) | Series Tied (2-2)
Gm 5: Jets at Golden Knights (10:00 pm ET) | VGK Leads (3-1)
Additional Storylines
NHL: Tye Kartye Scores One-Timer for 1st Career Goal in NHL Debut for Kraken
ESPN: Tkachuk's OT Stunner Gives Panthers New Life Against Dangerous Bruins
______________________________________________________________________________________
 THE HIGHLIGHTS
MLB: Drew Maggi's Major League Debut
After more than 1,000 minor league games over 13 seasons, 33-year-old Drew Maggi finally got his moment in the majors with the Pirates. Pinch-hitting late in a blowout for Pittsburgh, he cranked two foul balls before striking out swinging, but it was a touching moment for a baseball lifer.
EPL: City Shreds Arsenal (4-1) in Crucial EPL Match
Only two teams have a realistic chance to earn the Premier League title with one month and change left in the season, and they went head-to-head on Wednesday. Manchester City buried Arsenal (4-1) thanks to Kevin De Bruyne's brace, and City climbed within two points of the Gunners with seven matches to play — City (73 pts) / Arsenal (75 pts).
______________________________________________________________________________________
THE STORYLINES
 The Filthiest Pitches of the 2023 MLB Season
Being a major league pitcher isn't the sweet gig that it used to be. You can't use sticky stuff, take too much time, or rely on the shift. But one thing baseball will never be able to outlaw is downright filthy pitches. (Bleacher Report)
Time is Running Out for the Clippers
After injuries again plaguing stars and Russell Westbrook unable to carry the load, the Clippers' window is quickly closing. Next season could be boom-or-bust for Steve Ballmer's squad. Is it time to blow it up? (Sports Illustrated)
Wrexham Has Its Championship Moment
The iconic Welsh soccer club bankrolled by Hollywood actors Ryan Reynolds and Rob McElhenney won its league over the weekend to provide a happy ending for Season 2 of 'Welcome to Wrexham.' So what comes next? (NY Times)
______________________________________________________________________________________
THE HEADLINES