You Can Count On Curry
04/21/2023
By: Matthew Cahill
Happy Friday
Saying this is a busy weekend is an understatement. With the NBA and NHL postseasons in full swing, there are 23 playoff games scheduled in the next 72 hours. Whether it's your couch, local bar, or somewhere else entirely, we hope you have a nice spot to strap in and watch it all unfold.
Letter Rip!
NBA PLAYOFFS
The Heart Of A Champion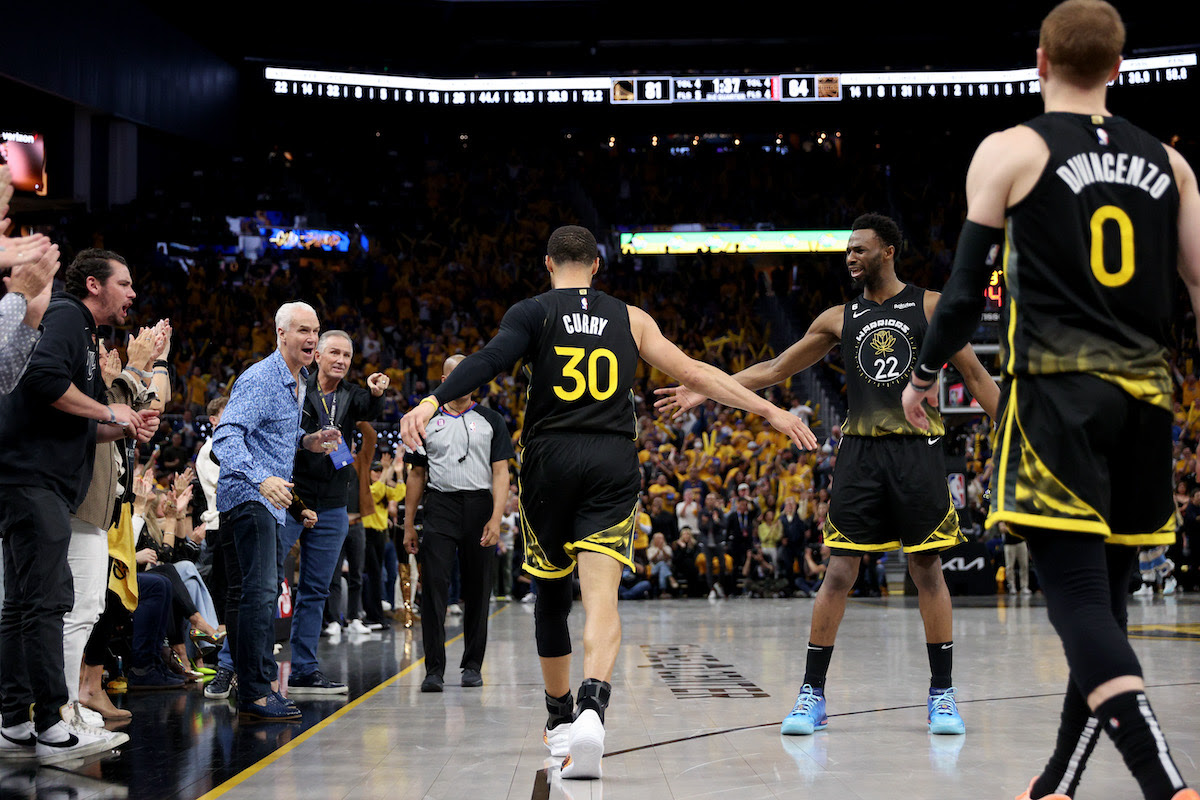 Warriors Pull off Shorthanded Victory Without Draymond Green; Devin Booker Catches Fire Against the Clippers
Injuries really suck. We were waiting all day to watch the incredible individual matchup of Kevin Durant and Kawhi Leonard, but now the Klaw is out for an indefinite amount of time with a knee injury. If Los Angeles ends up with another early playoff exit you have to wonder if the front office looks to move one, or both Kawhi and Paul George in the offseason due to them being so unreliable health-wise. You know who is reliable? Stephen Curry. With another heroic effort last night, he added to his already stellar playoff resume. Aside from his 2016 Finals flameout, he's quietly been one of the most dependable postseason performers in NBA history. Let's take a look at all that went down last night:
#3 76ers def. #6 Nets (102-97)
The refs in this game had quite the quick whistle. Nic Claxton and Joel Embiid had to be separated early after the Brooklyn big man dunked all over the likely MVP. Then at the end of the third quarter, James Harden received one of the softest flagrant 2 fouls we've ever seen and was ejected. A few minutes later, Claxton dunked on Embiid once again but was swiftly ejected for staring him down after the play. There is just no way that players should be tossed from playoff games for stuff as minute as these two plays. Nonetheless, a late Tyrese Maxey three followed by a clutch block from Joel Embiid in the final minute secured the victory for Philly. The Sixers will look to go for the sweep on Monday. PHI Leads Series (3-0)
#6 Warriors def. #3 Kings (114-97)
The champs were on the ropes heading into game 3. After falling down 2-0 in a series for the first time in the Steph Curry era, the Warriors entered this game without their defensive leader, Draymond Green, as he was serving a one-game suspension for stepping on Domantas Sabonis. Despite that, Steph (36 points) had another vintage performance to get Golden State back into the series. This win was not surprising considering the fact that the Dubs have been great at home all year. In fact, we expect them to win game 4 on Sunday. The big question will be whether or not they can get a road win since Sacramento has home court advantage. SAC Leads Series (2-1)
#4 Suns def. #5 Clippers (129-124)
Almost all excitement for this game was lost when it was announced a few hours before tipoff that Kawhi Leonard was ruled out with a right knee sprain. Even though both Leonard and Paul George were on the sidelines against a fully healthy Phoenix squad, Russell Westbrook (30 points, 12 rebounds, 8 assists) and Norman Powell (42 points) put up a valiant effort. However, LA had no answer for Devin Booker (45 points), as he torched the Clips from all three levels of the floor to get home court advantage back for his Suns. Kawhi is currently listed as day-to-day, and his status for game 4 is uncertain as of now. PHO Leads Series (2-1)
Tonight's Schedule
Gm 3: Celtics at Hawks (7:00 pm ET)
Gm 3: Cavaliers at Knicks (8:30 pm ET)
Gm 3: Nuggets at Timberwolves (9:30 pm ET)
______________________________________________________________________________________
NHL PLAYOFFS
New York Shows Out In Newark 
Rangers Take Game 2 (5-1) in New Jersey; Avs Rally (3-2) to Even Series
Last night's slate of playoff hockey had a little bit of everything. We got two blowouts as the Rangers continued their dominance against the Devils with their second consecutive 5-1 victory on the road, while the Maple Leafs got back on track with a statement victory (7-2) over the Lightning. Meanwhile, the Avalanche also evened up their series with the Kraken, but it took a heroic rally from a 2-0 deficit. Vegas also found themselves down early against the underdog Jets but pulled away late with a three-goal third period. Here's the Stanley Cup playoff scoreboard:
Stanley Cup Playoff Highlights (Game 2s)
Patrick Kane has 3 points, Chris Kreider scores 2 goals
Maple Leafs def. Lightning (7-2)
John Tavares scores 3 goals, Morgan Rielly has 4 assists
Artturi Lehkonen and Devon Toews both score 2 points (1 goal and 1 assist each)
Golden Knights def. Jets (5-2)
Mark Stone scores 2 goals, William Karlsson has 2 points
Updated Stanley Cup Playoffs Bracket
Tonight's Schedule
Gm 3: Hurricanes at Islanders (7:00 pm ET)
Gm 3: Bruins at Panthers (7:30 pm ET)
Gm 3: Stars at Wild (9:30 pm ET)
Gm 3: Oilers at Kings (10:00 pm ET)
Additional Storylines
ESPN: Jack Hughes Frustrated by Effort With Devils Down 2-0 to Rangers
NBC: Latest Update on Patrice Bergeron's Game 3 Status
______________________________________________________________________________________
OTHER HIGHLIGHTS
MLB: Mookie Betts Turns a Double Play at Shortstop!?
Is there anything Mookie can't do? The Dodgers were in Chicago for a matchup with the Cubs at 7:40 pm ET, but LA's right fielder didn't arrive at Wrigley until after the game started due to some brutal city traffic. Betts eventually pinch-hit for shortstop Luke Williams in the seventh, and ended up manning that same position in the field for the first time in his MLB career. Of course, he ended up turning a clean 6-3 double play to show he can play the infield as well. 
______________________________________________________________________________________
THE STORYLINES
1 Fix Every 2023 NBA Playoff Team Desperately Needs to Make
Even though the 2023 playoffs are still young, each team has shown flaws and weaknesses that need to be improved upon if they want to still be playing in June. (Bleacher Report)
Could C.J. Stroud, Anthony Richardson Fall Below top 10?
As we close in on the final week before the NFL draft, almost all mocks have the four top quarterbacks going in the top 5. If history has taught us anything, it's that this is very unlikely to actually happen, and we should expect at least a couple of the QB prospects to slip all the way past the 10 mark. (CBS)
______________________________________________________________________________________
THE HEADLINES