Keep Bringing 'Em
05/18/2023
By: Jeff Yoder
Good Morning,
What a time to be a sports fan. From golf's next major to more playoff drama, we're strapping in for another glorious weekend. The PGA Championship is about to tee off. Jimmy Playof… I mean, Butler… is at it again. One soccer club is taking over Europe — like, legitimately all of Europe. And did we hear you say you like walk-offs? Well, we have three.
(Takes deep breath)
The WNBA, Preakness Stakes, Indy 500, and French Open? They're all coming shortly. We love our sports like we love our free breadsticks at Olive Garden — just keep bringing 'em.
Letter Rip!
PGA
PGA Championship Primer
Oak Hill Plays Host to Golf's 2nd Major of 2023, And The Field is Stacked (By Marissa Kasch)
The PGA Championship is about to tee off from Oak Hill Country Club this morning, and there are plenty of exciting storylines. Jordan Spieth is chasing a career Grand Slam. Jon Rahm is looking to continue his reign. Justin Thomas is hoping to defend his title. And Scottie Scheffler is seeking to reclaim his No 1 ranking. Let's lock in for the second major of the year.
Return to Rochester
Oak Hill Country Club plays host to the 2023 PGA Championship in Pittsford, New York, a Rochester suburb. This is the fourth time Oak Hill is hosting the PGA Championship. However, it's the first since the course went through restoration in 2019. All of the greens and bunkers were rebuilt, and the course added new tees making it play 231 yards longer. The course is "old-school," featuring thick rough, several treacherous hazards, and tight fairways (about 25-26 yards wide). But this isn't anything out of the ordinary. Oak Hill is notorious for the difficulty.
Wonderful Weather
Don't fret; the forecast is looking much better for the PGA Championship than it did for The Masters. Weekend highs range from upper-60s to upper-70s with a minimal chance for showers only on Saturday. During practice rounds, golfers have been battling frost in the mornings. Let's hope these chilly temperatures don't affect early tee times this weekend.
The Favorites
If you're looking at the favorites for this weekend and getting a bit of déjà vu, it's valid. The favorites look eerily similar to The Masters, with Jon Rahm and Scottie Scheffler leading the charge. Just behind them are Rory McIlroy, Patrick Cantlay and Brooks Koepka. Many analysts are confident in Koepka this weekend due to his domination of the PGA Championship since 2018 and recent performance in The Masters.
PGA vs LIV
As we know, the feud between PGA and LIV golfers has only been reinforced as time has passed. Though it is the PGA Championship, 18 LIV golfers have qualified for the field this weekend. However, an LIV golfer has yet to win a major since the leagues split. Brooks Koepka has the best chance to flip the script this weekend and secure the first LIV major win.
PGA Championship Odds
J. Rahm (+750), S. Scheffler (+750), R. McIlroy (+1200), B. Koepka (+1800), X. Schauffele (+2000), P. Cantlay (+2000), J. Thomas (+2200), T. Finau (+2200), D. Johnson (+2500), J. Day (+2500), M. Fitzpatrick (+2800), C. Young (+2800), V. Hovland (+2800) | Full List Of Odds
Tee Times (Featured Groups)
8:00 AM: S. Scheffler, B. Koepka, G. Woodland
8:11 AM: J. Thomas, R. McIlroy, C. Morikawa
8:22 AM: J. Spieth, V. Hovland, S. Lowry
8:33 AM: J. Rahm, M. Fitzpatrick, C. Smith
9:06 AM: K. Bradley, J. Day, B. DeChambeau
1:25 PM: T. Fleetwood, C. Young, H. Matsuyama
1:36 PM: A. Scott, M. Homa, T. Finau
1:47 PM: X. Schauffele, T. Hatton, D. Johnson
1:58 PM: P. Cantlay, R. Fowler, P. Mickelson
*All times ET
Let's tee up for a great weekend of golf and see who hoists the Wanamaker Trophy on Sunday.
Read More
CBS Sports: Expert Predictions, Favorites at Oak Hill for 2023 PGA Championship
ESPN: Everything You Need to Watch at the 105th PGA Championship This Weekend
______________________________________________________________________________________
NBA PLAYOFFS
Jimmy Brings the Heat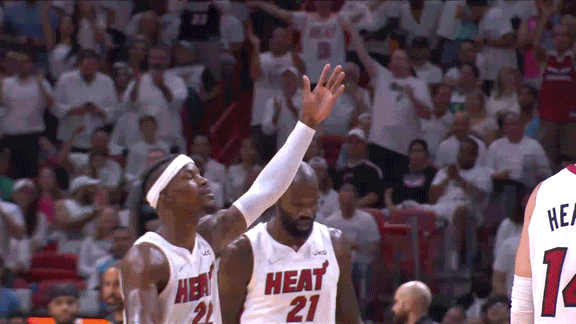 Jimmy Butler (35-7-6-5) Leads Heat to 3rd-Quarter Rally, Game 1 Win Over Celtics (123-116)
The Eastern Conference Finals began with a bang on Wednesday night as the Heat and Celtics tipped off a scintillating series. Game 1? That belonged to Jimmy Butler, A.K.A. "Jimmy Playoffs." With Miami on the road in Boston, repping the 8-seed underdog mentality they have all postseason, Butler spearheaded a third-quarter comeback where the Heat outscored the Celtics by 21 (46-25). That change in the scoreline was enough to give Miami a foothold, and they hung on for a narrow win behind a dagger 3 from Jimmy with a minute to go. Butler was downright lethal on both ends of the floor. He poured in 35 points, 5 rebounds, 7 assists, and 6 steals. Erik Spoelstra's squad is dialed in, and we're in for a fun series on the east coast.
Fun Fact: The Heat are looking to become the second 8-seed to ever reach the NBA Finals (1999 Knicks). No 8-seed — or 7-seed, for that matter (Lakers in the West) — has won the NBA Finals.
Eastern Conference Finals
Gm 1: Heat def. Celtics (123-116) | MIA Leads (1-0)
Heat Top Performers
Jimmy Butler: 35 points, 5 rebounds, 7 assists, 6 steals
Bam Adebayo: 20 points, 8 rebounds, 5 assists
4 Players With 15 Each (Lowry, Martin, Vincent & Strus)
Celtics Top Performers
Jayson Tatum: 30 points, 7 rebounds
Jaylen Brown: 22 points, 9 rebounds, 5 assists
Marcus Smart: 13 points, 11 assists
Tonight (Western Conference Finals)
Gm 2: Lakers at Nuggets (8:30 pm ET) | DEN Leads (1-0)
Read More
FOX Sports: Jimmy Butler Again Displays Playoff Dominance as Heat Take Game 1
B/R: Tatum, Celtics Lose Game 1 as Fans Stunned by Defensive Struggles
______________________________________________________________________________________
City's Treble Quest In Tact
CHAMPIONS LEAGUE
Manchester City Dismantle Real Madrid (4-0) En Route to Champions League Final
The treble isn't just within reach, it's nearly a lock. On Wednesday, Manchester City stepped on the pitch for Leg 2 of the Champions League semifinal against the holders from Real Madrid and played in a league of their own. City dismantled Los Blancos from the onset, dominating possession and goal-scoring opportunities throughout the first half. Bernardo Silva's first-half brace gave City a 2-0 halftime lead. The same script played out in the second 45 as City stretched it to a four-goal romp. Pep Guardiola's squad is just one win away from becoming the champs of Europe once more, and they're also one win away from the Premier League crown and the FA Cup title. Here comes treble…
UEFA Champions League Semifinal
Leg 2: Man. City def. Real Madrid (4-0) | MC Win Agg. (5-1)
Manchester City's Treble Quest
Premier League: Chelsea (Sun, May 21, 11:00 am ET)
FA Cup Final: Manchester United (Sat. June 3, 10:00 am ET)
Champions League Final: Inter (Sat. June 10, 3:00 pm ET)
Read More
ESPN: Manchester City Can 'Visualize' Winning Treble Now
Yahoo! Sports: Man. City Finally Slays Champions League Giants With 90 Minutes of Near-Perfection
______________________________________________________________________________________
MLB
Walk-Off Wednesday
Mets, Blue Jays & Astros All Win in Walk-Off Fashion on Wednesday Night
Easy there, baseball. We know your time is coming, but there are other sports high on the priority list before you go take over the spotlight. Wednesday night in the big leagues was one to remember with walk-offs ringing throughout America like telemarketers with a call sheet. One after another, the Mets, Blue Jays, and Astros all beat their opponents in walk-off chaos. Tons of fun. Only 120-plus games left in the regular season.
Pete Alonso (Mets): The Mets beat the Rays behind Kodai Senga's career-high 12 Ks and a pair of game-tying blasts before Pete Alonso's 3-run walk-off dinger. (Mets def. Rays, 8-7, 10 Innings)
Danny Jansen (Blue Jays): The Blue Jays punched back against the Yankees in the AL East battle where Danny Jansen launched a 3-run walk-off shot in the bottom of the 10th to break a scoreless tie. (Blue Jays def. Yankees, 3-0, 10 Innings)
Kyle Tucker (Astros): The Astros rallied from four runs down against the Cubs in the 9th inning before Kyle Tucker's bases-loaded walk-off single-plated Jeremy Peña for a Houston sweep. (Astros def. Cubs, 7-6)
MLB Quick-Hitters
______________________________________________________________________________________
STORYLINES
Inside the Secret NBA Lottery Room
Jubilation, anguish, and the latest offseason intel: Behind the scenes from the most consequential draft lottery room in decades, where the Spurs landed the right to select No. 1 prospect Victor Wembanyama. (ESPN+)
EA Sports, NIL & NCAA Football
EA Sports plans to release a college football game for the first time in over a decade next summer, and the company now has big news. They plan to "facilitate collegiate athletes' names and likenesses" into the game. (Sports Illustrated)
What a week in MLS. It was truly a week like any other. And another slate of matches this weekend is further solidifying that — 12 matches into the MLS season — it's still anybody's race to win. (MLS)
______________________________________________________________________________________
NEWS
______________________________________________________________________________________
SCHEDULE
Tonight's Must-Watch List
PGA Championship
Round 1 (11:00 am-7:00 pm ET, ESPN)
NBA Playoffs
Gm 2: Lakers at Nuggets (8:30 pm ET) | DEN Leads (1-0)
NHL Playoffs
Gm 1: Panthers at Hurricanes (8:00 pm ET)
MLB
Rays at Mets (1:10 pm ET)
Yankees at Blue Jays (7:07 pm ET)
Dodgers at Cardinals (7:45 pm ET)
Download The Sportsletter's Must-Watch Calendar
______________________________________________________________________________________
POLL
Question of the Day
What's your go-to concessions item for a summer day at the ballpark? (click to vote)
The Beverages (Beer, Soda, Other)
Hot Dogs (Corndogs, Chili Dogs, Brats)
Popcorn, Peanuts & Crackerjacks (Finger Foods)
Pretzels, Fried Pickles (Other Snacks)
The Sweets (Cotton Candy, Milkshakes, Etc.)
Prior to the NBA Draft Lottery, we asked: Which team do you think is the best landing spot for Victor Wembanyama? You all nailed it — 45% of the team picked the Spurs. The stars have aligned.
Spurs — 45%
Pistons — 32%
Rockets — 23%