Magic Mage
05/08/2023
By: Jeff Yoder
Welcome Back
Imagine riding in the Kentucky Derby 15 times and never winning…
From NBA and NHL stunners to Formula 1's return to America, the first weekend in May was quite epic. But you have to give the nod to the horse who made magic and lived up to the name at Churchill Downs. The 16th time's the charm.
Letter Rip!
KY DERBY
Mage Makes Derby Magic
15-1 Longshot 'Mage' Wins 149th Kentucky Derby, Ends 15-Year Wait for Jockey
Another shocker in Louisville! The 149th Run for the Roses produced another stunning upset at Churchill Downs. It wasn't the same magnitude as last year's 80-to-1 win by Rich Strike, but a heartwarming story with all the feels. Mage, a 15-to-1 longshot, used a charge at the top of the stretch to hunt down Two Phil's for the Kentucky Derby crown on Saturday night (2:01.57). The 3-year-old chestnut colt had only three competitive starts and just one win before Saturday night, but he lived to the name and created a magic burst down the stretch that delivered the elusive Derby win for Venezuelan jockey Javier Castellano.
"I never give up. I always try hard, do the right thing. It took me a little while to get there. I'm very blessed… The little Mage, he did it really well today. He has a ton of heart. It's a little horse with a big heart." — Javier Castellanos
Castellano's Long Ride: Castellano is a Hall of Fame jockey who had been the leading rider four different times in the United States. The 45-year-old is regarded as one of the greats, but he had finished sixth or worse in 13 of his 15 Kentucky Derby rides.
Morning Scratch: The morning-line favorite, Forte, was a late scratch to open the door for Angel of Empire as the favorite. He finished 3rd.
2023 Kentucky Derby Results
1. Mage (15-1 Odds)
2. Two Phil's (9-1 Odds)
3. Angel of Empire (7-2 Odds)
4. Disarm (26-1 Odds)
5. Hit Show (24-1 Odds)
Full 2023 Kentucky Derby Results
Watch: 2023 Kentucky Derby (Full Race)
Additional Storylines
Sporting News: Who Is Javier Castellano? Jockey Breaks KY Derby Drought
SI: Mage's Kentucky Derby Victory Provides Thrilling End to Tragic Week at Churchill Downs
NBC Sports: Mage Wins 149th Kentucky Derby Capping Volatile Lead-Up in Which 7 Horses Died at Churchill Downs
______________________________________________________________________________________
NBA PLAYOFFS
All Even: Beard's Big Shot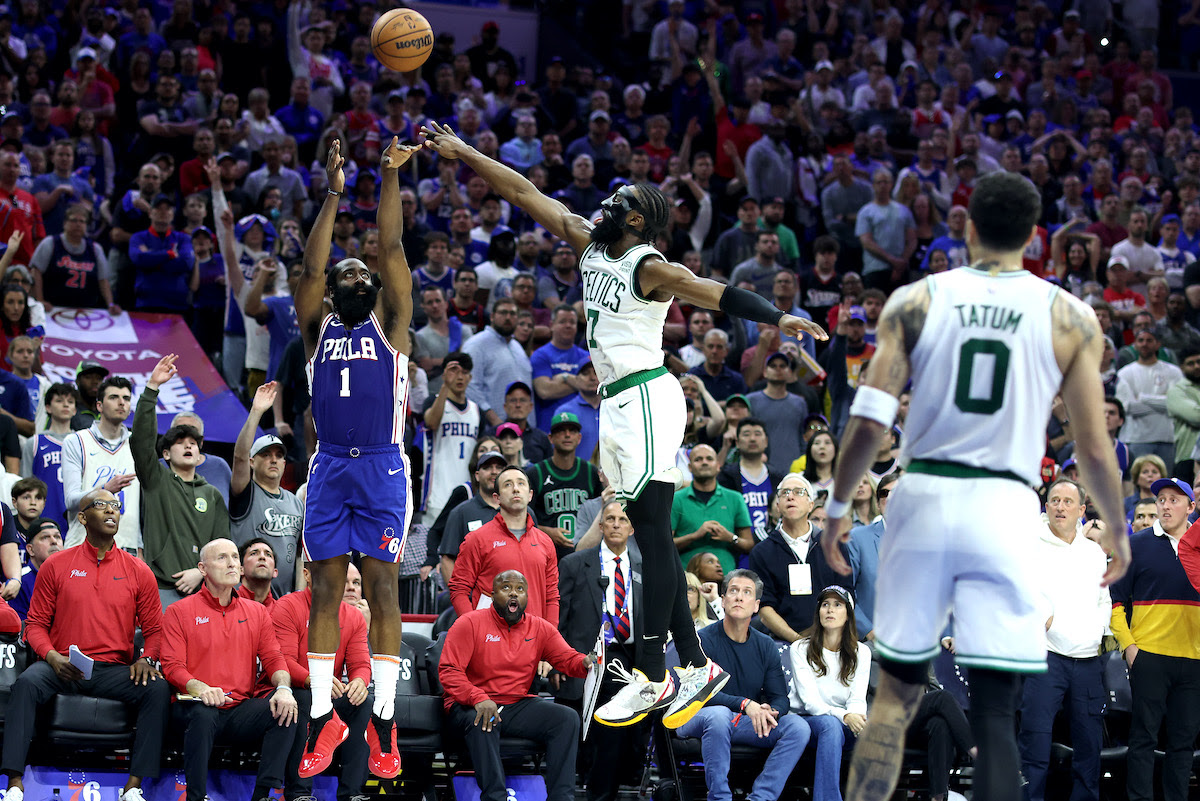 Harden Erupts, Plays Hero Again as 76ers (Celtics) & Suns (Nuggets) Even Series With Clutch Game 4 Wins
More Harden heroics? A 50-ball from Jokic? Another 30-30 from Durant and Booker duo? The Lakers by… 30?! The weekend of NBA playoff action was full of dramatic twists. No team is running away with the conference semifinals, even if there have been major blowouts. Every series is compelling, just the way we like it.
The weekend began with a 47-point night from Devin Booker (Friday) as the Suns got one back. Saturday saw the Lakers (30) and Heat (19) deliver blowout wins over the Warriors and Knicks, respectively, to take 2-1 series leads. Sunday produced two down-to-the-wire games. James Harden (42 points) hit a floater to force overtime between the 76ers and Celtics before drilling the game-winning 3 in OT. Marcus Smart hit a game-winner on the other end but didn't get it off in time. And in the nightcap, Devin Booker and Kevin Durant (36 each) escaped Nikola Jokic's 53-point outing to even the Suns-Nuggets series. Every series is 2-2 or 2-1 with more Game 4s on the docket tonight. The NBA is in "must-see TV" mode.
2nd-Round Highlights
Gm 3: Heat def. Knicks (105-86) | MIA Leads (2-1)
Gm 3: Lakers def. Warriors (127-97) | LAL Leads (2-1)
Gm 4: 76ers def. Celtics (116-115, OT) | Series Tied (2-2)
Gm 4: Suns def. Nuggets (129-124) | Series Tied (2-2)
Weekend Top Performances
Gm 4: N. Jokic (DEN): 53 points, 4 rebounds, 11 assists
Gm 3: D. Booker (PHX): 47 points, 6 rebounds, 9 assists
Gm 4: J. Harden (PHI): 42 points, 8 rebounds, 9 assists, 4 steals
Tonight's Schedule
Gm 4: Knicks at Heat (7:30 pm ET) | MIA Leads (2-1)
Gm 4: Warriors at Lakers (10:00 pm ET) | LAL Leads (2-1)
Additional Storylines
B/R: James Harden's 'Legacy Game' Hyped After Clutch Shot in Game 4
ESPN: Nikola Jokic Gets Tech After Contact With Suns Owner Courtside
SI: James Harden Shares Moment With Michigan State Shooting Survivor After OT Win
______________________________________________________________________________________
NHL PLAYOFFS
Hughes Brothers Deliver
Hughes Brothers Keep Devils Alive; Panthers Push Leafs to the Brink; Kraken Thrash Stars
Things in the NHL postseason are a little more lopsided (than in the NBA). The Oilers squared things up on Saturday before Sunday's trio of swing games. Three teams entered Sunday with 2-0 leads looking to push the conference semis out of reach, but only the Panthers — with an OT winner from Sam Reinhart — took a 3-0 series lead. The Devils scored eight goals, including six points from the Hughes brothers. Jack Hughes had four points while his 19-year-old brother and new Devils rookie, Luke Hughes, tallied two assists. Out west, the Kraken had another offensive explosion with a five-goal second period. Phew… It's getting chaotic. Let's keep skating toward the Stanley Cup Finals.
2nd-Round Highlights
Gm 2: Oilers def. Golden Knights (5-1) | Series Tied (1-1)
Gm 3: Devils def. Hurricanes (8-4) | CAR Leads (2-1)
Gm 3: Panthers def. Maple Leafs (3-2, OT) | FLA Leads (3-0)
Gm 3: Kraken def. Stars (7-2) | SEA Leads (2-1)
Weekend Top Performances
Gm 3: J. Hughes (NJD): 2 goals, 2 assists
Gm 2: C. McDavid (EDM): 2 goals, 1 assist
Gm 2: L. Draisaitl (EDM): 2 goals
Gm 3: M. Beniers (SEA): 1 goal, 1 assist
Tonight's Schedule
Gm 3: Golden Knights at Oilers (8:30 pm ET) | Series Tied (1-1)
Additional Storylines
USA Today: Kraken Ride Second Period Outburst to Thump Stars in Game 3
ESPN: Rookie Luke Hughes Delivers 'A Great Night' for Devils in Game 3 Win
SportsNet: Maple Leafs Fall Silent With Season on Brink: "It's Do or Die Now"
______________________________________________________________________________________
FORMULA 1
Miami Max
Max Verstappen Continues Formula 1 Domination in F1's Return to United States
For the second straight year, Formula 1 fans were treated to an F1 race on American soil. The 2nd running of the Miami Grand Prix went much like the first with Max Verstappen (who else?) capturing the podium once more. The Dutch driver for Red Bull and reigning F1 champ started ninth on the grid due to qualifying woes, but in typical Mad Max fashion, he worked his way through the field and led from the middle stages on. Teammate and runner-up Sergio Perez finished second after surrendering the lead, but Verstappen claimed his third victory of the year through five races. Perez won the other two. Both teammates are 1-2 in the overall standings. Above all, American F1 fans were ecstatic seeing their favorite international sport up close.
Miami Grand Prix Results
1. Max Verstappen (1:27:38.241)
2. Sergio Perez (+5.384 seconds)
3. Fernando Alonso (+26.305 seconds)
4. Geroge Russell (+33.229 seconds)
5. Carlos Sainz Jr. (+42.511 seconds)
Watch: Verstappen Wins Miami Grand Prix
F1 Standings: 1. M. Verstappen (119 pts), 2. S. Perez (105 pts), 3. F. Alonso (75 pts), 4. L. Hamilton (56 pts), 5. C. Sainz Jr. (44 pts) | Full Standings
Additional Storylines
ESPN: Verstappen Roars Back From 9th on Grid to Win Miami GP
SBNation: A Masterclass From Max Verstappen in Miami Grand Prix
The Ringer: After Miami, What's the Next Chapter for America's F1 Boom?
______________________________________________________________________________________
 THE HIGHLIGHTS 
MLB: Rays Rally From 6 Down to Stun Yankees
Gerrit Cole had a 6-0 lead and a two-hit shutout after four innings, but we've learned Tampa Bay is really good. The Rays rallied to beat the Yankees in extras (8-7, 10 innings) on Sunday thanks to Isaac Paredes' walk-off single. Tampa is 28-7 through 35 games.
EPL: Arsenal Keeps Pace With Man. City
Back and forth they go. Both Manchester City and Arsenal were winners over the weekend to remain just one point apart in the EPL table. The Gunners shut out Newcastle (2-0) for a crucial win thanks to Martin Odegaard's early strike and a late own goal.
PGA: Clark Catapults Schauffele at Wells Fargo
Wyndham Clark (-19) claimed his first PGA Tour victory on Sunday in the Wells Fargo Championship at Quail Hollow. The 29-year-old fired a 3-under final round (his worst of the week) to hold off Xander Schauffele (-15) while the rest of the field finished seven strokes back.
UFC: Sterling Outlasts Cejudo in UFC 288
The Bantamweight title was up for grabs Saturday in Newark, New Jersey between the defending champ, Aljamain Sterling, and the challenger, Henry Cejudo. A five-round, no-knockdown decision was still dominated by Sterling, and he remains the bantamweight belt holder since 2020.
______________________________________________________________________________________
THE STORYLINES
The long-awaited decision of Bronny James (LeBron James Jr.) has finally come. The No. 19 recruit in the 2023 class committed to USC on Saturday, staying close to home in Los Angeles. LeBron is still dreaming of sharing the floor together in the NBA. (NY Times)
It doesn't matter that the baseball season is barely a month old, the first day of summer is a month away, the trade deadline is 10 weeks away and there are five months left in the season. Can MLB's most disappointing teams turn things around? (USA Today)
In the days following the 2023 NFL Draft, we've seen clubs signing veterans to offset the weak spots they missed last weekend. Sounds like the perfect opportunity to assess how the hierarchy has changed since Super Bowl Sunday. (FOX Sports)
______________________________________________________________________________________
THE HEADLINES
Highlight of the Day (Video)