Nugget Knockout
05/23/2023
By: Jeff Yoder
Good Morning,
The Nuggets are heading to the NBA Finals after delivering the knockout punch to the Lakers in Game 4, but did they just KO the King for good? That and more in today's edition as we race towards the Indy 500 and Memorial Day weekend.
Letter Rip!
NBA PLAYOFFS
The Nugget Knockout
Jokic, Nuggets Make History With Lakers Sweep Despite LeBron James' 40-Point Last-Ditch Effort in Game 4 (113-111) — James Mulls Retirement
Down goes the king… The Denver Nuggets are heading to their first NBA Finals in franchise history after completing the sweep of the L.A. Lakers in the Western Conference Finals on Monday night. LeBron James (40-10-9) played his best game of the postseason with his team's backed into a corner. LBJ had 21 in the first quarter and 31 in the first half, but the Nuggets rallied from a 15-point halftime deficit behind another triple-double from Nikola Jokic (30-14-13). Jamal Murray and Aaron Gordon came up with the stop against James on the final possession to seal the win (113-111) and Jokic earned the West Finals MVP award.
LeBron's Historic Effort: James' 40-point Game 4 made him the oldest player in NBA history (38 years, 173 days) with a 40-point game in the playoffs. The Lakers now enter an offseason full of question marks with expiring contracts, and James added some cryptic comments mulling his basketball future in the post-game press conference.
Nikola's Historic Nuggets: Jokic is now averaging a triple-double in the playoffs — 29.9 ppg, 13.2 rpg, 10.1 apg — to lead Denver to all sorts of historic nuggets (pun intended). Jokic's eighth triple-double of the playoffs is the most in a single postseason run in NBA history, breaking Wilt Chamberlain's 56-year-old record. It's also the first series sweep in franchise history and the first trip to the NBA Finals.
Western Conference Finals
Gm 4: Nuggets def. Lakers (113-111) | DEN Wins (4-0)
Top Game 4 Performers
L. James (LAL): 40 points, 10 rebounds, 9 assists
N. Jokic (DEN): 30 points, 14 rebounds, 13 assists
J. Murray (DEN): 25 points, 5 assists
A. Davis (LAL): 21 points, 14 rebounds, 3 blocks
Tonight (Eastern Conference Finals)
Gm 4: Celtics at Heat (8:30 pm ET) | MIA Leads (3-0)
Read More
FOX Sports: Nuggets Sweep Lakers, Earn 1st Finals Berth in Franchise History
SI: Nikola Jokic Breaks Playoff Triple-Double Record to Lead Nuggets to NBA Finals
CBS Sports: LeBron James Seemingly Hints at Retirement With Cryptic Press Conference Quote After Game 4
______________________________________________________________________________________
NHL PLAYOFFS
Florida Underdogs
Panthers Shut Out Hurricanes Behind Bobrovsky's 32 Saves as Florida Pushes Series to 3-0
It's scary hours for the Florida underdogs. Both the Heat (3-0) and Panthers (3-0) now lead the Eastern Conference Finals in the NBA and NHL after Florida shutout the Hurricanes in Game 3 last night (1-0). Sam Reinhart notched the only goal of the game while Sergei Bobrovsky made 32 saves with a clean sheet. Both teams — the Miami Heat and Florida Panthers — entered the Eastern Conference in both leagues as the last team in. Now, they're both one game away from the NBA and Stanley Cup Finals.
Fun Fact: The Panthers have won eight of their 11 postseason victories by just one goal, including six overtime wins.
Eastern Conference Finals
Gm 3: Panthers def. Hurricanes (1-0) | FLA Leads (3-0)
Tonight (Western Conference Finals)
Gm 3: Golden Knights at Stars (8:00 pm ET) | VGK Leads (2-0)
Read More
NHL: Bobrovsky 'Incredible' Again in Game 3 Shutout for Panthers
ESPN: 'Frustrated' Hurricanes Lament Missed Calls in Game 3 Loss
______________________________________________________________________________________
MLB
Air Yordan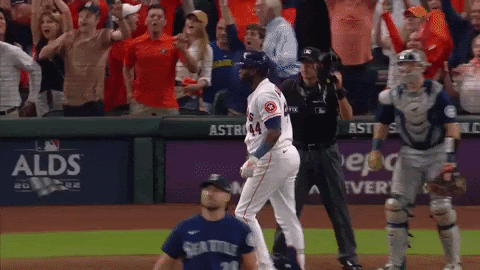 Yordan Alvarez Belts 2 HRs, 1 Grand Slam as Astros Win 8th Straight
Everything seems to going right lately for the Houston Astros. While the Texas Rangers still hold the AL West lead after a hot start, it's the Stros who are now one game back in the midst of an eight-game win streak thanks to Monday's home-run derby from Yordan Alvarez. The Astros' long-ball extraordin-air went 3-for-4 with five RBIs and three runs scored thanks to a pair of homers — a solo shot and a grand slam. Alvarez has a dozen dingers on the year, and Houston hit a season-high five home runs in total as they routed the Brewers in the series opener (12-2). The Rays won April, but the Astros are winning May.
Watch: Astros Win 8th Straight Behind Yordan's 2-HR Game
MLB Quick-Hitters
Freedie's Return: Freddie Freeman returned to Atlanta as a member of the Dodgers and delivered a clutch 3-run homer to lift L.A. over the Braves (8-6).
Castillo's 1K Ks: Luis Castillo tossed a gem (6 IP, 8 Ks, 4 Hits, 0 ERA) for the Mariners against the last-placed A's (11-2) to hit a milestone moment — 1,000 career strikeouts.
Rays Rake Jays: Another AL East rivalry series is underway between the Rays and Blue Jays, and Tampa Bay took advantage of Toronto's mistakes with three home runs in the opener (6-4).
______________________________________________________________________________________
STORYLINES
After a season away from the NBA, Carmelo Anthony is officially calling it a career after 19 seasons. Anthony finishes as the No. 9 all-time scorer in NBA history, and he holds the single-game scoring record for Team USA. Goodbye, Carmelo… (FOX Sports)
Even as he's out, Rafael Nadal will always be a part of the French Open. Nadal's reign in Paris — full of flexed biceps, forehand winners, and underrated court craft — is synonymous with Roland-Garros, but the sport will be missing him this time around. (NY Times)
Jim Brown lived a remarkable life like few other athletes. It would be succinct to define the Browns legend as the best football player in history. But he could also be described as generous, controversial, caring, violent, and polarizing. (Sports Illustrated)
______________________________________________________________________________________
NEWS
______________________________________________________________________________________
SCHEDULE
Tonight's Must-Watch List
NBA Playoffs
Gm 4: Celtics at Heat (8:30 pm ET)
MIA Leads (3-0)
NHL Playoffs
Gm 4: Golden Knights at Stars (8:00 pm ET)
VGK Leads (3-0)
MLB
Orioles at Yankees (7:05 pm ET)
Dodgers at Braves (7:20 pm ET)
Mets at Cubs (7:40 pm ET)
Download The Sportsletter's Must-Watch Calendar
______________________________________________________________________________________
POLL
Question of the Day
In honor of Michael Block's dream weekend and Sunday pairing with Rory McIlroy at the PGA Championship, we're wondering: If you could play any sport with any athlete, who would you play with?
Respond to today's newsletter and let us know (the best answers will be featured in tomorrow's edition).