Record Wreckers
05/04/2023
By: Jeff Yoder
Good Morning,
Historic moments in soccer and baseball join today's playoff recaps. And here I thought a Wednesday in May might snooze on sports. Think again, buddy. We're full steam ahead towards a weekend that features the Kentucky Derby and UFC 288.
Letter Rip!
PREMIER LEAGUE
Haaland Is Him
Manchester City's Erling Haaland Scores 35th Goal to Break Premier League Single-Season Record… With 5 Matches Left
Erling Haaland's historic season hit another milestone on Wednesday, and there are still five games left for Manchester City. Haaland scored a counter-attacking chip shot in the 70th minute of City's 3-0 win over West Ham. It was a win that launched City back above Arsenal for the top spot in the Premier League, and it launched Haaland into the record books with his 35th goal of the season. The 22-year-old Norwegian striker is in his debut EPL season since transferring from Borussia Dortmund last year, and he could flirt with 40 goals by season's end.
All-Time EPL Single-Season Records
1. Erling Haaland: 35 Goals (2022-23)
2. Alan Shearer: 34 Goals (1994-95)
3. Andrew Cole: 34 Goals (1993-94)
4. Mohamed Salah: 32 Goals (2017-18)
5. Cristiano Ronaldo: 31 Goals (2008-08)
*12 Players have scored 30 or more goals in a single season. Both Shearer and Cole scored 34 during the Premier League's 42-match format (modern era: 38 matches).
Watch: Haaland Makes History as City Shut Out West Ham (3-0)
Haaland also tied Thierry Henry's record for most goals scored at home in a single season (22). He also has 51 total goals this year across all competitions. History and Haaland go hand in hand. And City is now back in control of the EPL table with an additional match left on the schedule. As the kids say — "I'm Him." If anyone "is him" right now, it's Haaland.
EPL Title Race
1. Manchester City: 79 points (25-4-4) — 5 Left
2. Arsenal: 78 points (24-6-4) — 4 Left
Additional Storylines
Insider: Haaland Didn't Just Break EPL Scoring Record, He's Destroying It
Sporting News: Haaland Passes Shearer, Cole for All-Time Premier League Goals Record
______________________________________________________________________________________
MLB
The Ohtani Odyssey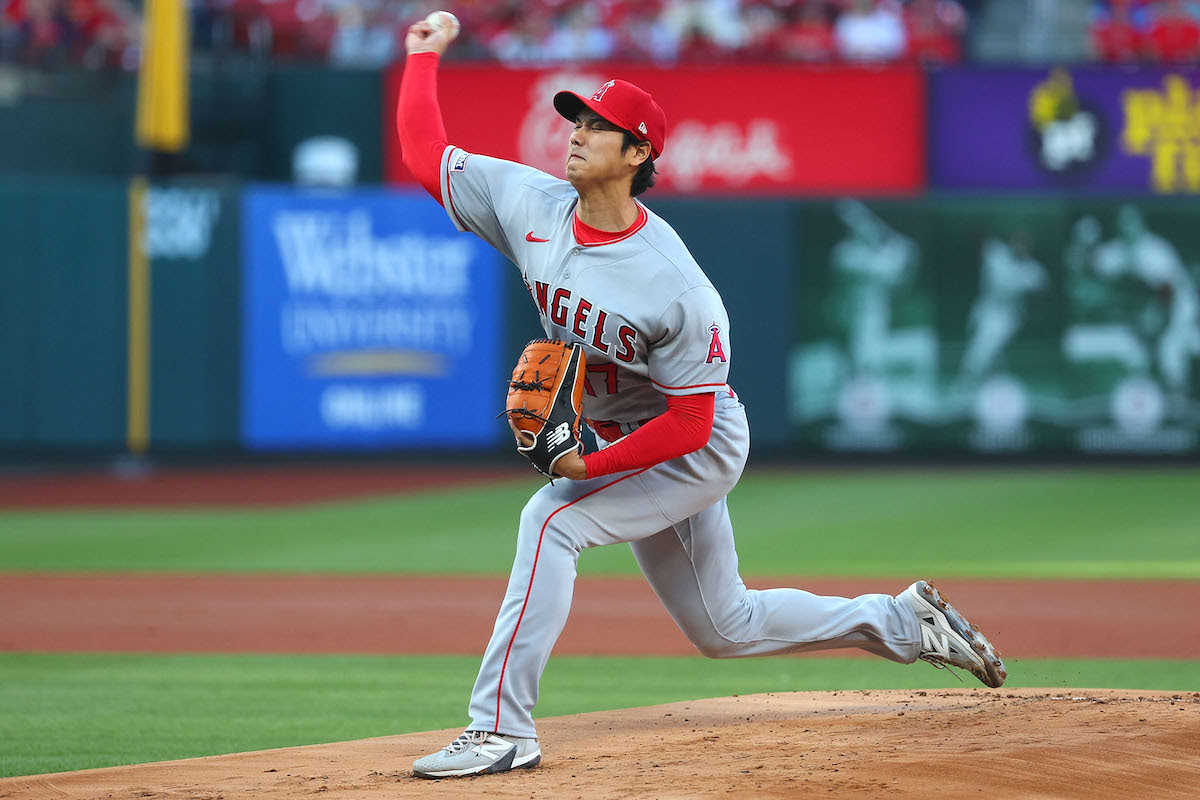 Shohei Ohtani Ties Career-High With 13 Ks as Angels 2-Way Star Joins 500-K, 100-HR Club
The Angels are 17-14 on the season, but they're now 5-0 when Shohei Ohtani pitches. Baseball's beloved two-way star was as sensational as ever on Wednesday en route to another piece of Babe Ruth-like history. Ohtani fanned 13 batters to tie his career-high in a 6-4 win over the Cardinals. He also hit the 500-strikeout milestone, joining Babe Ruth as the only player in baseball history with 500 Ks and 100 home runs. It seems like every time Ohtani takes the stage, history gets made.
Watch: Ohtani Throws 13 Ks, Joins Ruth on 500-100 Club
MLB Quick-Hitters
Muncy Mashes Walk-Off Slam: The Dodgers and Phillies were all knotted at 6-6 in the bottom of the 9th before Max Muncy hit a walk-off grand slam to remember. Dodgers win (10-6).
Trevino Ends Yankees Drought: The Yankees ended a four-game skid thanks to Jose Trevino's pinch-hit walk-off single to beat the Guardians in extras (4-3, 10 innings).
______________________________________________________________________________________
NBA PLAYOFFS
Boston Bites Back
Celtics Use 3rd-Quarter Explosion to Crush 76ers in Game 2 (121-87), Even Series 1-1
The newly anointed MVP returned to the court for the 76ers in Game 2, but the Celtics weren't about to let the series get away. Boston bounced back with a vengeance last night to even the series (1-1) after pounding the Sixers by 34. The title favorites outscored Philly 35-16 in the third quarter. Boston knocked down 20 3s (20-for-51) in typical Celtics fashion — living and dying by the 3-ball — while Philadelphia went just 6-for-30. No 76ers player scored more than 16 points. Jayson Tatum scored just seven points for the Cs (1-for-7), but Jaylen Brown (25) and Malcolm Brogdon (23) carried the load. Brogdon (six 3s) hit as many deep balls as Philly's entire team. Just as we were about to sound the alarm for the Celtics, they quickly looked like the title favorites once again.
Watch: Celtics def. 76ers (121-87) | Series Tied (1-1)

Tonight's Schedule
Gm 2: Lakers at Warriors (9:00 pm ET) | LAL Leads (1-0)
Additional Storylines
ESPN: 76ers' Joel Embiid Starts Game 2 But Scores Only 15 in Blowout Loss
USA Today: Embiid Makes Minimal Impact in Return as Celtics Rout 76ers
______________________________________________________________________________________
NHL PLAYOFFS
Golden Goals
Game 1s: Draisaitl Scores 4 for Oilers, But Golden Knights Too Strong; Hurricanes Shut Down Devils
Another four-goal night in a losing effort? Just one day after Joe Pavelski scored four in a loss for the Stars, Leon Draisaitl lit the lamp four times for the Oilers, but the Golden Knights were too much. Vegas had an answer every time Edmonton pulled the scoreline close, including two goals in 50 seconds during a frenetic 3rd period that featured five goals. Jack Eichel rifled a full-ice empty-netter to seal the deal in the final minute. Out East, the Hurricanes handed the Devils a devastating Game 1 defeat that was never in doubt, and New Jersey has a tall task ahead to survive Carolina. Next up, Game 2s.
Fun Fact: The only other time there were two four-goal games on back-to-back nights in the NHL Playoffs was in 1988.
Conference Semifinal Highlights
Gm 1: Hurricanes def. Devils (5-1) | CAR Leads (1-0)
Gm 1: Golden Knights def. Oilers (6-4) | VGK Leads (1-0)
Stanley Cup Playoffs Bracket
Tonight's Schedule
Gm 2: Panthers at Maple Leafs (7:00 pm ET) | FLA Leads (1-0)
Gm 2: Kraken at Stars (9:30 pm ET) | SEA Leads (1-0)
Additional Storylines
FOX: Hurricanes Sail to Easy Win Against Devils in Game 1 of 2nd Round
SportsNet: Golden Knights Take Down Oilers Despite Draisaitl's Dominant Performance
______________________________________________________________________________________
THE STORYLINES
This year's edition of Capital One's The Match for the first time ever will pit stars from the NBA's and NFL's reigning dynasties against one another. Teammates from each of the defending champs in the NBA and NFL go head-to-head. (Bleacher Report)
Bryce Harper's Remarkable Return
178 days after his last major-league game and 160 days since going under the knife for Tommy John surgery, Bryce Harper unleashed a violent hack on the first pitch he saw of the 2023 season Tuesday night. (FOX Sports)
And now that we're on the other side of the NFL Draft, let's get to some mail. Albert Breer opens the mailbag to talk Texans, Eagles, Lions, Dalvin Cook, DeAndre Hopkins, Anthony Richardson, and more. (Sports Illustrated)
______________________________________________________________________________________
THE HEADLINES