Take 5 
05/10/2023
By: Jeff Yoder
Good Morning,
It's a short, hoops-focused edition before we turn to baseball, hockey, and soccer later in the week. Some exciting things are happening for The Sportsletter team, so we'll take five (figure of speech) to keep you in the loop.
Letter Rip!
NBA PLAYOFFS
MVPs Take 5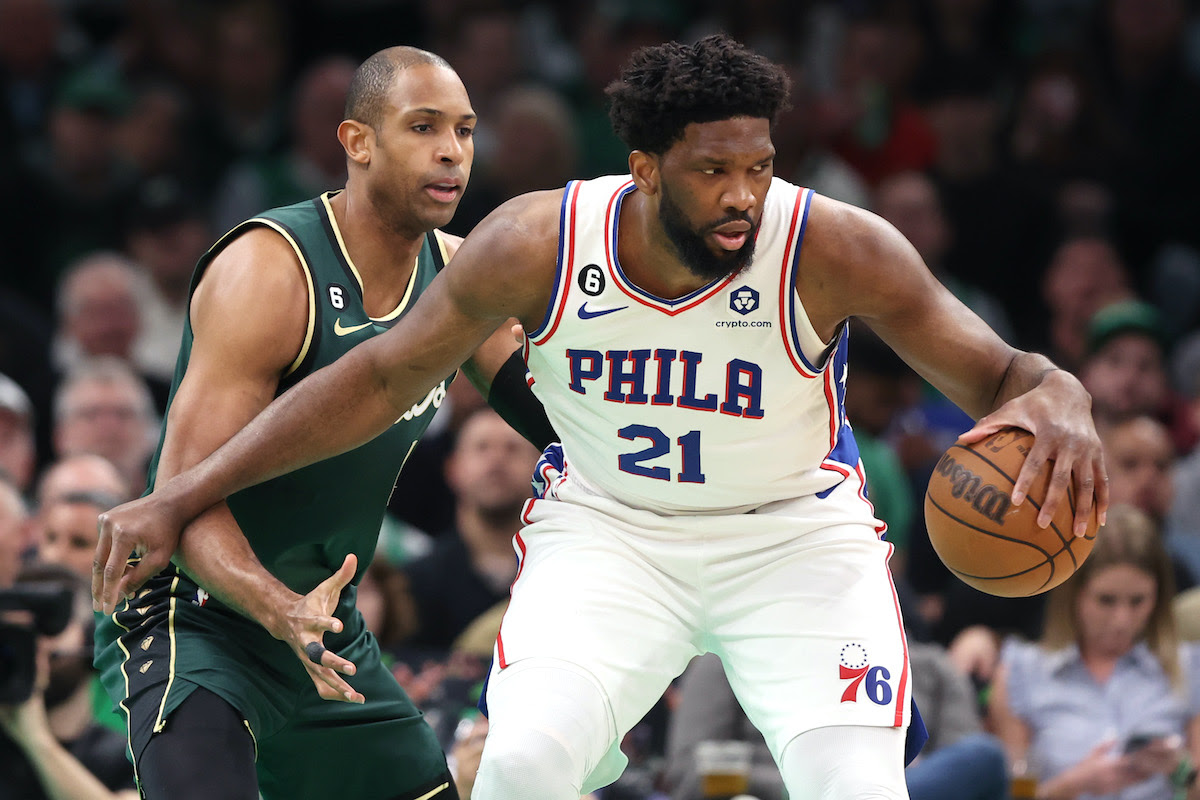 Embiid's 76ers & Jokic's Nuggets Dominate Game 5s to Take 3-2 Series Leads
Tuesday night's two-pack of NBA Game 5s featured a pair of bullish performances from the league's recent MVP big men. Joel Embiid manhandled the Celtics inside (33 points, 7 rebounds, 4 blocks) while Tyrese Maxey (30 points, Six 3s) got the hot hand from the outside to help Philly get Game 5 on the road. Out west, the Nuggets obliterated the Suns behind Nikola Jokic's triple-double (29-13-12) and big nights from Michael Porter Jr. (19) and Bruce Brown (25). There was little drama late in either game with both MVP-led teams holding 20-point leads in the second half. And that means we're officially "on the brink" in all four conference semifinals with the Heat and Lakers going for close-outs tonight.
Fun Fact: Nikola Jokic (30.6 ppg, 13.1 rpg, 9.5 apg) is the first player to average 30-10-8 through 10 postseason games since Oscar Robertson in 1963 (30.2 ppg, 13.5 rpg, 8.8 apg).
Conference Semifinal Highlights
Gm 5: 76ers def. Celtics (115-103) | PHI Leads (3-2)
Gm 5: Nuggets def. Suns (118-102) | DEN Leads (3-2)
Top Performers
J. Tatum (BOS): 36 points, 10 rebounds, 5 assists
J. Embiid (PHI): 33 points, 7 rebounds, 4 blocks
T. Maxey (PHI): 30 points, 7 rebounds, 3 assists
N. Jokic (DEN): 29 points, 13 rebounds, 12 assists
D. Booker (PHX): 28 points, 6 rebounds, 4 assists
K. Durant (PHX): 26 points, 11 rebounds, 7 assists
Tonight's Schedule
Gm 5: Heat at Knicks (7:30 pm ET) | MIA Leads (3-1)
Gm 5: Lakers at Warriors (10:00 pm ET) | LAL Leads (3-1)
Additional Storylines
SI: Sixers Stun Celtics With Emphatic Game 5 Win in Boston
USA Today: Nuggets Stay Unbeaten at Home, Take 3-2 Lead Behind Jokic Triple-Double
______________________________________________________________________________________
WNBA
Preseason Power Rankings
WNBA Preseason Primer: 10 Days to 2023 WNBA Season Tip-Off
The 2023 WNBA season tips off in less than ten days, and we're gearing up. It's been heavy on the men's sports as of late, but the WNBA, Women's World Cup and women's tennis will enter the fold this summer. An offseason full of blockbuster moves shook the landscape of the WNBA in the last few months, and the league looks a lot different this season. Brittney Griner is back on the court for the Phoenix Mercury. The Liberty loaded up with MVP talents. And the Aces are on a repeat quest. But despite only 12 teams, the WNBA hasn't had a back-to-back champion since 2001-02 (Sparks). Does that change this year in Las Vegas? Or is New York about to run wild? Here's a look at our pre-season power rankings and some of the biggest offseason moves you might have missed.
WNBA Power Rankings
1. Las Vegas Aces (2022 Record: 26-10)
2. New York Liberty (2022 Record: 16-20)
3. Washington Mystics (2022 Record: 22-14)
4. Connecticut Sun (2022 Record: 25-11)
5. Phoenix Mercury (2022 Record: 15-21)
6. Dallas Wings (2022 Record: 18-18)
7. Chicago Sky (2022 Record: 26-10)
8. Los Angeles Sparks (2022 Record: 13-23)
9. Minnesota Lynx (2022 Record: 14-22)
10. Seattle Storm (2022 Record: 21-14)
11. Atlanta Dream (2022 Record: 14-22)
12. Indiana Fever (2022 Record: 5-31)
Biggest Offseason Storylines
The New York Liberty won the offseason with the acquisitions of two former MVPs in Breanna Stewart and Jonquel Jones, effectively swiping the top talents from the Storm and Sun in the process. They also added Courtney Vandersloot — the sharpshooter from the Chicago Sky — to surround the growing legend of Sabrina Ionescu. There's only one problem: Vegas. The defending champs still have A'ja Wilson. Two other teams look poised to make deep runs thanks to the returns of their star players. Elena Delle Donne (Mystics) and Brittney Griner (Mercury) add some missing star power that the 'W' lost a season ago. It's a two-horse race, but those veteran returnees make things interesting.
Two-Horse Race (Odds to Win WNBA Title)
Aces (+120), 2. Liberty (+130), 3. Mystics (+1200), 4. Mercury (+2500), 5. Wings (+3500) | Full Odds
WNBA Season Start: May 19
Additional Storylines
ESPN: Preseason WNBA Rankings: Aces, Liberty Open as 1-2 Favorites
CBS Sports: 5 Under-the-Radar Players to Watch in 2023 WNBA Season
______________________________________________________________________________________
THE HIGHLIGHTS
NHL Playoffs (Conference Semifinals)
Gm 4: Hurricanes def. Devils (6-1) | NJD Leads (3-1)
Gm 4: Stars def. Kraken (6-3) | Series Tied (2-2)
Champions League (Semifinals)
Leg 1: Real Madrid & Manchester City Play to 1-1 Draw
*Full Recap of Both UCL Matches in Tomorrow's Edition
MLB
Ohtani Passes Ruth in Ks, But Astros Hand Him 1st Loss
Giants Rookie Casey Shmitt Hits HR for 1st Career MLB Hit
______________________________________________________________________________________
THE STORYLINES
On arguably the biggest week of the European soccer season, amid title races in various countries, with relegation fights and a pair of blockbuster Champions League semifinals, came reports of news that could overshadow it all. (FOX Sports)
The machinations of NBA free agency have undergone a face-lift in recent years. Players are orchestrating exits while still under contract or signing extensions with, perhaps, the intention of figuring out the rest later. So what could happen this summer? (Bleacher Report)
There is growing bipartisan support for a federal bill to help provide more oversight around name, image and likeness as NCAA President Charlie Baker continues to push for legislation. A bold new world of college sports is in a constant state of change. (Sports Illustrated)
______________________________________________________________________________________
THE HEADLINES