The Wemby Goes To…
05/17/2023
By: Jeff Yoder
Good Morning,
The NBA takes over today's edition due to the Draft Lottery, Game 1 of the West Finals, and major coaching changes. Plus, we have Champions League and MLB highlights before golf's second major tees off tomorrow, and the WNBA tips off on Friday. Another busy sports wave is crashing upon us, but it keeps things fun. First things first:
The basketball gods have spoken. The Wemby Award has been won. And it's a match made in basketball heaven…
Letter Rip!
NBA DRAFT
Lottery: A Match Made in Basketball Heaven
Spurs, Gregg Popovich Win NBA Draft Lottery's No. 1 Pick & Rights to Victor Wembanyama
You couldn't script it any better. With all eyes on the NBA Draft Lottery Tuesday night, Gregg Popovich and the San Antonio Spurs won the rights to the No. 1 overall pick in this year's draft — a selection that will ultimately be used on the most highly-anticipated prospect since LeBron James. Victor Wembanyama, the 7-foot-4 positionless Frenchman, will become a Spur this summer, joining the likes of legendary San Antonio big men coached by Pop before him — David Robinson and Tim Duncan. Before the 75-year-old Popovich rides off into the sunset, he'll get to groom the NBA's next dominant superstar.
How the Lottery Went Down: Three teams had a 14-percent chance to win the top pick, but the league reveals the lottery order in reverse and creates a magic waiting game that keeps fans on edge. The top four spots remained in suspense after the Pacers (7th), Magic (6th), and Pistons (5th) were announced. Those final four teams who had a glimmer of hope? The Rockets (4th), Blazers (3rd), and Hornets (2nd) all took deep breaths before the Spurs (1st) won the top spot.
Euphoria doesn't describe the shockwaves sent through Texas. Scenes of bars and watch party celebrations went viral as the last four picks were revealed, getting closer and closer to the top pick. Wembanyama was watching from Paris around roughly 2:00 am local time for the media circus, and he couldn't help but smile. He claimed the Universe told him San Antonio would win the pick, and he even recorded himself "calling it" early yesterday morning.
"There's a special relationship between France and the Spurs because of Tony (Parker) and also Boris (Diaw). Half of the country maybe, if not the whole country, wanted the Spurs to have the first pick." — Victor Wembanyama
NBA Draft Lottery Order
1. Spurs
2. Hornets
3. Blazers
4. Rockets
5. Pistons
Rest of the Lottery: 6. Magic, 7. Pacers, 8. Wizards, 9. Jazz, 10. Mavericks, 11. Magic, 12. Thunder, 13. Raptors, 14. Pelicans
Top Prospects
1. F Victor Wembanyama (France)
2. G Scoot Henderson (G-League)
3. F Brandon Miller (Alabama)
4. G Amen Thompson (G-League)
5. F Jarace Walker (Houston)
The 2023 NBA Draft is June 22, but we already know one thing: Victor Wembanyama is a San Antonio Spur.
Read More
SI: Why a Parisian Prodigy is the Best NBA Prospect in a Generation
B/R: Full 2-Round 2023 NBA Mock Draft After Lottery Results
Yahoo! Sports: Meet Victor Wembanyama, the Best Prospect Since LeBron James
CBS Sports: NBA Draft Lottery Winners & Losers: Spurs & Wembanyama a Perfect Marriage
______________________________________________________________________________________
NBA PLAYOFFS
This Should Be Fun…
Nuggets, Nikola Jokic (34-21-14) Hold Off Lakers' Comeback, Anthony Davis (40-10) to Win Game 1 of West Finals (132-126)
Give us more Lakers-Nuggets, and soon. Game 1 of the Western Conference Finals showed just how fun this series can be. A high-scoring slugfest on Tuesday saw both teams flood the basket with 3s and shoot better than 45 percent from deep. The Nuggets jumped out to a big lead behind Nikola Jokic's hot start and another stat-stuffing palooza (34-21-14), and Denver took a 20-point lead into the waning minutes of the third quarter.
A game that looked to be over — and potentially a quick series — took a quick turn as the Lakers came firing back. L.A. went on an 11-2 run late in the third and never went away. Anthony Davis (40) continued to attack Jokic, and Austin Reaves (23) hit big shots in the fourth quarter to pull the Lakers within three (124-121). Jokic went 3-for-4 on free throws in the final 30 seconds to ice the win, but it was a valiant comeback attempt that left fans like us thinking: "This should be fun." Denver defended home court to kickstart the series, and the Nuggets are attempting to deliver the city's first NBA Finals trip since the franchise was founded (1967).
Game 1 Difference-Maker: Rebounding
While both teams shot the lights out in all three phases — 2pt, 3pt, and FTs — the Nuggets out-rebounded the Lakers 47-30.
Western Conference Finals
Gm 1: Nuggets def. Lakers (132-126) | DEN Leads (1-0)
Nuggets Top Performers
Nikola Jokic: 34 points, 21 rebounds, 14 assists
Jamal Murray: 31 points, 5 rebounds, 5 assists
Kentavius Caldwell-Pope: 21 points
Lakers Top Performers
Anthony Davis: 40 points, 10 rebounds
LeBron James: 26 points, 12 rebounds, 9 assists
Austin Reaves: 23 points, 8 assists (5-for-9, 3pt)
Tonight (Eastern Conference Finals)
Gm 1: Heat at Celtics (8:30 pm ET)
Read More
Yahoo! Sports: Nuggets Take Game 1, Survive Lakers' Late Rally
B/R: Bold Predictions for 2023 NBA Conference Finals
______________________________________________________________________________________
NBA
Coaching Casualties
76ers Fire Head Coach Doc Rivers; 5 NBA Head-Coaching Vacancies in 2023
In a year where the 76ers stayed healthy, Joel Embiid finally won MVP, and Philly held a 3-2 lead over the Celtics in the Eastern Conference Semifinals, it was another letdown that ultimately led to the departure of Doc Rivers. The 76ers fired Rivers on Tuesday, making him the third playoff head coach let go in the last two weeks. The news came quickly after reports that James Harden didn't want to play for Doc. Whether that's true or false, the three winningest teams over the past three seasons (Suns, Bucks and 76ers) have now fired their head coaches in a span of two weeks after disappointing postseasons. And now, another offseason of coach shuffling begins.
Recently Fired NBA Coaches
Doc Rivers (76ers)
Monty Williams (Suns)
Mike Budenholzer (Bucks)
Nick Nurse (Raptors)
Dwane Casey (Pistons)
Best Win % Over Last 3 Seasons
Suns — .678
Bucks — .657 (1 Title)
76ers — .653
The Rockets hired former Celtics head coach Ime Udoka before the season ended. Five positions will be up for grabs this offseason, and we expect many of the recently-fired coaches to find new homes with other contenders.
Read More
FOX Sports: 2023 NBA Coaching Tracker: News, Rumors, Interviews & More
CBS Sports: Sam Cassell, Monty Williams & Nick Nurse Among Potential Replacements for Doc Rivers
______________________________________________________________________________________
CHAMPIONS LEAGUE
Inter Locks Down Finals Spot
Inter Closes Out Milan in Italian UCL Clash; Goes for 4th European Crown Against Winner of Man. City & Real Madrid
Half of the Champions League final is set after Tuesday's all-Italy clash between Inter and AC Milan. Inter entered Leg 2 with a two-goal advantage and parked the bus for much of the second leg to put the pressure on their crosstown rivals. A late goal by Lautaro Martinez (74') put the nail in the coffin for a 3-0 aggregate win and a double-match shutout. Inter will be vying for their fourth-ever Champions League title against the winner of today's match between Manchester City and Real Madrid. The club's last European crown came in 2010. It's the first time they've reached the final round since then (13 years).
Champions League Semifinal
Leg 2: Inter def. Milan (1-0) | Inter Win Agg. (3-0)
Today's Schedule
Leg 2: Man. City vs. Real Madrid (3:00 pm ET) | Agg. Tied (1-1)
Read More
CNN: Lautaro Martinez Strikes to Send Inter to Champions League Finals
The Guardian: 'Dream Come True': Pep Guardiola Hails Manchester City's Pursuit of the Treble
______________________________________________________________________________________
MLB
All Rise: Judge Gives Final Verdict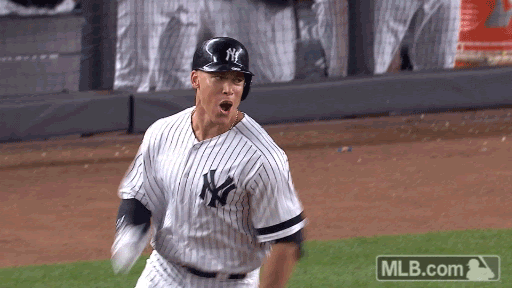 Aaron Judge Blasts Silencing Go-Ahead HR in Yankees-Blue Jays Heated Rivalry
The last 24 hours were tension-filled (to say the least) in the AL East after Aaron Judge was caught glancing at the dugout during an at-bat on Monday against the Blue Jays. Cheating accusations? They were in the air. On Tuesday, Yankees' pitcher Domingo German was ejected after a sticky substance check that only made matters worse. But cheaters or no cheaters, Judge still holds the biggest bat in baseball. In the 8th inning of a tied game (3-3), No. 99 crushed a 448-foot two-run homer that shattered a sign in center-field and tilted the scoreboard toward New York (6-3). The Yankees are the hottest team in the American League over the past two weeks, and the AL East is looking like a season-long bloodbath.

Watch: Judge Crushes Silencer as Yankees Beat Blue Jays (6-3)
AL East Standings
1. Rays (32-11)
2. Orioles (27-15)
3. Blue Jays (24-18)
4. Yankees (25-19)
5. Red Sox (23-20)
Four of the five AL East teams won on Tuesday with the Blue Jays (vs. Yankees) the only exception.
MLB Quick-Hitters
Isaac Paredes Hits 2 HRs as Rays Throttle Mets, Verlander (8-5)
Jorge Soler Hits Walk-Off 2-Run Shot to Lift Marlins Over Nats (5-4)
Top Prospect Colt Keith Has 6-Hit, 2-HR Cycle in Double-A Game
______________________________________________________________________________________
STORYLINES
Restoring Washington… Football
The news that Josh Harris and his group had reached an agreement to finally buy the Washington Commanders last week might have been the most unifying event in the nation's capital in decades. Here's what comes next to restore the franchise. (FOX Sports)
The 2023 PGA Championship has arrived, and the field is as loaded as it gets in professional golf. From Jon Rahm to Bryson DeChambeau, here's a look at who can win the year's second major at Oak Hill. (CBS Sports)
WNBA fandom continues to grow, which means a lot of people are on the hunt for their perfect match. With only 12 teams and fewer than 144 regularly rostered players, it's less likely new fans have a natural local rooting interest. Let's change that. (Yahoo! Sports)
______________________________________________________________________________________
NEWS
______________________________________________________________________________________
SCHEDULE
Tonight's Must-Watch List
NBA Playoffs
Gm 1: Heat at Celtics (8:30 pm ET)
Champions League (Semifinals)
Leg 2: Man. City vs. Real Madrid (3:00 pm ET) | Agg. Tied (1-1)
MLB
Yankees at Blue Jays (7:07 pm ET)
Rays at Mets (7:10 pm ET)
Braves at Rangers (8:10 pm ET)