Trust The Process
05/03/2023
By: Jeff Yoder
Good Morning,
The second rounds of the NBA and NHL Playoffs are picking up steam, but today's newsletter keys on one player who wasn't in action last night. The most dominating force in the NBA brought us three words when he was drafted nine years ago. Everyone knows greatness takes time. Now, he's the MVP.
Trust the process… He did.
Letter Rip!
NBA
The Process, Complete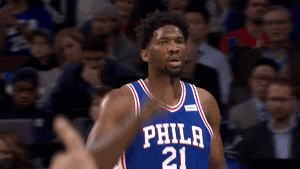 76ers Center Joel Embiid Wins 1st Career NBA MVP Award
It was 2010 when Joel Embiid first picked up a basketball at the age of 15 (2010). By 2014, he was the No. 3 pick in the NBA Draft. Nine years later, after trusting the process and swaying the voters, the 7-footer is officially the NBA MVP. Embiid led Philadelphia to the No. 3 seed in the East this season while putting up some eye-popping numbers, including 13 40-point games. Embiid finally beat out the other big men who split the last four MVP awards — Nikola Jokic (Nuggets) and Giannis Antetokounmpo (Bucks).
Joel Embiid's 2022-23 Season
33.1 PPG | 10.2 RPG | 4.2 APG | 54.8% FG
2022-23 NBA MVP Voting
1. Joel Embiid (PHI): 73 1st-Place Votes (915 points)
2. Nikola Jokic (DEN): 15 1st-Place Votes (674 points)
3. Giannis Antetokounmpo (MIL): 12 1st-Place Votes (606 points)
4. Jayson Tatum (BOS): 89 4th-Place Votes (280 points)
5. Shai Gilgeous-Alexander (OKC): 28 5th-Place Votes (46 points)
Trust the Process
The MVP announcement brought Embiid to tears while watching with his teammates at a hotel in Boston before tonight's Game 2 against the Celtics. And if you know Embiid's story, you'll know that this was a long time coming. The Sixers big fella nearly walked away from basketball after multiple injuries early in his career and losing his brother in a car accident. The famous Philly mantra — "Trust the Process" — came to life early in Embiid's career with the Sixers banking on his ascension to stardom. His nickname, "The Process," finally feels complete with a little bit of hardware and recognition. Only thing missing? A 'ship.
Fun Fact: Embiid is the fifth player in 76ers history to win MVP, joining Wilt Chamberlain, Julius Erving, Moses Malone and Allen Iverson. That's some elite company.
Congrats to Joel Embiid, the 2022-23 NBA MVP.
All 2022-23 NBA Awards
MVP: Joel Embiid (76ers)
DPOY: Jaren Jackson Jr. (Grizzlies)
Rookie of the Year: Paolo Banchero (Magic)
6th Man: Malcolm Brogdon (Celtics)
Most Improved: Lauri Markkanen (Jazz)
Clutch POY: De'Aaron Fox (Kings)
Coach of the Year: Mike Brown (Kings)
Additional Storylines
SI: Joel Embiid Is One of the Most Improbable MVPs Ever
Yahoo! Sports: Watch: Joel Embiid's Reaction to Winning MVP is a Tearjerker
USA Today: LeBron James Gets No MVP Votes for 1st Time in Career
______________________________________________________________________________________
NBA PLAYOFFS
AD, Lakers Too Much in Game 1
Lakers Hold Off Warriors in Game 1 (117-112); Knicks Bounce Back to Even Series With Heat (111-105)
As expected, Game 1 of the NBA's must-watch series delivered. The Lakers and Warriors traded blows in a back-and-forth game that featured a frenetic finish. The Warriors went on a 14-0 run late in the 4th quarter to tie the game at 112-all before the Lakers clamped down on Steph Curry. Both Curry (27) and Klay Thompson (25) hit six 3s each, but Anthony Davis (30-23-5) looks like the x-factor in the series with his size advantage against Golden State. LeBron James (22-11-5) added a double-double, and the Lakers take over home-court advantage in the most intriguing series of the postseason. Out east, the Knicks took advantage of a Heat squad missing Jimmy Butler (ankle) with a 4th-quarter takeover. New York's big 3 — Jalen Brunson (30), Julius Randle (25-12-8) and R.J. Barrett (24) — combined for 79 points. The Knicks' starters went a combined 16-for-32 from deep, and it's all even heading back to Miami.
Conference Semifinals Highlights
Gm 1: Lakers def. Warriors (117-112) | LAL Leads (1-0)
Gm 2: Knicks def. Heat (111-105) | Series Tied (1-1)
Top Performers
A. Davis (LAL): 30 points, 23 rebounds, 5 assists, 4 blocks
J. Brunson (NYK): 30 points, 5 rebounds, 2 assists, 2 steals
S. Curry (GSW): 27 points, 6 rebounds, 3 assists
K. Thompson (GSW): 25 points
L. James (LAL): 22 points, 11 rebounds, 5 assists, 3 blocks
Tonight's Schedule
Gm 2: 76ers at Celtics (8:00 pm ET) | PHI Leads (1-0)
Additional Storylines
Yahoo! Sports: Davis Anchors Lakers to Take Game 1 in San Fran
B/R: AD Too Much for Looney: Biggest X-Factors That Will Decide Lakers-Warriors
USA Today: Brunson, Randle Help Knicks Even Series Against Heat
______________________________________________________________________________________
NHL PLAYOFFS
All 4 Nothing
Game 1s: Kraken Stun Stars Despite Joe Pavelski's 4-Goal Night; Panthers Pace Leafs on the Road
Round 2 of the Stanley Cup Playoffs is underway, and the road teams got it done on Tuesday night. The Panthers used a late surge to top the Maple Leafs and take Game 1 in Toronto, but the big story was in Dallas. Joe Pavelski scored two goals in the first 12 minutes to give the Stars a 2-1 lead before the Kraken lit four lamps by the end of the 1st period for a 4-2 lead. But Pavelski wasn't done. The 38-year-old veteran winger scored two more goals in the 3rd period, including a mid-air game-tying slap to notch things up and send it to overtime. After 12 minutes of OT, Seattle's Yanni Gourde struck the OT winner to steal Game 1 in Dallas. In the end? All 4 nothing…
Conference Semifinals Highlights
Gm 1: Panthers def. Maple Leafs (4-2) | FLA Leads (1-0)
Gm 1: Kraken def. Stars (5-4, OT) | SEA Leads (1-0)
Top Performers
J. Pavelski (DAL): 4 Goals
M. Domi (DAL): 3 Assists
M. Tkachuk (FLA): 3 Assists
J. Eberle (SEA): 1 Goal, 1 Assist
Fun Fact: Joe Pavelski (38) became the oldest player in NHL history with a four-goal game in the playoffs.
Tonight's Schedule
Gm 1: Devils at Hurricanes (7:00 pm ET)
Gm 1: Oilers at Golden Knights (9:30 pm ET)
Additional Storylines
ESPN: Stars' Pavelski Returns, Scores 4 Goals in Epic Game 1 Effort
The Athletic: Matthew Tkachuk is Going to be a Problem for the Maple Leafs
______________________________________________________________________________________
PREMIER LEAGUE
EPL Race: Gunners Fire Back
Arsenal Dominates Chelsea (3-1) in Mid-Week EPL Clash to Retake the Table & Set Up Wild Final Month
With one month left in the Premier League season, the race for the title is still up for grabs. One match after surrendering the top of the table to Manchester City, Arsenal fired back with a 3-1 win over Chelsea. Yesterday afternoon's match at Emirates Stadium featured three Arsenal goals in 15 minutes of the first half. Martin Ødegaard scored twice before Gabriel Jesus added the third. The win put the Gunners back above City by two points with four matches to play, but City still have six matches remaining. And as we near the end of the EPL stretch run, Newcastle and Man. United appear to have a firm grip on the top-4 (top-4 join next year's Champions League).
Watch: Arsenal Erupt for 3-Goal 1st Half to Beat Chelsea (3-1)
Title Race History: Man. City has won four of the last five EPL crowns while Arsenal hasn't won the Premier League since 2004.
Premier League Table
1. Arsenal (24-6-4) — 78 points
2. Manchester City (24-4-4) — 76 points
3. Newcastle (18-11-4) — 65 points
4. Manchester United (19-6-7) — 63 points
5. Liverpool (16-8-9) — 56 points
6. Tottenham (16-6-12) — 54 points
7. Aston Villa (16-6-12) — 54 points
8. Brighton (15-7-9) — 52 points
*Top-4 Join 2023-24 UEFA Champions League
Relegation Watch (Bottom 3)
16. Leicester City (8-6-20) — 30 points
17. Leeds United (7-9-18) — 30 points
18. Nottingham Forest (7-9-18) — 30 points
19. Everton (6-11-17) — 29 points
20. Southampton (6-6-22) — 24 points
Editor's Note: City can retake the table with a win against West Ham United today at home (3:00 pm ET).
Additional Storylines
The Guardian: Ødegaard's Double Puts Arsenal Back on Top of Premier League
ESPN: When Can Manchester City Secure Premier League Title Ahead of Arsenal?
______________________________________________________________________________________
THE STORYLINES
1st-Month Grades for Every MLB Team
Do. Not. Panic. It's one month out of six. Long season and all that. As we roll into May, the MLB looks a little different than expected. For some squads that are accustomed to sitting atop their division, this month brought a very different reality. (ESPN)
Predicting NFL QB Competitions
Eleven different quarterbacks came off the board in the first 150 picks of the 2023 NFL Draft, a record for the common era of the selection process. Five teams have a true QB competition on their hands. Here's an early look at the summer battles under center. (CBS Sports)
Early Odds for 149th Kentucky Derby
The 2023 Kentucky Derby is gearing up for Saturday's 149th Run for the Roses. The post draw was announced earlier this week with the favorite, Forte, at 3-1 odds running from Post 15. Check out the full list of odds and starting posts for Saturday. (NBC Sports)
______________________________________________________________________________________
THE HEADLINES
______________________________________________________________________________________
Poll Results
The verdict is in. More than 3/4 of the team thinks Steph and the Warriors are going to beat LeBron in a playoff series for the fourth time. After Game 1, I'm not so sure.
Steph Curry (Warriors) — 76%
LeBron James (Lakers) — 24%