Handing Out Hardware
06/12/2023
By: Jeff Yoder
Welcome Back
Mid-June is championship central. We're handing out four trophies from the weekend that was, and the NBA and NHL champs could both be decided in the next 48 hours. Get ready for an exciting week of handing out hardware in sports.
Letter Rip!
FRENCH OPEN
The New Slam King
Men: #3 Novak Djokovic Breaks Rafael Nadal's Record With 23rd Grand Slam Title at French Open
Move over, Rafa Nadal! There's a new grand slam king. With the usual clay-court favorite out with injury at the 2023 French Open, Novak Djokovic stepped in to reclaim the grand slam titles record. On Sunday, Djokovic took down Casper Ruud in straight sets after a thrilling semifinal win over #1 Carlos Alcaraz. Alcaraz's time is coming, and we all know that, but it's still the era of the Djoker. At 36, he now holds 23 major titles and counting, the most of any player in men's tennis history. Djokovic is just one away from Margaret Court's all-time record (men or women) of 24.
French Open Finals
#3 N. Djokovic def. #4 C. Ruud (7-6, 6-3, 7-5)
Read More
NY Times: Novak Djokovic Captures French Open & 23rd Grand Slam Title
Forbes: 23 Grand Slams, $510 Million — Djokovic's Record-Breaking Career by the Numbers
______________________________________________________________________________________
Welcome to the Swiatek Era
Women: #1 Iga Swiatek Makes History With 4th Consecutive Slam Finals Win at Roland Garros
Iga Swiatek's recent run of slams continued on Saturday with her third French Open crown (in the last 4 years) and fourth grand slam overall, but it didn't come without a fight. The Cinderella story of Karolina Muchova (42nd-ranked) pushed Swiatek deep into a three-set finale. Muchova won four games in a row in the second set, but it's still Swiatek's time at the top of women's tennis. The Polish star has now won all four of her finals appearances in grand slams to open her career. She's just 22 years old.
French Open Finals
#1 I. Swiatek def. K. Muchova (6-2, 5-7, 6-4)
Read More
SI: 50 Parting Thoughts From the 2023 French Open
Guardian: Third Roland Garros Win Sets Iga Swiatek on the Path to Greatness
______________________________________________________________________________________
SOCCER
Treble Complete: City Conquers Europe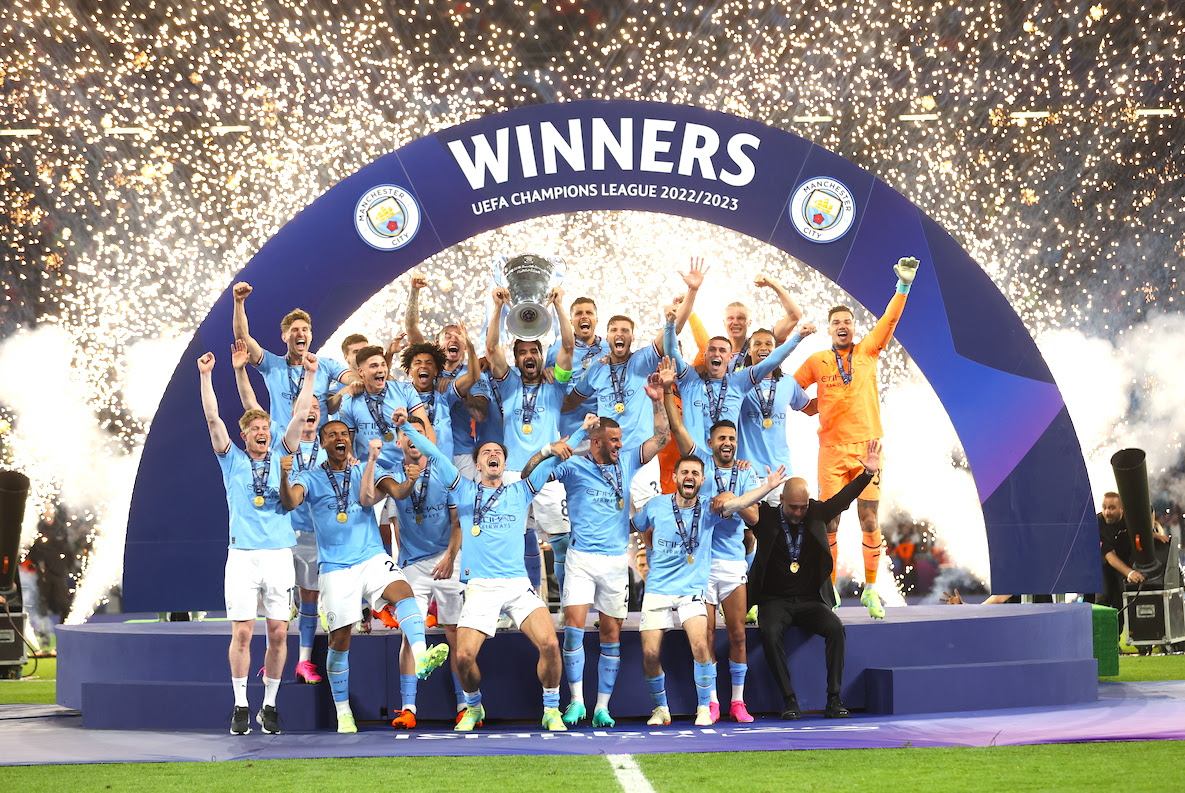 Manchester City Defeats Inter (1-0) to Complete Treble & Win 1st UEFA Champions League Title
Manchester City got all they could handle from Inter in Saturday's Champions League Final in Istanbul, but it was one goal from Rodri (Rodrigo Cascante) — a deciding blast on a loose ball from 15 yards — that made the difference in the scoreline. City worked possession into the six-yard box before a deflection popped the ball out beyond the penalty spot, and a sprinting Rodri put the dead ball in a cannon for the only goal of the game. Down the stretch, City goaltender Ederson was tasked with the shutout, and he came through with a pair of incredible saves in the late going. Inter fired twice as many shots (14-7) and more attempts on goal (6-4), but it was City's day in the end
Manager Pep Guardiola and City fans can finally celebrate the big one. It's the decorated club's first Champions League crown, and it marks just the 10th treble by any club in European history — league title (Premier League), domestic cup (FA Cup), and European championship (Champions League).
Fun Fact: Erling Haaland won his second Champions League Golden Boot Award (12 goals). Only one other player has won the award twice before the age of 23 (Lionel Messi).
Watch: Man. City def. Inter (1-0) for 1st Champions League Title
Read More
ESPN: Manchester City's Rodri Named Champions League Player of the Season
Yahoo! Sports: Manchester City's Champions League Celebrations in Pictures
Forbes: Manchester City Wins Treble: Here are the Big Numbers Behind the Club's Success
______________________________________________________________________________________
FINALS REWIND
Nuggets 1 Win Away
Denver Relies on Role Players in Game 4 (108-95) to Reach Brink of 1st NBA Title
One more game for the Denver Nuggets… Game 4 brought a twist to the NBA Finals on Friday night in Miami. The Nuggets' two superstars made history with 30-point triple-doubles in Game 3, but Game 4 was about the role players. Aaron Gordon (27) and Bruce Brown (21) combined for 48 points in a low-key night for Nikola Jokic (23) and Jamal Murray (15). Denver shot lights-out from 3 (50%), and held Miami under 100 points for the third time in the series. The Heat's lack of offensive firepower appears to be the deciding factor while the Nuggets seem to get offense from anyone at any time. It's back to altitude and the Rocky Mountains for Game 5 and a potential Finals-clinching trophy celebration tonight.
NBA Finals Highlights
Gm 4: Nuggets def. Heat (108-95)
NBA Finals Schedule
Gm 5: Heat at Nuggets (Tonight, 8:30 pm ET)
DEN Leads Finals (3-1)
Read More
NBC Sports: 3 Reasons Denver Has Commanding 3-1 Finals Lead
Yahoo!: Down 3-1 in NBA Finals, Heat Looking for Inspiration Any Place They Can Find It
______________________________________________________________________________________
Golden Knights on the Brink
Vegas Closes In On 1st Stanley Cup With Game 4 Win (3-2)
The blues in South Florida continued on Saturday when the Panthers dropped Game 4 to the Golden Knights (3-2) and saw their Stanley Cup hopes dwindle. Vegas jumped out to a 3-0 lead behind goals from Chandler Stephenson (2) and William Karlsson. The Panthers got aggressive down the stretch to pull within one, but it was too little too late. The series heads back to Vegas on Tuesday night for the potential Cup-clinching Game 5. Vegas could be ready to celebrate the city's second pro sports title in two years (Aces, 2022) after not having a professional franchise until 2017.
Stanley Cup Finals Highlights
Gm 4: Golden Knights def. Panthers (3-2)
Stanley Cup Finals Schedule
Gm 5: Panthers at Golden Knights (Tues. 8:00 pm ET)
VGK Leads Finals (3-1)
Read More
ESPN: 'Emotions Will Be High': Knights Eye Cup-Clincher in Vegas
NHL: Matthew Tkachuk's Injury Status Unclear for Game 5
______________________________________________________________________________________
HIGHLIGHTS
MLB
Pirates' Andrew McCutchen Gets Hit No. 2,000
Last-Place A's Sweep Brewers, Winners of 5 Straight
Red Sox Get Last Laugh With 10th-Inning Walk-Off in Bronx
Rockies' Nolan Jones Crushes MLB's Longest Walk-Off HR Since 2015 (472 Feet)
PGA
Oh, Canada! Nick Taylor's Putt of a Lifetime
Canadian Nick Taylor (-17) won the RBC Canadian Open on Sunday with a 72-foot eagle putt in the 4th playoff hole against Tommy Fleetwood (-17). The 35-year-old from Winnipeg is the first Canadian to win the event since 1954. He shot a 3-over 75 in Round 1 before making a stunning comeback. Canadian fans stormed the green.
WNBA
Arike Ugonbowale Pours in 35 in Wings' Win
Liberty's Sabrina Ionescu Drops Career-High 37 With Eight 3s
Aces Get Back on Track Behind A'ja Wilson's Double-Double
UFC 289
Charles Oliveira TKOs Beneil Dariush in 1st Round
Amanda Nunes Wins Bantamweight Title, Retires 2-Division Champ
______________________________________________________________________________________
NEWS
______________________________________________________________________________________
SCHEDULE
Today's Must-Watch List
NBA Finals
Gm 5: Heat at Nuggets (8:30 pm ET)
DEN Leads Finals (3-1)
MLB
Giants at Cardinals (7:45 pm ET)
Angels at Rangers (8:05 pm ET)