Bank Breakers 
07/26/2023
By: Jeff Yoder
Good Morning,
Break out the checkbook… In a day of deals, Jaylen Brown (Celtics) and Justin Herbert (Chargers) set new records for NBA and NFL contracts. Saquon Barkley (Giants) ended his holdout after just one day. Lionel Messi set the world on fire (again). And we analyze the Bronny James incident before tonight's second match for the U.S. Women's National Team (9:00 pm ET).
Don't blink. We're moving quick.
Letter Rip!
NBA
Brown Breaks the Bank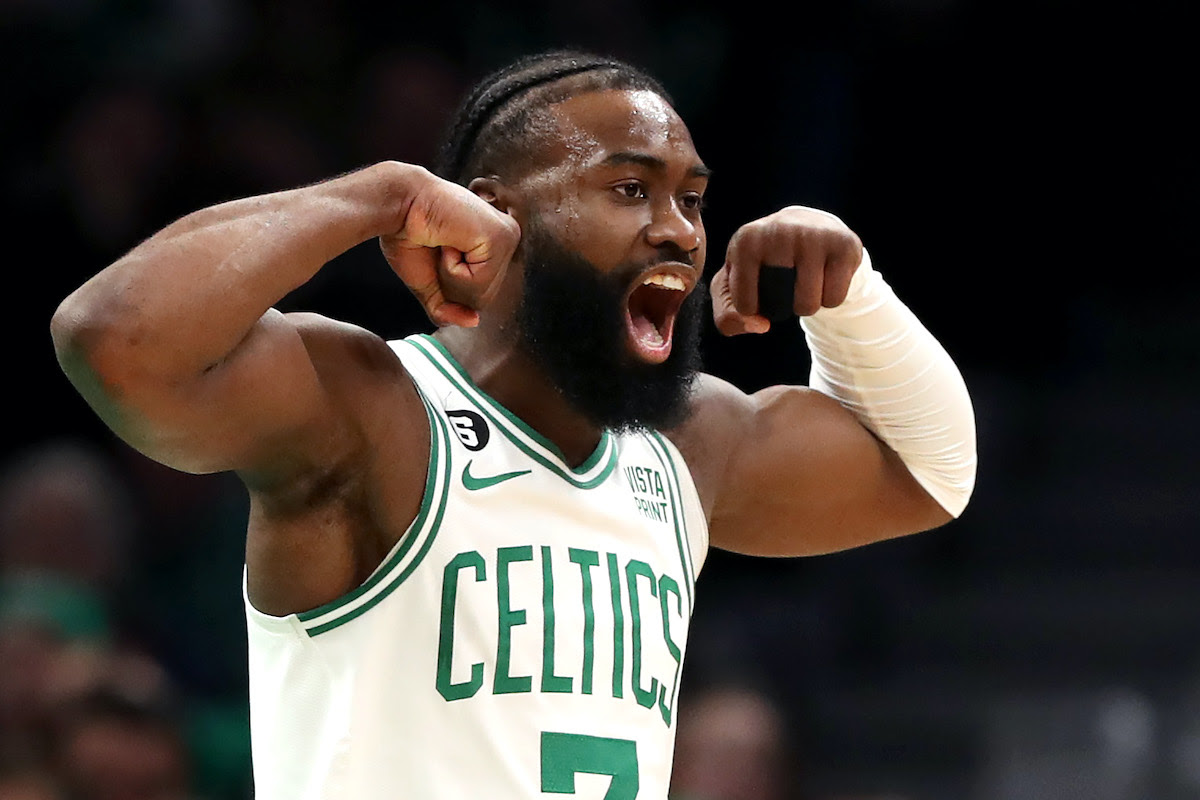 Celtics & Jaylen Brown Agree to Record-Setting $304 Million Supermax Extension

Move over, Nikola Jokic. There's a new largest contract in NBA history. The Celtics and Jaylen Brown reset the NBA market on Tuesday with a five-year, $304 million supermax extension. That's just over $60 million per year — the largest annual payout in American sports. It wasn't a surprise that the Celtics decided to keep the two-time all-star, but the bank-breaking dollar amount enters a new stratosphere for NBA contracts to come. It's the first $300 million contract in NBA history, and that's for a guy who isn't even the best player on his own team. Major League Baseball has been dishing out $300 million contracts for years now, but most of those are spread over 10-14 years. Brown's five-year deal makes this a staggering play for Boston. Get ready for more NBA mega-deals to come.
Richest NBA Contracts
1. Jaylen Brown (BOS): 5 Years, $304 Million
2. Nikola Jokic (DEN): 5 Years, $276 Million
3. Bradley Beal (PHX): 5 Years, $251 Million
4. Devin Booker (PHX): 4 Years, $234 Million
5. Karl-Anthony Towns (MIN): 4 Years, $234 Million
6. Giannis Antetokounmpo (MIL): 5 Years, $228 Million
7. Stephen Curry (GSW): 4 Years, $215 Million
8. Luka Doncic (DAL): 5 Years, $215 Million
Fun Fact: Brown's teammate, Jayson Tatum, finished top-six in MVP voting each of the last two seasons. He's currently in the middle of a five-year, $163 million contract — roughly half the cost of Brown's new salary. Expect Boston to lock Tatum into a similar deal sooner than later. That's roughly $610 million for Boston allocated to the duo of Tatum and Brown for supermax cash.
Read More
B/R: Celtics & Jaylen Brown Agree to Record-Setting $304 Million Supermax
The Ringer: The Offer Sheet: Jaylen Brown Lands Biggest Contract in NBA History
SI: Jaylen Brown Signed Record-Breaking Deal, And NBA Fans Quickly Brought Up One Big Problem
______________________________________________________________________________________
NFL
Barkley Back With Big Blue
Saquon Barkley Signs 1-Year Deal, Chargers Give QB Justin Herbert Record $262.5 Million Deal & More NFL Training Camp News
Pen to paper in the NFL! After just one day in holdout mode, Giants RB Saquon Barkley couldn't stay away from football. Regardless of the value of the running back position, Barkley signed a 1-year, $11 million deal on Tuesday to play in New York this season. After that, who knows? The Giants initially franchise-tagged Barkley for $10.1 million, but this deal gives him a boosted guarantee and an additional $2 million in possible bonuses. Barkley will be 27 next offseason, so expect the Giants to either pay up or watch one of the game's best backs walk in 2024.
Saquon's deal wasn't the only news out of NFL training camps on Tuesday. The Chargers gave QB Justin Herbert the highest annual salary for a quarterback with a five-year, $262.5 million extension, surpassing Jalen Hurts and Lamar Jackson who each held that title in the past few months. The Cowboys also inked CB Trevon Diggs to a top-five cornerback contract.
NFL Contracts & Extensions
RB Saquon Barkley → Giants (1 Year, $11 Million)
QB Justin Herbert → Chargers (5 Years, $262.5 Million)
CB Trevon Diggs → Cowboys (5 Years, $97 Million)
TE Jimmy Graham → Saints
K Brett Maher → Broncos
Other NFL Training Camp News
49ers QB Brock Purdy Cleared to Return
Cowboys RG Zack Martin Doesn't Report to Camp
49ers DE Nick Bosa Holding Out for New Contract
Read More
ESPN: Why Saquon Barkley Gave In & Agreed to Giants' Deal
Sporting News: Cowboys' Trevon Diggs Lands Top-5 CB Contract
______________________________________________________________________________________
SOCCER
Match 2: The Messi Effect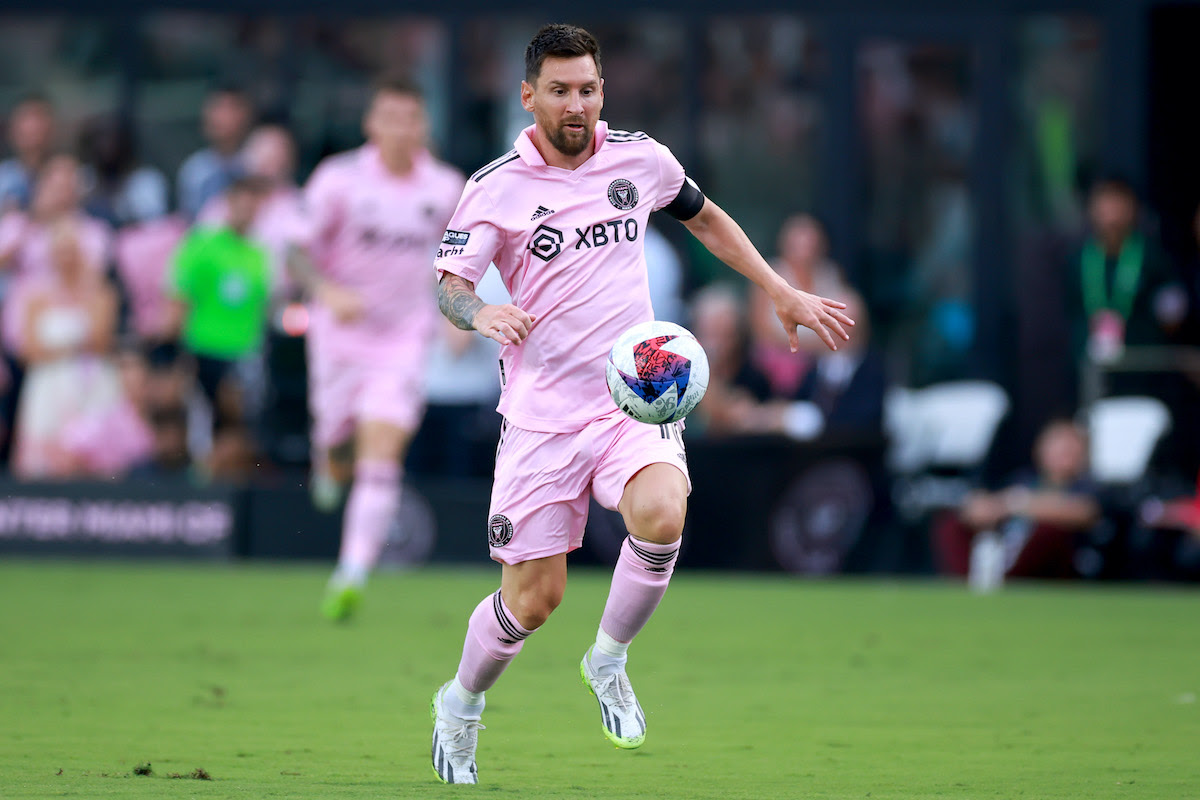 Inter Miami is Officially America's Soccer Giant After Lionel Messi (2 Goals, 1 Assist) Sparks 4-0 Rout in 1st Full Game
Fans waited 94 minutes in see Lionel Messi find the net in last Friday's debut. The wait wasn't as long in his second showing, and Inter Miami are officially a force to be reckoned with in North American soccer. In Tuesday's Leagues Cup match against Atlanta United FC, Messi scored two goals in the first 22 minutes of a masterclass performance. He added an assist early in the second half after a hockey assist late in the first, and Miami cruised to a 4-0 romp where Messi had a touch on every scoring play. Even though this was another Leagues Cup match, and not yet MLS regular season action, Atlanta is an MLS playoff team with a winning record. Inter Miami, the last-placed team in the MLS, just whooped a good club via the Messi effect. The GOAT now has three goals and one assist in two matches. The sky is the limit for Inter Miami.
Watch: Messi Strikes 2 Goals, 1 Assist in Inter Miami's 4-0 Blowout
With the win, Inter Miami earned their way into the knockout rounds of the Leagues Cup. Messi's first MLS regular season game will be Aug. 20.
Read More
CBS News: Messi Shines Again in 1st Inter Miami Start, Has 3 Goals in 63 Minutes
Miami Herald: Lionel Messi Changed Everything, Instantly. Nothing is Impossible Now for Inter Miami (Paywall)
______________________________________________________________________________________
NCAA
The Bronny Scare
Bronny James (LeBron James' Son) Suffers Cardiac Arrest at USC Training Facility, Now in Stable Condition
Tuesday's scariest story came early in the morning after news broke that Bronny James — the son of LeBron James — suffered a cardiac arrest Monday at USC's basketball practice. The 18-year-old incoming freshman was rushed to the hospital and spent the night in the ICU. He's since been released and in stable condition. James was a four-star recruit who committed to USC in May. The James family released a statement, and there was plenty of speculation about the future of LeBron's oldest son.
"Yesterday, while practicing, Bronny James suffered a cardiac arrest. The medical staff was able to treat Bronny and take him to the hospital… LeBron and Savannah wish to publicly send their deepest thanks and appreciation to the USC medical and athletic staff for their incredible work and dedication to the safety of their athletes." — James Family Statement
Sports & Cardiac Arrests
Bronny's incident was, by all accounts, the first cardiac episode in his sports career. The fact that he is such a high-profile figure brought plenty of media speculation surrounding the increase in cardiac arrests in sports. Damar Hamlin (Bills) and Christian Eriksen (Denmark) were two of the most notable athletes involved in on-field cardiac arrests in the last two years. Time will tell if there are underlying issues that prevent Bronny from continuing to compete, or if he'll return to basketball in due time.
Read More
The Athletic: Explaining Another Sports Cardiac Arrest After Bronny James Collapse
NBC News: Bronny James' Sudden Cardiac Arrest: What Is It & How Common Is It?
______________________________________________________________________________________
HIGHLIGHTS
FIFA Women's World Cup
Philippines def. New Zealand (1-0)
MLB
Pete Alonso Hits 2 HRs as Mets Throttle Yankees (9-3)
Braves Lose to Red Sox But Turn 1st Triple-Play of '23
Alec Bohm's Walk-Off Gives Phillies Comeback Win Over O's (4-3)
WNBA
Bonner Drops 32 as Sun Top Wings (88-83)
Ionescu Tallies Triple-Double in Liberty's 3rd Straight Win
Jordan Canada Hits Game-Winning 3, Sparks Beat Fever (79-78)
Plum (27), Wilson (24) & Gray (22) Combine for 73 in Aces' 6th Straight Win
Swimming
Katie Ledecky Ties Michael Phelps' Record With 1500M Title
______________________________________________________________________________________
STORYLINES

USWNT vs. Netherlands Scouting Report
The U.S. women's national team will face the Netherlands in each squad's second match of the 2023 World Cup on Wednesday night. The contest has huge implications for both teams. So who holds the edge? (FOX Sports)
The U.S. Senate introduced a bipartisan bill on Tuesday that would create a number of changes to the name, image, and likeness rights in college sports, including a national public registry of NCAA deals. (Bleacher Report)
How Herbert's Deal Sets Up Burrow's Bag
Chargers QB Justin Herbert's $52.5 million annual salary is the highest in the NFL… for now. The record-setting extension sets up a wealth of possibilities for Bengals QB Joe Burrow who will be able to aim for much more. (Sports Illustrated)
______________________________________________________________________________________
NEWS
______________________________________________________________________________________
TODAY'S SCHEDULE
The Must-Watch List
FIFA Women's World Cup
Japan vs. Costa Rica (Wed. 1:00 am ET)*
Spain vs. Zambia (Wed. 3:30 am ET)*
Canada vs. Ireland (Wed. 8:00 am ET)
USWNT vs. Netherlands (Wed. 9:00 pm ET)
Portugal vs. Vietnam (Thurs. 3:30 am ET)
Australia vs. Nigeria (Thurs. 6:00 am ET)
*Overnight Matches (Live Updates)
MLB
Reds at Brewers (2:10 pm ET)
Braves at Red Sox (7:00 pm ET)
Mets at Yankees (7:05 pm ET)
Rangers at Astros (8:10 pm ET)
Download The Sportsletter's Must-Watch Calendar
______________________________________________________________________________________
READER POLL
Question of the Day
Do you think the U.S. Women's National Team will beat the Netherlands tonight? (click to vote)
USWNT Wins by Multiple Goals (2+)
The Team's Predictions
Jeff: USA Wins (3-1)
Matthew: USA Wins (4-2)
Marissa: USA Wins (4-1)
Aaron: Draw (1-1)