Kickstart
07/24/2023
By: Jeff Yoder
Welcome Back
Friday brought the soccer. Sunday brought the hardware. We'll crown some champs over in Europe and relive Lionel Messi's magical Miami debut in today's edition. But first, let's kickstart Week 2 of the World Cup after the U.S. Women's National Team just found its next-gen superstar…
Letter Rip!
WORLD CUP
Kickstart: Smith Stars in USA Opener
Sophia Smith (2 Goals) Leads U.S. Women's National Team to Victory Over Vietnam (3-0) in World Cup Opener
It wasn't the eye-popping blowout many expected, but the U.S. Women's National Team cruised to a 3-0 win over Vietnam in Friday's World Cup opener. Sophia Smith kickstarted the USA's World Cup campaign with two goals in the opening half. The 22-year-old striker may have grabbed the reigns as the team's next-generation leader with Alex Morgan (34) and Megan Rapinoe (38) likely making their last World Cup runs. Lindsey Horan added an insurance goal in the second half (77'). And while it wasn't the 13-0 thrashing we saw from the USA against Thailand in the 2019 World Cup, they didn't allow a shot from Vietnam over the full 90 minutes. Next up? It's a rematch of the 2019 World Cup final when the USA takes on Netherlands Wednesday night.
Watch: USWNT Cruises Past Vietnam (3-0) Thanks to Sophia Smith's Breakout Brace
Women's World Cup Scoreboard
Sweden def. South Africa (2-1)
Netherlands def. Portugal (1-0)
Upcoming Match Schedule
Italy vs. Argentina (Mon. 2:00 am ET)*
Germany vs. Morocco (Mon. 4:30 am ET)*
Bravil vs. Panama (Mon. 7:00 am ET)
Colombia vs. South Korea (Mon. 10:00 pm ET)
New Zealand vs. Philippines (Tues. 1:30 am ET)
Switzerland vs. Norway (Tues. 4:00 am ET)
*Overnight Matches (Live Updates)
Full Group Standings After Matchday 1
U.S. Women's National Team Match Schedule
USWNT vs. Netherlands (Wed. 9:00 pm ET)
Read More
The Athletic: USWNT Goalscorer Sophia Smith is 'That Girl' And More
ESPN: Lindsey Horan May Be USWNT's MVP in World Cup of Transition
FOX Sports: Netherlands' Tight Win Sets Up Crucial Showdown With USWNT
______________________________________________________________________________________
GOLF
Harman Lights Up Liverpool
36-Year-Old American Brian Harman (-13) Wins 151st Open Championship in Runaway Fashion
Take a bow, Brian Harman! The 36-year-old American underdog dominated the 151st Open Championship this weekend at Royal Liverpool. Harman held a staggering lead before a solid rain-soaked clinching round (-1) on Sunday. While the links course at Hoylake tattered scorecards for some of golf's biggest names, Harman shot an unscathed 13-under to register a six-stroke win by Sunday's conclusion. He was hardly tested after Friday's 6-under 65 that put him 10-under and five shots clear of the field. The Georgia native had just two PGA Tour wins to his name despite a 14-year pro career, but he was the only golfer to avoid setbacks at The Open. No one else came within three strokes during the weekend, and no one else posted four consecutive rounds below par, either.
Harman's 1st Major: The stunning upset from Harman was the first major win of his career, and it was his first win of any kind since the Wells Fargo Championship in 2017 (six years). Harman was a 125-1 underdog at The Open, and his six-stroke win was the largest margin of victory for an American at The Open Championship since Tiger Woods in 2000 (8 strokes).
Open Championship (Final Leaderboard)
1. Brian Harman (-13)
T2. Tom Kim (-7)
T2. Sepp Straka (-7)
T2. Jason Day (-7)
T2. Jon Rahm (-7)
T6. Rory McIlroy (-6)
T6. Emiliano Grillo (-6)
Other Notable Scorecards: C. Young (-5), M. Homa (-4), T. Fleetwood (-4), H. Matsuyama (-3), V. Hovland (-3), X. Schauffele (-2), S. Im (-1), S. Scheffler (E), R. Fowler (E), J. Spieth (E), A. Scott (+1), P. Reed (+1), C. Smith (+1), P. Cantlay (+1) | Full Leaderboard
Watch: Brian Harman Dominates 151st Open Championship
Read More
USA Today: Brian Harman Dominates British Open, Wins 1st Career Major by Six Strokes
CBS Sports: Brian Harman Claims Claret Jug in Dominant Fashion at Royal Liverpool
Golf Mag: Brian Harman Dominated the Open Championship With Greatness & Grit
______________________________________________________________________________________
TOUR DE FRANCE
Repeat in Paris
Jonas Vingegaard Wins 2nd Straight Tour de France on Cruise Control in Stage 21
The 110th Tour de France belongs to Jonas Vingegaard! For the second straight year, the 26-year-old Danish rider touted the Yellow Jersey in his approach to Paris. Sunday's finale on Stage 21 was basically a ceremonial ride as Vingegaard was seven-plus minutes ahead of second place. Jordi Meeus won the final stage, but it was Vingegaard's day on the podium. Second-place Tadej Pogacar, the back-to-back winner from 2020-2021, won Stage 20 but finished 7 minutes and 29 seconds back. Aside from a Stage 18 collapse, Pogacar could've rode Vingegaard's heels to a dramatic finish. But there was no drama on the final stage in this one.
Back-to-Back History: Vingegaard is just the 21st cyclist to win the Tour de France multiple times. Four riders have won it a record five times, and Vingegaard could have his sights on that mark before his career ends. We might be seeing just the beginning of the Vingegaard (26) and Pogacar (24) rivalry for cycling supremacy.
Final Tour de France Results
1. J. Vingegaard (Jumbo-Visma) — 82h, 5m, 42s
2. T. Pogacar (UAE Team Emirates) — 82h, 13m, 11s
3. A. Yates (UAE Team Emirates) — 82h, 16m, 38s
4. S. Yates (Team Jayco Alula) — 82h, 18m, 5s
5. C. Rodriguez (Ineos Grenadiers) — 82h, 18m, 59s
Other Category Winners
Points: J. Philipsen (Alpecin-Deceuninck) — 377 points
Youth: T. Pogacar (UAE Team Emirates)
Climber: G. Ciccone (LIDL-Trek) — 106 points
Team: Jumbo-Visma (247 hours, 19 minutes, 41 seconds)
Watch: Stage 21 Finish: Jonas Vingegaard Repeats as Tour de France Champion
Read More
Reuters: Vingegaard Complets Tour Double as Meeus Pips Philipsen on Champs Elysees
ABC News: Danish Rider Jonas Vingegaard Wins the Tour de France for 2nd Straight Year
______________________________________________________________________________________
SOCCER
Messi's Instant Magic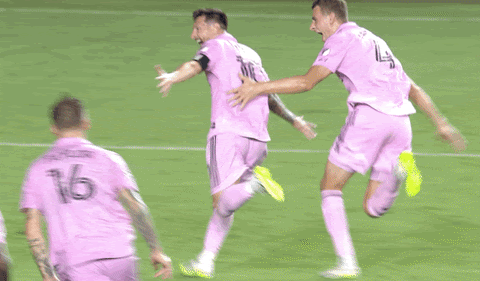 In Super-Sub Role, Lionel Messi Strikes Game-Winner at Celebrity-Packed Inter Miami Party
Just how it was scripted! The soccer world held its breath Friday night when Inter Miami played host to Cruz Azul in a Leagues Cup showdown. And while that matchup would've garnered little attention just a few months ago, one player can change things. The stars came out in droves — LeBron James, Serena Williams, Kim Kardashian, athletes, and actors aplenty — all to welcome Lionel Messi to America. It was less of a soccer game and more of a party until it mattered. The end result? A finishing touch that could only come from the GOAT himself. 
Messi's Magic Moment: Messi came on as a substitute in the 54th minute. The roars of the crowd at DRV PNK Stadium were deafening, especially for a last-placed MLS club in July. Forty minutes later, in the 94th minute of a 1-1 game, Messi earned a foul to set the stage for a magical moment. With stoppage time on its last legs, from 20 yards out, Messi was on the spot… He spun a left-footed curler into the net and stamped his Miami debut with a walk-off winner (2-1). Instant impact. Magic in Miami!
Must-See Moment
Messi Scores Free-Kick Winner in Inter Miami Debut
Watch: Full Messi Highlights From Inter Miami's Win Over Cruz Azul (2-1)
Messi's first MLS match will come tomorrow night (Inter Miami vs. Atlanta United FC, Tues. 7:30 pm ET).
Read More
Guardian: Messi's Inevitable Magic Seals Famous Night for Inter Miami & MLS
ESPN: Sports World Reacts to Lionel Messi's Inter Miami Debut
NY Times: Messi Was Already a Hit in Miami, Then He Stepped on the Field
______________________________________________________________________________________
HIGHLIGHTS
MLB
Freddie Freeman Hits 2 HRs, Dodgers Destroy Rangers (16-3)
Orioles And Rays Trade Punches But O's Retake AL East
Austin Riley Ties Braves Record With HRs in 5 Straight Games
Shohei Ohtani Hits League-Best 36th Home Run as Angels Stay Hot
Racing
F1: Max Verstappen Wins Hungarian GP for Record-Setting 12th Win in a Row
NASCAR: Denny Hamlin Earns 50th Career Win After Controversial Late Pass at Pocono
______________________________________________________________________________________
NEWS
______________________________________________________________________________________
TODAY'S SCHEDULE
The Must-Watch List
FIFA Women's World Cup
Italy vs. Argentina (2:00 am ET)*
Germany vs. Morocco (4:30 am ET)*
Brazil vs. Panama (7:00 am ET)
Colombia vs. South Korea (10:00 pm ET)
New Zealand vs. Philippines (Tues. 1:30 am ET)
Switzerland vs. Norway (Tues. 4:00 am ET)
*Overnight Matches (Live Updates)
MLB
Orioles at Phillies (6:40 pm ET)
Reds at Brewers (8:10 pm ET)
Rangers at Astros (8:10 pm ET)
Blue Jays at Dodgers (10:10 pm ET)