Ready for Wemby?
07/07/2023
By: Matthew Cahill
Happy Friday
After hearing about the Victor Wembanyama hype for over a year, we'll finally be able to see how he fares against NBA competition (kind of). While the summer league isn't quite the same as regular season action, we'll take it as additional NBA action in the summer. 
Letter Rip!
NBA
Wemby's Summer League Preview
Victor Wembanyama to Make Spurs Debut Tonight Versus Hornets (9:00 pm ET)
The day we've all been anticipating is finally here: The moment of truth. If you've been following basketball or tuning into any sports broadcast even a little bit, you've definitely heard of Victor Wembanyama, the 7'4" first-overall draft pick who can dribble and shoot like a guard while being an elite rim protector as well. You can't miss him when you see him on the court because he just looks different. That's the guy. Considering some have said he's a better prospect than LeBron was, it's safe to say that the stakes for his NBA debut are high.
Debut Hype
Basketball fans around the country are on the edge of their seats to see Wembanyama's debut. But no one is excited as Spurs fans – and rightfully so. A picture of him working out in a Spurs uniform recently surfaced on the Internet. As you could probably guess, fans collectively lost their minds at the first sight of Wembanyama in black and white. On Wednesday, the NBA announced via Twitter that tonight's game is sold out. In fact, this is projected to be the hottest in Summer League history.
Matchup Preview
Though the hype has been around Wembanyama, we can't attribute all the ticket sales to him. He is by no means the only storyline of this game. A good chunk of the hype is directed not towards not just Wemby alone, but his matchup. He will face the No. 2 overall draft pick out of Alabama: Brandon Miller. We've seen what Miller can do, which only makes this game all the more interesting. On Monday, Miller played 31 minutes and put up 18 points, five rebounds, three assists, one steal, and one block versus the Spurs sans Wemby.
Skill Comparison
Brandon Miller's biggest strength is his versatility. He has a great frame (6'9″, 200 lbs) with the potential to legitimately guard positions 1-5 at the NBA level. Offensively, he is still a little raw in terms of isolation scoring, but is definitely going to thrive in transition as well as catch-and-shoot opportunities upon arrival. Most people talk about Wembanyama's height and build as his claim to fame. And yes, 7'4" is a crazy height. But let's not overlook the fact that Miller has the perfect modern NBA body.
But when looking at Wemby, he is quite simply an anomaly. He towers over everyone on the court and has an incredible 8-foot wingspan. Typically, the concern with someone this tall is mobility and ball control. Can they move quickly and control the ball simultaneously? For Wemby, the answer is a resounding yes. Offensively, he doesn't have any prominent weaknesses in his game, as he's shown the ability to score on all three levels. On top of that, he's a great defender with the ability to completely shut off the rim. There's nobody else like him as we already mentioned.
Can they both live up to the hype? Will they both be busts? Will the pressure be too much? At the end of the day, all of these questions could be asked. The answers lie within this NBA season. And it starts with tonight's Summer League game.
U
NBA.Com: Victor Wembanyama Set to Make his Summer League Debut
SI: Brandon Miller's Summer League Struggles Draw Mixed Reactions From NBA Twitter
______________________________________________________________________________________
MLB
World Series Preview?
Tampa Bay Rays host Atlanta Braves in Three-Game Weekend Series
When you think about championship favorites in the 2023 MLB season, two teams likely come to mind: the Braves and the Rays. Baseball fans have been anxiously monitoring the Rays since their historic 13-0 winning streak to open the season. Even after a few losses, the Rays looked unstoppable. Compared to other teams with strong starts to the season, the Rays were leaps and bounds ahead in nearly every category. But as of late, their momentum has faltered and they've begun to cool off. Meanwhile, the Braves are embracing the Atlanta heat and going on a bit of a hot streak themselves. Regardless of each team's momentum, they both lead their division by at least five games, making this a must-watch matchup.
AL East vs NL East
Not only do both teams lead their division by impressive margins, but they also have similar win percentages on the season. The Braves boast a 58-28 record and a .674 win percentage while the Rays slightly trail with a 57-33 record and a .633 win percentage. However, the numbers start to differ when you look at their recent performances. Tampa has gone just 4-6 while Atlanta on the other hand has gone 9-1 in their last ten.
The Braves have jumped to No. 1 in the MLB Power Rankings heading into the All-Star break while the Rays have fallen (but only to No. 2). In their 27 games since June 2, Atlanta has batted over .300 as a team, averaging 2.5 home runs and 7 runs per game. In other words, they've been hot for over a month now. As we know, a 162-game baseball season is a marathon, not a sprint. When the Rays were hot from the first game, no one could expect that heat to last all season. In baseball, it's always a matter of getting hot at the right time.
October Preview?
As the numbers have shown, there are some similarities between the Rays and the Braves. But as we know, statistics don't always reflect ability. In this case, however, the teams carry similar strong suits. To simplify, they are both World Series favorites. This three-game series very well may be a preview of late October.
Read More
CBS Sports: Max Fried Injury Update: Braves Ace to Begin Rehab Assignment Sunday
SI: Wander Franco to Replace Aaron Judge on AL All-Star Team 
______________________________________________________________________________________
Wimbledon
UK Upset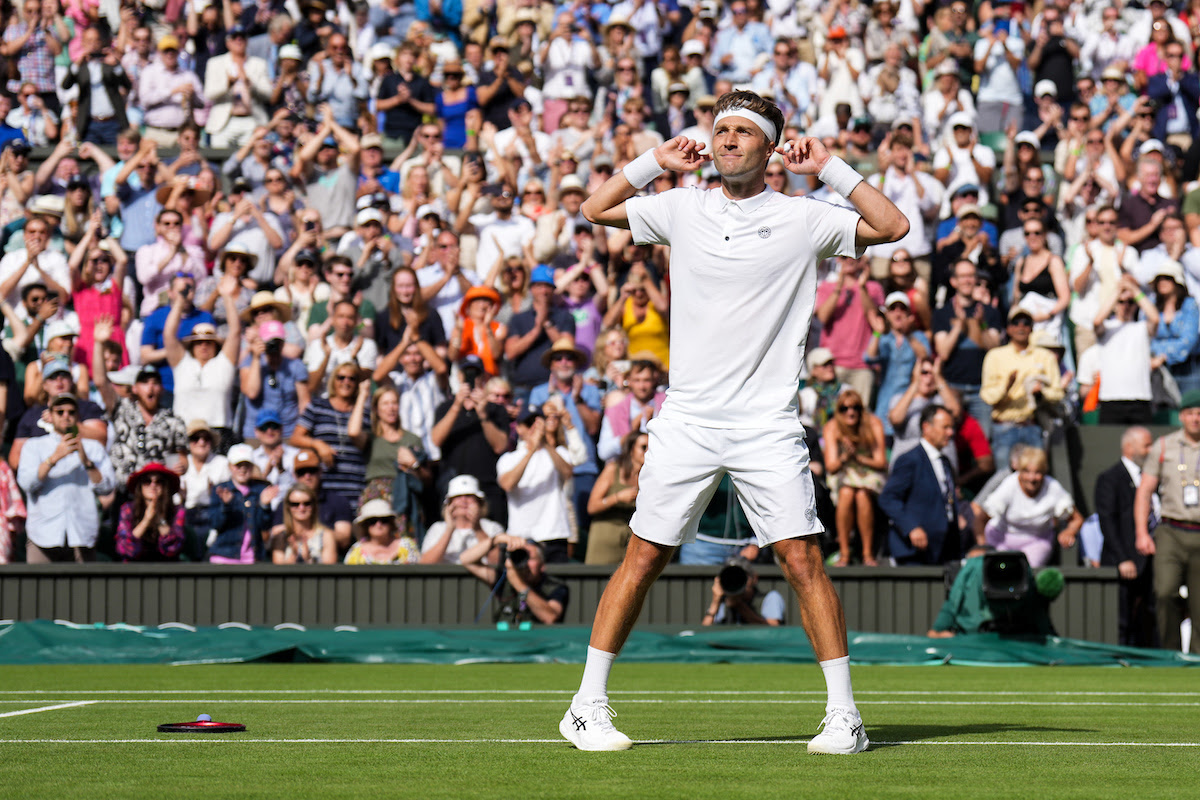 UK's Liam Broady upsets #4 Casper Ruud in Second Round at Wimbledon
Day 4 at Wimbledon proved to be the most upset-heavy day yet. Two top-10 players were knocked out on day 4, turning the tournament upside down. Casper Ruud (No. 4) and Taylor Fritz (No. 9) fell to Liam Broady (No. 142) and Mikael Ymer (unseeded), respectively.
Broady vs Rudd
Liam Broady beat No. 4 Casper Ruud in a five-set thriller. Broady took the first set before dropping the next two to Ruud. Then, Broady came back and took the last two sets, shutting Ruud out 6-0 in the final set.
First Set: 6-4 (Broady)
Second Set: 6-3 (Ruud)
Third Set: 6-4 (Ruud)
Fourth Set: 6-3 (Broady)
Fifth Set: 6-0 (Broady)
This victory marks Broady's first win versus a top-10 player. Ruud had a "first" too. Only his wasn't as celebratory. The defeat marked Ruud's first loss to an opponent ranked as low as No. 142.
Read More
Yahoo!: UK's Liam Broady Beats No. 4 Casper Ruud
AP: 3 Protesters Arrested at Wimbledon After Interrupting Matches by Throwing Confetti on Court
______________________________________________________________________________________
HIGHLIGHTS
MLB
Gunnar Henderson Goes 4-for-4 with two homers and five RBIs in Baltimore's 14-1 Beatdown on the Yankees
Red Stay Hot, Take Down Nationals in 10 Innings (5-4)
Rays Continue to Struggle, Fall to Phillies in 11 Innings (3-1)
Wimbledon
Liam Broady def. #4 Casper Ruud (6-4), (3-6), (4-6), (6-3), (6-0)
WNBA
______________________________________________________________________________________
STORYLINES
MLB Draft: Redrafting the 2013 Class 10 Years Later, With Astros Taking Aaron Judge at No. 1
The 2013 draft class has produced three MVP winners and plenty of other big names around the show today. If we knew then what we know now, Aaron Judge would have ended up on the Astros instead of the Bombers. See where other familiar faces would have ended up in this redraft. (CBS Sports)
______________________________________________________________________________________
NEWS