Revenge is (Bitter) Sweet 
07/27/2023
By: Jeff Yoder
Good Morning,
Not such a good morning for the U.S. Women's National Team. Their 13-match win streak in World Cup play has come to an end. Plus, Aaron Rodgers is changing the narrative and Shohei Ohtani is off-limits. Let's review.
Letter Rip!
WORLD CUP
Revenge Match: Horan Saves Draw for USWNT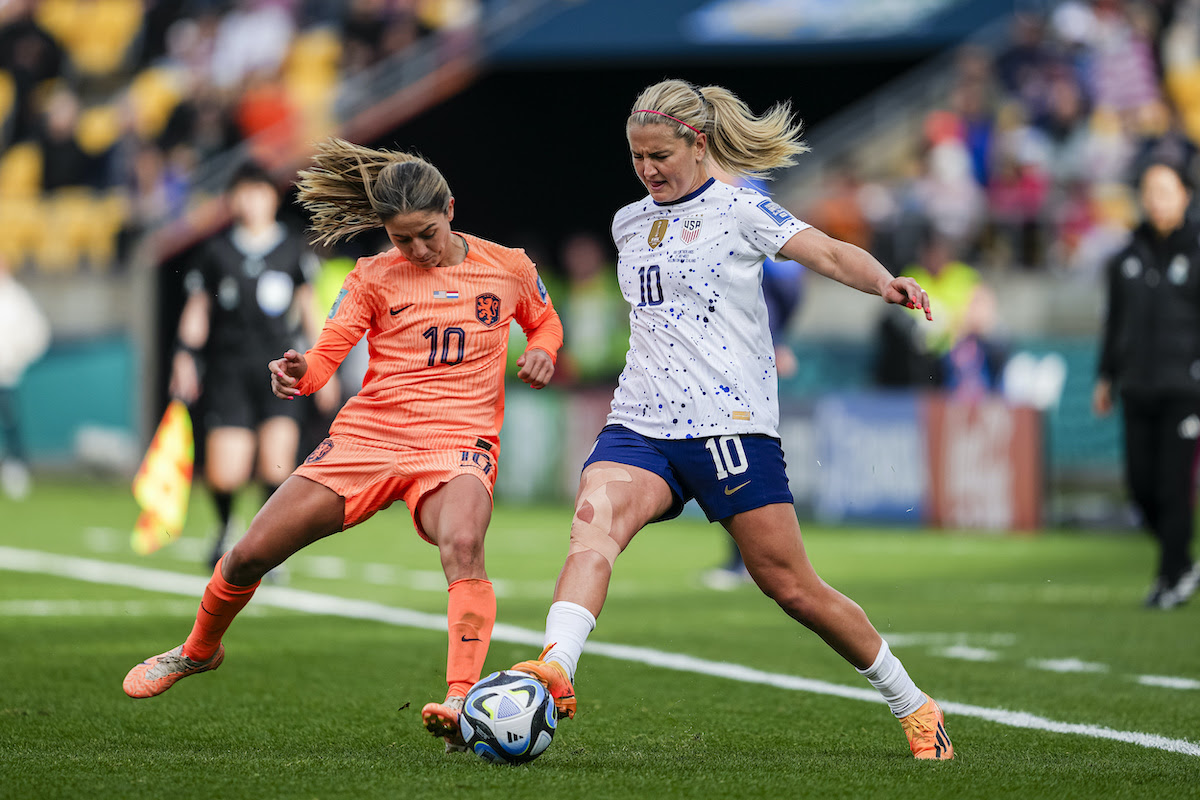 USWNT Salvages 1-1 Draw With Netherlands in Rematch of 2019 World Cup Final, But Tie Snaps 13-Game World Cup Win Streak
No cakewalks in this World Cup… The U.S. Women's National Team used every ounce of offense just to salvage a 1-1 draw with the Netherlands on Wednesday night in New Zealand, effectively ending a 13-match win streak in World Cup competition. It was a rematch of the 2019 Women's World Cup final, and the Netherlands got their revenge.
How Match 2 Played Out: The Dutch side was under attack all night long, but an early counter-strike by Jill Roord (17') gave the Netherlands a 1-0 advantage. It was their only shot on goal in the entire contest. Knowing the U.S. had the superior talent, the Netherlands seemed comfortable packing it in defensively. The U.S. finally answered on a header from Lindsey Horan (62') via a corner kick. They scored again on an Alex Morgan breakaway minutes later, but she was whistled offsides. Morgan, along with Julie Ertz and Rose Lavelle, made countless plays throughout the night, but the U.S. couldn't find the winning goal.
More Q's Than A's: The match ended in a 1-1 draw that leaves neither team advancing to the knockout stages just yet. And after two matches (1-1-0) with just four goals scored, the USWNT has more questions than answers.
Win Streak Snapped: The USA's 13-match World Cup win streak dating back to 2015 (scoreless draw against Sweden) is now over. They still haven't lost a World Cup match since the 2011 finals against Japan (penalty kicks).
USA vs. Netherlands Scoresheet
Shots: 18 (USA) | 5 (NED)
Shots on Target: 4 (USA) | 1 (NED)
Possession: 43% (USA) | 57% (NED)
Fouls: 13 (USA) | 15 (NED)
Corners: 11 (USA) | 1 (NED)
Watch: Lindsey Horan Saves 1-1 Draw for USWNT Against Netherlands
Group E Standings
USA: 4 Points | MP: 2 | 1-1-0 | GD: +3
Netherlands: 4 Points | MP: 2 | 1-1-0 | GD: +1
Portugal: 0 Points | MP: 1 | 0-0-1 | GD: -1
Vietnam: 0 Points | MP: 1 | 0-0-1 | GD: -3
Other World Cup Highlights & Scores
In Action Today/Tomorrow
Portugal vs. Vietnam (Thurs. 3:30 am ET)
Australia vs. Nigeria (Thurs. 6:00 am ET)
Argentina vs. South Africa (Thurs. 8:00 pm ET)
England vs. Denmark (Fri. 4:30 am ET)
China vs. Haiti (Fri. 7:00 am ET)
Final USWNT Group Stage Match
USA vs. Portugal (Tues. Aug. 1, 3:00 am ET)
Read More
Yahoo! Sports: Lindsey Horan Rescues USWNT With 2nd-Half Equalizer
ESPN: USWNT vs. Netherlands Player Ratings: Horan, Lavelle, Ertz Impress
B/R: 5 Takeaways From USWNT's 1-1 Draw With the Netherlands
______________________________________________________________________________________
NFL
Rodgers' Revenge: The Ultimate Team Player?
Take That, Packers… Aaron Rodgers Agrees to $35 Million Pay Cut in New Jets-Friendly Deal
Take what you thought you knew about Aaron Rodgers and trash it. Throw it out. Eradicate the narrative. The disgruntled, aloof and entitled quarterback held out on the Packers after delivering back-to-back MVPs with a disintegrating roster, then jumped ship for the spotlight of the Big Apple. Hate him if you want, but what Rodgers did on Wednesday shouldn't go unnoticed. The 39-year-old quarterback was guaranteed $110 million on his current contract that the Jets swallowed in order to bring him to New York. They also gave up significant compensation for a veteran at the end of his career. In light of the circumstances, Rodgers took a $35 million pay cut on Wednesday, down from $110 million guaranteed to $75 million over the next two seasons. That makes him the 12th highest-paid QB in the NFL (annual salary). Twelve!
"It's a curious move that possibly was driven by his desire to ingratiate himself fully and completely to Jets fans and media, while also giving yet another middle finger to the Packers." — Mike Florio, NBC Sports
Respect Over Cash: Tom Brady took a lowly two-year, $50 million contract when he left New England for Tampa Bay. The difference there was free agency — not a trade request — so Brady signed on with team-first intentions and instantly endeared himself to Bucs teammates and fans. Enter Rodgers, holding a guaranteed $110 million and an ego-driven media narrative, then tossing aside $35 million to be a team player. Brady's result? A Super Bowl win. It was never about the money for Rodgers in Green Bay. It was always about respect. And now, revenge.
New Contracts
Other Training Camp News
What to Watch at NFL Training Camps (The Ringer)
______________________________________________________________________________________
MLB
Angel Investors: Ohtani Off Limits
Angels Become Buyers: L.A. Takes Shohei Ohtani Off Trade Market, Lands RHP Lucas Giolito From White Sox
It's a no-go for the Big Sho! One of July's biggest MLB hot-stove rumors was a "will they/won't they" for the Angels — trade away the game's best player or compete for the postseason? We have an answer. The Halos reportedly took Shohei Ohtani off the market on Wednesday and became buyers for the 2023 postseason. Hours later, they landed White Sox ace Lucas Giolito to bolster their pitching staff, and they're going all in in Anaheim. It's a sigh of relief for the Angels faithful. Now, they need to catch the Rangers and Astros in the AL West, or a failed postseason berth could mean the end of the Ohtani era this offseason.
MLB Trade Deadline News
Other Trades
Twins Acquire RHP Dylan Floro from Marlins for RHP Jorge Lopez
Mariner Acquire RHP Trent Thornton from Blue Jays for INF Mason McCoy
MLB Quick-Hitters
Full MLB Standings | Full MLB Scoreboard
Thursday, July 27*
______________________________________________________________________________________
STORYLINES
2024 Paris Olympics: 1 Year Out
A look at the biggest storylines in Olympic sports with one year until the Opening Ceremony in Paris… (NBC Sports)
Spence vs. Crawford Will Make History
Errol Spence Jr. and Terence Crawford are set to make history in a rare welterweight unification bout on Saturday night. (CBS Sports)
What Jaylen Brown's Supermax Means
On Tuesday, the Celtics agreed to sign Jaylen Brown to the biggest contract in NBA history. So what does it mean for Boston and the NBA? (B/R)
______________________________________________________________________________________
NEWS
______________________________________________________________________________________
TODAY'S SCHEDULE
The Must-Watch List
FIFA Women's World Cup
Portugal vs. Vietnam (Thurs. 3:30 am ET)
Australia vs. Nigeria (Thurs. 6:00 am ET)
Argentina vs. South Africa (8:00 pm ET)
England vs. Denmark (Fri. 4:30 am ET)
China vs. Haiti (Fri. 7:00 am ET)
MLB
Cubs at Cardinals (7:45 pm ET)
WNBA
Dream at Liberty (7:00 pm ET)
PGA Tour
3M Open, Round 1 (7:45 am ET)
Download The Sportsletter's Must-Watch Calendar
______________________________________________________________________________________
POLL
Poll Results
Yesterday, we asked: What will be the result of the USWNT vs. Netherlands World Cup match? Only 17% of the team called the draw, along with our Social Media star, Aaron Yorke, who even called the 1-1 scoreline.
Draw — 17%
USWNT Win (or Blowout) — 66%
Netherlands Upset — 17%
Have an idea for a daily poll question?