Target Practice
07/14/2023
By: Jeff Yoder
Happy Friday
With tennis in the morning and a dry spell on major sports in the evening hours, Thursday was as dead as sports can get. Lucky for us, a big weekend is unfolding. Baseball's second-half push, Wimbledon's last three matches, the WNBA All-Star Game, and the official welcome party for Lionel Messi are all around the corner.
But first, our team took some target practice…
Letter Rip!
MLB
MLB 2nd Half: October Targets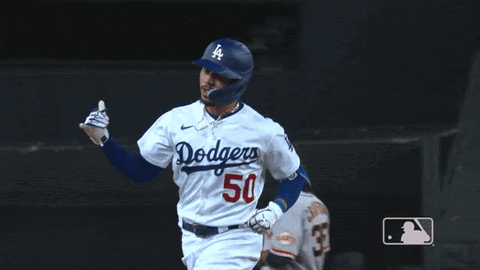 Baseball's 2nd Half: Who's Swinging for the Fences & Who Has What it Takes in the Hunt for October?
The 2023 MLB season is more than half gone, and baseball picks back up today for the playoff push following this week's All-Star festivities. We're roughly 90 games into the 162-game marathon, and we've learned a lot. Shohei Ohtani is a monster. Ronald Acuna Jr. has the Braves flying. But don't count out the loaded rosters in Los Angeles and New York. Twelve teams make the postseason, and we have a good guess as to who those teams might be. Let's take some target practice with a second-half prediction and tier-system rankings before games resume today.
Sunday Edition Alert
Baseball fans — This Sunday, we're analyzing how the MLB's new rules have panned out over the first half of the season. You can share The Sportsletter or support the team to join our exclusive Sunday newsletter list.
MLB 2nd-Half Team Outlooks
World Series Contenders (6)
Two clubs have stood out as the winners of the first half — the Braves (60-29) and the Rays (58-35). The third statistical juggernaut actually leads the league in offense, and that's the Rangers (52-39). The Yankees (49-42), Dodgers (51-38), and Astros (50-41) are the other three roster-loaded giants with Fall Classic-level talent and World Series aspirations. There may be better teams so far, but these six are the big guys.
Exciting & Hopeful Young Teams (6)
Another six teams have high hopes, but are they ready? The Orioles (54-35), Blue Jays (50-41), Mariners (45-44), Marlins (53-39), Reds (50-41), and Diamondbacks (52-39) are fiery young squads fully in the playoff hunt. All five feature a youth movement and a legitimate shot to make — and excel in — the postseason. Expect some of these teams to be buyers at the trade deadline, and they could surprise us in October.
Trade Buyers & Wild Card Territory (8)
Outside of the top dozen teams, a long list of franchises are fully capable of making late runs into the postseason. There are more veteran clubs still in the hunt who might require additional roster support via the trade deadline. They include the Guardians (45-45), Twins (45-46), Angels (45-46), Giants (49-41), Brewers (49-42), Phillies (48-41), Red Sox (48-43) and Mets (42-48). Don't count out a late turnaround from that other team from New York.
Trade Sellers & Missed Playoffs (6)
We can't definitively call these teams "sellers," since they also have young core players. They're unlikely to reach the postseason, and they're probably not yet ready to contend for a playoff spot. Expect to see some roster movement from these clubs — Cubs (42-47), Pirates (41-49), Padres (43-47), Tigers (39-50), White Sox (38-54), and Cardinals (38-52) — but it won't vault them into the playoffs.
See Ya Next Year… (4)
Label it however you see fit. The Nationals (36-54), Rockies (34-57), Royals (26-65), and Athletics (25-67) are done for in 2023. With few valuable assets to move and no prayer of a postseason bid, these teams are free win-boosters down the stretch for opponents.
Statistical Leaders
HR Race: S. Ohtani (LAA) — 32 HRs
Batting Title: L. Arraez (MIA) — .383 Avg.
Most Strikeouts: S. Strider (ATL) — 166 Ks
Best ERA: F. Valdez (HOU) — 2.51 ERA
Best Pitching Record: S. McClanahan (TB) — 11-1 W/L
The second half of the MLB season starts now.
Read More
CBS Sports: MLB's 2nd-Half Power Rankings
MLB: Unanimous Favorites for MVP in Newest Poll
ESPN+: First-Half Grades for All 30 MLB Teams
______________________________________________________________________________________
WIMBLEDON
Czech, Please
Marketa Vondrousova Becomes 1st Unseeded Finalist at Wimbledon Since Billie Jean King (1963)
It's David vs. Goliath in the women's finale at Wimbledon! No. 6 Ons Jabeur fought off #2 Aryna Sabalenka in Thursday's early match before unranked Marketa Vondrousova made tennis history. With her straight-set victory over Elina Svitolina, Vondrousova became the first unseeded women's finalist in 60 years. The last to do it? Billie Jean King (1963). The 24-year-old Czech challenger won seven consecutive games during one stretch of the semis, and she'll now get a crack at Jabeur on Saturday. Both women are gunning for their first grand slam title. On the men's side, the stars are aligning for another Djokovic-Alcaraz clash, but we'll find out this morning.
Women's Singles Highlights (Semifinals)
#6 O. Jabeur def. #2 A. Sabalenka (6-7, 6-4, 6-3)
M. Vondrousova def. E. Svitolina (6-3, 6-3)
Men's Semifinals Schedule (Today)
#2 N. Djokovic vs. #8 J. Sinner (8:30 am)
#1 C. Alcaraz vs. #3 D. Medvedev (10:30 am)
Men's Final: Sunday (TBD)
Read More
Yahoo! Sports: Unseeded Marketa Vondrousova Makes Wimbledon Finals History
FOX News: Carlos Alcaraz Admits Father Likely Filmed Novak Djokovic Practice Session
______________________________________________________________________________________
SOCCER
Messi Welcome Weekend
Miami Rolls Out the Red Carpet to Welcome Lionel Messi
The G.O.A.T. has landed, and unless you're a no-go on social media platforms, you've seen the hype growing. All across Miami, sports fans are gearing up in a variety of ways for the arrival of Lionel Messi, arguably the greatest soccer player to ever live. A brewing company turned his Inter Miami jersey into the label for a new beer called GOAT10. An Argentinian artist painted a giant Messi mural in the arts district with help from team owner David Beckham. From street signs to restaurant walls and custom jerseys, Messi is everywhere, and he hasn't stepped foot on the pitch.
Messi Welcome Weekend
In case you forgot, the 36-year-old Argentinian super-icon announced his decision to join Inter Miami of the MLS on June 7. His first match will be on July 21 (next Friday), but he arrived in the U.S. on Tuesday. The official Messi presentation, dubbed 'The Unveil', will take place on Sunday (8:00 pm ET) at halftime of the Concacaf Gold Cup Final between Mexico and Panama. The club announced there will be live entertainment and a variety of speeches for the most highly anticipated player unveiling in Miami since 'The Decision' with LeBron James in 2010.
You can expect an increase in our MLS coverage in the days ahead. However, Inter Miami is currently dead last in the league. With the addition of Messi, Miami is also targeting some of his old Barcelona teammates and soccer legends, including Jordi Alba, Sergio Busquets, and Andres Iniesta. We'll see if the club's fortune changes overnight.
Read More
ESPN: Messi Lands in U.S. Ahead of Inter Miami Unveiling
The Ringer: The 'Vice City' Guide to Lionel Messi in Miami
______________________________________________________________________________________
STORYLINES
Down the stretch they come… The second half of the MLB season kicks off today. So what's in store for baseball after an intriguing start to 2023? Let's take stock of the first half and make some predictions. (CBS Sports)
NFL Training Camp Battles to Watch
Training camps are just around the corner in the NFL, which means fantasy draft season is just around the corner as well. Savvy fantasy managers are well aware that the former can have a major impact on the latter. (Bleacher Report)
The Rise of Jake Paul the Boxer
How does an online celebrity turn digital fame into game-changing clout? Boxing did more than help a popular YouTuber grow beyond the viral video. It led him to focus his life on a mission to remake combat sports. (SI Daily Cover)
______________________________________________________________________________________
NEWS
______________________________________________________________________________________
WEEKEND SCHEDULE
The Must-Watch List
If you think it's a slow sports weekend, think again! The MLB resumes for the second half of the regular season alongside the Wimbledon finales, Tour de France, WNBA All-Star festivities and more. Oh, and Messi Mania. Here's what we're watching this weekend:
Wimbledon (Women's Final)
#6 O. Jabeur vs. M. Vondrousova (Sat. TBD)
Wimbledon (Men's Semifinal)
#2 N. Djokovic vs. #8 J. Sinner (Today, 8:30 am)
#1 C. Alcaraz vs. #3 D. Medvedev (Today, 10:30 am)
Men's Final: Sunday (TBD)
Tour de France
Friday: Stage 13 (7:30 am)
Saturday: Stage 14 (6:55 am)
Sunday: Stage 15 (6:55 am)
WNBA All-Star Weekend
Friday: 3-Point & Skills Challenge (4:00 pm)
Saturday: All-Star Game (8:30 pm)
MLB Series to Watch
Dodgers-Mets Series
Astros-Angels Series
Marlins-Orioles Series
Concacaf Gold Cup Final
Mexico vs. Panama (Sun. 7:30 pm)
*Messi Welcome Show at Halftime
*All Times ET