The Damian Lillard Conundrum 
07/06/2023
By: Matthew Cahill
Welcome Back,
It's been a bit, hasn't it? The Sportsletter team is back from our holiday break and ready to get into all that's happened since last Friday. Most notably, the status of superstar Damian Lillard's trade request.
Letter Rip!
NBA
The Damian Lillard Conundrum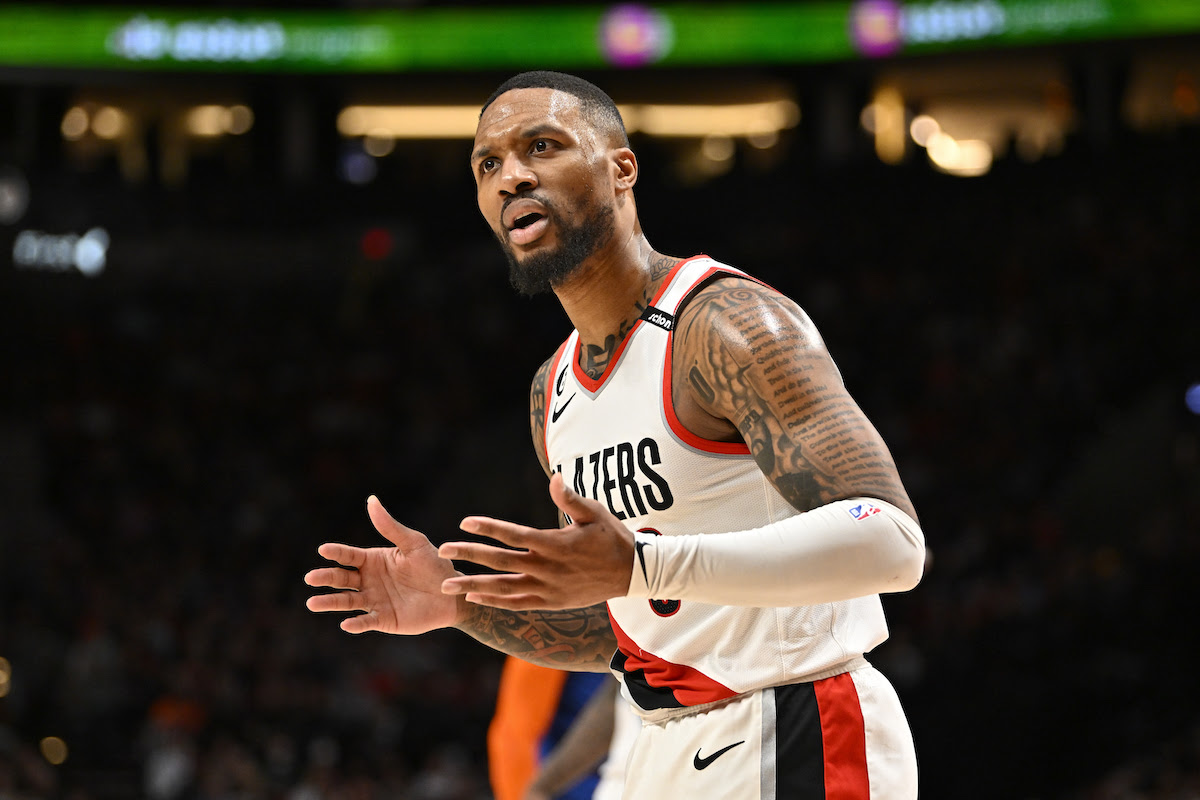 Damian Lillard Officially Requests Trade from Portland, Heat are Current Frontrunners to Land Him
The moment we've all been waiting for has finally arrived. Portland has been in no man's land since their conference finals appearance in 2019 and has been wasting some of the best years of Damian Lillard's career. After the front office signified that they are more focused on acquiring youthful talent than building a contender by drafting Scoot Henderson with the third pick in the draft, Dame had enough and formally requested a trade this past weekend. According to sources, Lillard has his eyes set on the Miami Heat, as it's the only preferred destination of the disgruntled superstar.
The Roadblocks in a Potential Deal to Miami
Just because Miami is the clear frontrunner in the Dame sweepstakes doesn't mean getting this deal done is is going to be a smooth process. While the Heat are for sure a desirable destination, they clearly don't have a very compelling offer. With young guards like Anfernee Simons and Scoot Henderson on the roster, Miami's only young piece on their roster, Tyler Herro, is not exactly what Portland is looking for. Besides Herro, the Heat really only have salary-filler players like Kyle Lowry to round out the trade package. In terms of draft compensation, they have two available first-round picks as well. So despite Miami being the spot where Lillard wants to go, it's clear that other teams have better young prospects, draft capital, or both to offer instead. When you take into consideration that Blazers GM Joe Cronin said they are strictly looking for the best haul they can get for their star, regardless of which team can provide it, Pat Riley is going to have to work some magic if he wants to pull this off.
In order to make this a reality, the Heat are going to have to get a third team involved to try and meet Portland's requests. Brooklyn is rumored to be a potential third team that could help build the rest of the framework, but things are far from complete. While we think that a deal to Miami is ultimately going to get done, it'll likely drag out over the upcoming days to weeks. Buckle up for what should be a long and painful process.
Read More
Yahoo!: Why Damian Lillard Makes so Much Sense for the Miami Heat
BR: Over 5 Teams Interested in Multi-Team Trade amid Heat Buzz
______________________________________________________________________________________
NBA
Free Agency Rewind 
A Look at the Biggest Transactions Since June 30th
It feels like free agency is a season of its own in the NBA. Ever since the market officially opened at 6 pm ET on June 30th, Woj and Shams have been tweeting endlessly updating us about all of the transactions. It can be a bit overwhelming trying to keep up, but you know we have you covered with everything you need to know thus far.
Stars Staying Home
While the NBA is usually known for top free agents signing with new teams in the offseason, this year looks like it's going to be much quieter than others. The reason? Most of the top stars on the market are electing to return to their teams. Just hours after free agency opened this past Friday, it was announced that Kyrie Irving, Khris Middleton, Kyle Kuzma, Cam Johnson, and Draymond Green were all signing extensions to stay home. As the weekend progressed, many young stars like LaMelo Ball, Tyrese Haliburton, and Anthony Edwards signed max extensions with their respective teams. Even Kristaps Porzingis, who was just traded to the Celtics a couple of weeks ago, signed a two-year extension with his new team.
Notable Players Who Signed Extensions
Kyrie Irving (DAL) | three years, $126M
Draymond Green (GSW) | four years, $100M
Khris Middleton (MIL) | three years, $102M
Brook Lopez (MIL) | two years, $48M
Kristaps Porzingis (BOS) | two years, $60M
Tyrese Haliburton (IND) | five years, $260M
LaMelo Ball (CHA) | five years, $260M
Anthony Edwards (MIN) | five years, $260M
Desmond Bane (MEM) | five years, $207M
Domantas Sabonis (SAC) | five years, $217M
Kyle Kuzma (WAS) | four years, $102M
Austin Reaves (LAL) | four years, $56M
Rui Hachimura (LAL) | three years, $51M
D'Angelo Russell (LAL) | two years, $37M
Jerami Grant (POR) | five years, $160M
Jakob Poetl (TOR) | four years, $80M
Russell Westbrook (LAC) | two years, $8M
Players on the Move
Of course, it wouldn't be NBA free agency without some notable names switching teams. Fred VanFleet got a head-scratching three-year, $128.5M contract from the Houston Rockets. While he is a solid guard with an All-Star appearance, Fred will be making more than superstars like Kyrie Irving, Jayson Tatum, and Devin Booker. Houston also signed Dillon Brooks to a four-year, $80M deal as well in a clear effort to try and become competitive for the first time since James Harden left in early 2021. Speaking of trying to become competitive, Bruce Brown is heading to the Pacers on a two-year, $45M deal. This move is undoubtedly an overpay for Indiana, but it isn't quite as egregious as the VanFleet deal. Brown is a much better fit next to Tyrese Haliburton, as he has proven with Jokic that he can thrive off the ball. Looking elsewhere, the Cavs, Suns, Knicks, and Mavs all did a nice job adding complementary pieces to their rosters.
Notable Players Who Switched Teams
Fred VanFlett (TOR) → Rockets | three years, $128.5M
Dillon Brooks (MEM) → Rockets | four years, $80M
Bruce Brown (DEN) → Pacers | two years, $45M
Max Strus (MIA) → Cavaliers | four years, $63M
Eric Gordon (LAC) → Suns | two years, $6M
Yuta Watanabe (BRK) → Suns | one year, $2.3M
Donte DiVincenzo (GSW) → Knicks | four years, $50M
Seth Curry (BRK) → Mavs | two years $9.26M
Grant Williams (BOS) → Mavs | four years, $53M
The Biggest Winner So Far: Los Angeles Lakers
Heading into free agency, Austin Reaves, Rui Hachimura, and D'Angelo Russell were all set to hit the market. Many thought the Lakers were going to have some tough decisions to make in regard to who they wanted to keep from this trio. They not only brought all three rotational pieces back, but they also somehow were able to steal Gabe Vincent from the Heat and Jaxon Hayes from the Pelicans. Vincent is coming off of an extremely successful run to the Finals with Miami and Hayes will serve as a great innings-eater at the center position to keep Anthony Davis healthy throughout the year. On top of that, they also signed Cam Reddish from Portland. Although Reddish hasn't quite lived up to expectations in the NBA through his first four seasons, he is another low-risk high-reward project, very similar to Hachimura when he joined the team last year. If LeBron and AD can stay healthy (we know that's a big if), this team might be able to make a run at dethroning Denver this coming season.
Players to Keep Your Eyes on
A lot of the dust has settled around the league, but be sure to continue monitoring James Harden and Jaylen Brown's current situations. Harden recently opted into the final year of his deal and notified the Sixers he'd like to be traded, while Jaylen Brown and the Celtics are still discussing a potentially massive contract extension in the range of $300 million.
Read More
NBA: Every Free Agency Deal, Extension & Trade for all 30 Teams
USA Today: NBA Free Agency Winners and Losers
______________________________________________________________________________________
MLB
Fallen Angels
Angels Suffer Three Injuries in 24 Hours Amid Struggles (by Marissa Kasch)
For most, July 4th was filled with fun, family, food, and fireworks. But for the Angels, it was anything but celebratory. It's no secret that the Angels have been struggling at the plate this season, despite Ohtani leading the MLB in home runs. Recent injuries to Mike Trout and Anthony Rendon only complicate this problem. Trout broke his left hamate bone in his wrist during Monday's loss to the Padres. He was placed on the 10-day injured list following his exit. However, Trout underwent surgery Wednesday and is expected to return in 4-8 weeks.
To make matters worse, Anthony Rendon suffered a left shin contusion after fouling a ball off his leg in Tuesday's loss to the Padres. He later walked out of the clubhouse on crutches and said he could put some weight on his foot, but it was painful.
There is no doubt that Angels fans are frustrated with these injuries, but they aren't the only ones. After Tuesday's game, Rendon shared his frustrations. "It's almost comical. It's just frustrating," Rendon said. "I don't know what to do. I'm lost." When asked if he would be put on the IL, Rendon said he didn't know yet, but it wasn't looking good. Rendon has been on and off the IL all season, which explains his disappointment with his latest injury.
Ohtani's Setback
Though not as concerning as the injuries to Trout and Rendon, Shohei Ohtani is battling his own problems. Ohtani had to exit in the sixth inning of Tuesday's loss due to a blister on his right middle finger despite being on extra rest. The affected finger is the same one that suffered a cracked fingernail last week. Unfortunately for the Angels, his finger is proving to be a recurring problem, even after extended rest. Ohtani will still hit, but it is unlikely that we will see him on the mound until after the All-Star Break.
Trade Deadline
The Angels couldn't be suffering these injuries at a worse time: They are in the midst of fighting for the final Wild Card spot and are currently on the outside looking in. Now, the trade deadline is rapidly approaching while rumors about an Ohtani trade intensify. 
After the trade deadline, there isn't much time to catch up: It's when baseball gets real. Unfortunately for the Angels, August 1 is coming quickly while they're stuck in a downward spiral.
Read More
CBS Sports: Angels' Mike Trout: Undergoes Hamate Surgery
Yahoo!: Shohei Ohtani, Anthony Rendon Exit Early After Mike Trout hits IL
______________________________________________________________________________________
HIGHLIGHTS
MLB
Elly De La Cruz Hits a 455-Foot Nuke in Reds' Victory Over Nationals (9-2)
Ha-Seong Kim Makes Incredible Diving Stop After Ball Ricochetes off of 1B Jake Cronenworth in Padres' Victory Over Angels (5-3)
Marlins Win on a Wild Walk-Off (10-9) Thanks to Jordan Hicks Throwing Error
Cubs Rally, Score Three Unanswered in the Ninth to Stun Brewers (4-3)
Mark Canha Hits Game-Winning Go-Ahead Triple in top of the Ninth to lead the Mets to Victory Over the Diamondbacks
 WNBA
Breanna Stewart Drops 43 Points in Liberty's win over Mercury (99-95)
______________________________________________________________________________________
STORYLINES
2023 NFL Quarterback Rankings by Tiers
Nothing better than some good old rankings to get through the offseason. This tier list has some interesting placements that are bound to ruffle a few feathers. (CBS Sports)
______________________________________________________________________________________
NEWS