Sinking Ship
08/17/2023
By: Jeff Yoder
Good Morning,
Shortly after Aaron Judge hit an AL record 62 home runs last fall, the Yankees lost in the ALCS. They brought everyone back and gave Judge a 9-year, $360 million contract. I didn't think I'd be writing this story nine months later, but here we are… On the deck of disaster. The Yankees stink.
Letter Rip!
______________________________________________________________________________________
MLB
Sinking Ship: What Sank the Yanks?
Yankees Swept by Braves in Shutout (2-0), Lose 5th Straight to Drop Below .500 for 1st Time in 2023
We were keeping a daily tracker on Aaron Judge's pace for home-run history around this time last year. New York was leading the AL East, and the Yankees — as always — had sky-high postseason expectations. Those World Series aspirations were no different to start 2023. They brought back Judge on a 9-year, $360 million deal, added pitching help and had promising young players to boot. Fast forward to this summer, and the Yankees are a disaster.
After a 2-0 shutout against the Braves last night, where Charlie Morton tossed 10 Ks and delivered the knockout punch, New York is below .500 for the first time all season. It was their fifth straight loss, their second straight shutout loss, and likely the end of any remaining postseason hopes. They went 2-7 in their nine-game road trip, and the Red Sox are waiting tonight in the Bronx. Get ready for Boo York. The ship is sinking.
What Sank the Yanks?
In short, injuries. New York was 11 games above .500 at the end of May, but Judge — and a few others — missed significant time over the last two months. Even without Judge, the monolithic Yankee empire shouldn't have crumbled like this. Manager Aaron Boone has been tossed more than dough at a Bronx pizzeria (six ejections to be exact). They're in complete disarray, and their division is the toughest in baseball. New York is dead last in the AL East. They're ten games back of the final Wild Card with 41 games to play.
AL East Standings
Orioles (74-47)
Rays (73-50)
Blue Jays (67-55)
Red Sox (63-57)
Yankees (60-61)
If the Yankees Finish Below .500?…
That would be downright historical. Some of you reading this weren't born the last time the Yankees finished a season below .500. That's how rare it is to see baseball's most iconic franchise fail. The last time New York finished a season below .500 was 1992 (76-86). And the last time they were below .500 this late in a season was 1995. They've failed to miss the playoffs just four times since then, appearing in the postseason 24 out of 28 campaigns.
Captain of the Ship: Who's Next?
Buck Showalter revitalized the Yankees from 1992-1995 after a forgetful decade in the 80s, but it was Joe Torre who delivered four World Series titles in the next five years (1996-2000). Torre went from 1996-2007 without ever missing the playoffs. Then came Joe Girardi (2008-2017) to bring the Pinstripes back to glory in 2009. But in Boone's last five years, the Yankees have reached the playoffs all five seasons and never made it to the Fall Classic. Now, they're on the edge of the wrong side of history. Boone has six weeks to save the ship, or they'll be a new captain in the Bronx.
Read More
ESPN: Yankees Swept by Braves, Fall Below .500 for 1st Time in 2023
Yahoo! Sports: Yankees Haven't Been Below .500 This Late in a Season in 3 Decades
______________________________________________________________________________________
MLB Quick-Hitters
______________________________________________________________________________________
WORLD CUP
England's Eminence
England Uses Late Goals to Propel Past Australia (3-1) to Reach 1st World Cup Final
It's Europe's time! England is heading to the women's World Cup finale after an exciting semifinal clash with the host nation Wednesday morning. Australia used every ounce of the home crowd to fuel a valiant effort, but a 1-1 game quickly turned 3-1 in England's favor in the final 20 minutes. The game featured two of the best goals in the entire tournament, and maybe World Cup history. And for the first time since 2007 (Germany), a European nation will win the FIFA Women's World Cup. It'll be England vs. Spain for the title of world champs on Sunday morning. Here's how the semifinal played out:
(36') Toone Starts Tea Time: The first goal of the semifinal was an upper-90 rifle from Ella Toone to kickstart the scoring for England. Toone blasted a one-timer on a back-pass from the end-line to put England up, 1-0.
(63') Kerr's Crazy Curler: With Australia struggling to find chances, superstar Sam Kerr took a counter-attack 1-vs-3 and ripped a 25-yard miracle strike. It was arguably the greatest goal of the 2023 tournament, potentially the greatest in women's World Cup history.
England Down the Stretch: In the end, England were too strong and too clinical. Lauren Hemp was gifted with a mishandled ball in front of the net in the 71st minute. And after Kerr missed an open equalizing opportunity for the Aussies, Hemp found Alessia Russo (86') for the dagger (3-1).
The All-Europe Final: Both England and Spain are into the World Cup final for the first time in team history. It's the first all-Europe final since 2003 (Germany vs. Sweden), and the first time ever the top three won't include the United States.
Watch: England Beats Australia (3-1) for 1st WC Final Bid
2023 FIFA Women's World Cup (Final Weekend)
3rd-Place: Australia vs. Sweden (Sat. 4:00 am ET)
Final: England vs. Spain (Sun. 6:00 am ET)
Read More
FOX Sports: England's Aggressive Approach With Sam Kerr Pays Off
ESPN: Ruthless England End Australia's Dream World Cup Run to Reach Final
SI: The Matildas Forever Changed Soccer in Australia After Wild Women's World Cup Run
______________________________________________________________________________________
GOLF
Playoff Tracker: 50 → 30
BMW Championship: The 2nd Round of FedExCup Playoffs Tees Off This Morning
From 50 to 30! Golf's "Last Man Standing" playoff reaches its second cut-line this weekend at the BMW Championship. A mere 50 players will tee off today at Olympia Fields Country Club. Only 30 will be playing at the Tour Championship next weekend at East Lake. For 20 golfers, this weekend will be their last of the year. The final 30 in FedExCup Playoff points will be seeded with starting strokes next weekend, so the BMW Championship represents the last big points grab. Jon Rahm (1st), Scottie Scheffler (2nd) and Rory McIlroy (3rd) are in charge, but Lucas Glover (4th) has won two straight events. The winner of the BMW Championship gets $3.6 million and a 2,000-point boost. Let's play some more knockout golf.
1. Jon Rahm (3,386 points)
2. Scottie Scheffler (3,238 points)
3. Rory McIlroy (2,954 points)
4. Lucas Glover (2,885 points)
5. Patrick Cantlay (2,643 points)
BMW Championship Tee Times (Featured Groups)
10:10 AM: J. Spieth & S. Im
10:54 AM: P. Cantlay & M. Homa
11:10 AM: R. McIlroy & L. Glover
11:21 AM: B. Harman & T. Fleetwood
12:54 PM: J. Day & C. Morikawa
1:27 PM: V. Hovland & W. Clark
1:38 PM: J. Rahm & S. Scheffler
*All Times ET
Read More
GolfWeek: BMW Championship Odds, Course History & Winner Picks
PGA: Lucas Glover's Time to End as Chalk Will Rise at BMW Championship
______________________________________________________________________________________
NFL
Preseason Punches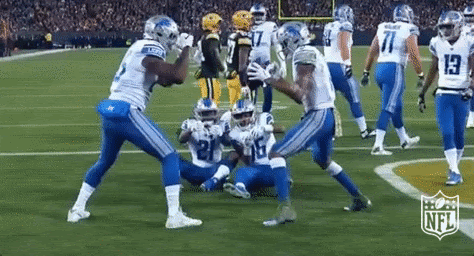 Multiple Fights Break Out at Joint Practices Before Preseason Week 2
The brutality of the NFL is on full display this week as teams switch from training camp shells to full-padded joint practices. The throw-downs are imminent. Multiple teams are engaged in scrimmage-style practices this week with their Week 2 preseason opponents. The Eagles and Browns have been going at it this week with Philly reportedly taking "cheap shots" at QB Deshaun Watson before tonight's Week 2 opener (7:30 pm ET). The Rams and Raiders had a brawl after a big fight that got RB Cam Akers kicked out of practice. The Bengals and Jets had a full-on brawl last week. It's chippy, but kind of fun. If only they were open to the media. Ten teams are in joint-practice setups this weeks, so expect the fights to keep coming.
Notable Fight Fallouts
Read More
Pat McAfee Show: NFL Joint Practices Mean Fights Are Happening (Video)
USA Today: NFL Teams on High Alert for Brawls as Joint Practices Gear Up
______________________________________________________________________________________
Preseason Injury Report
______________________________________________________________________________________
STORYLINES
Buying or Burying MLB Fringe Teams
With six weeks and change left in the 2023 regular season, it's clear enough which teams are the year's top contenders. Harder to sort, though, are the contenders on the fringes. (Bleacher Report)
How NBA's New CBA Changes Rebuilds
Stockpiling cap space isn't really viable under the league's new collective bargaining agreement. Is the Houston Rockets' aggressive offseason spending a sign of things to come? (The Ringer)
NFL owners are succeeding in taking more power back from the players. From a new personal conduct policy to a few high-profile contract disputes, management is playing hardball against labor. (Sports Illustrated)
______________________________________________________________________________________
NEWS
______________________________________________________________________________________
SCHEDULE
The Must-Watch List
FedExCup Playoffs
BMW Championship, Round 1 (9:00 am ET)
NFL Preseason Week 2
Browns at Eagles (7:30 pm ET)
MLB
Yankees at Cardinals (7:15 pm ET)
Diamondbacks at Padres (9:40 pm ET)
Brewers at Dodgers (10:10 pm ET)
WNBA
Liberty at Aces (10:00 pm ET)
______________________________________________________________________________________