Pocket Aces 
10/19/2023
By: Jeff Yoder
Good Morning
We've got hardware on a Thursday! The 2023 WNBA season came to a close with a rebound falling into the hands of A'ja Wilson, and the Las Vegas Aces have done it again. The best regular season in WNBA history concludes with a trophy ceremony. Dynasty in the making?
Letter Rip!
WNBA FINALS
Pocket Aces
Las Vegas Aces Win Game 4 Thriller (70-69) to Become WNBA's 1st Back-to-Back Champions in 21 Years
Make it a pair for the Las Vegas Aces! The WNBA champions were crowned on Wednesday night in New York after the Aces held off the Liberty (70-69) in Game 4. Vegas rallied from a double-digit deficit in the first half to take a six-point lead late in the game. New York made key stops in the final two minutes to have a chance, but Courtney Vandersloot's would-be game-winner missed the mark as time expired. It's the first time in 21 years.
Pocket Aces—Back-to-Back: Las Vegas set the WNBA regular-season record for wins in 2023 (34), and they went 8-1 in the postseason. They're the first team to go back-to-back since the 2001-02 Los Angeles Sparks.
Liberty Losses in the Finals: The Liberty are now 2-10 in WNBA Finals games and still searching for the franchise's first title. They've reached the Finals five times but failed to win. The 2023 league MVP, Breanna Stewart, was held to just 10 points on 3-for-17 shooting for New York.
A'ja Wilson Wins Finals MVP: In a battle of the super-teams, the 2022 league MVP secured her first Finals MVP award with a 24-point, 16-rebound performance in the closeout game. Wilson and co. were without the 2022 Finals MVP, Chelsea Gray, due to a foot injury.
Super-Team Prediction: The Aces and Liberty were the top-two teams all season long, and there's no reason to think either roster will fall apart. Both teams boast a "Big 4" and this might've just been Round 1 of a multi-year WNBA Finals rivalry-in-the-making.
Watch: Aces Hold Off Liberty in Game 4 (70-69) to Win Back-to-Back WNBA Titles
Read More
Yahoo! Sports: A'ja Wilson, Aces Fend Off Liberty to Win Back-to-Back Titles
Sporting News: Is Las Vegas the Best WNBA Team Ever? Aces Establish Dynasty With WNBA Finals Win
______________________________________________________________________________________
MLB PLAYOFFS
'Stros Still Swinging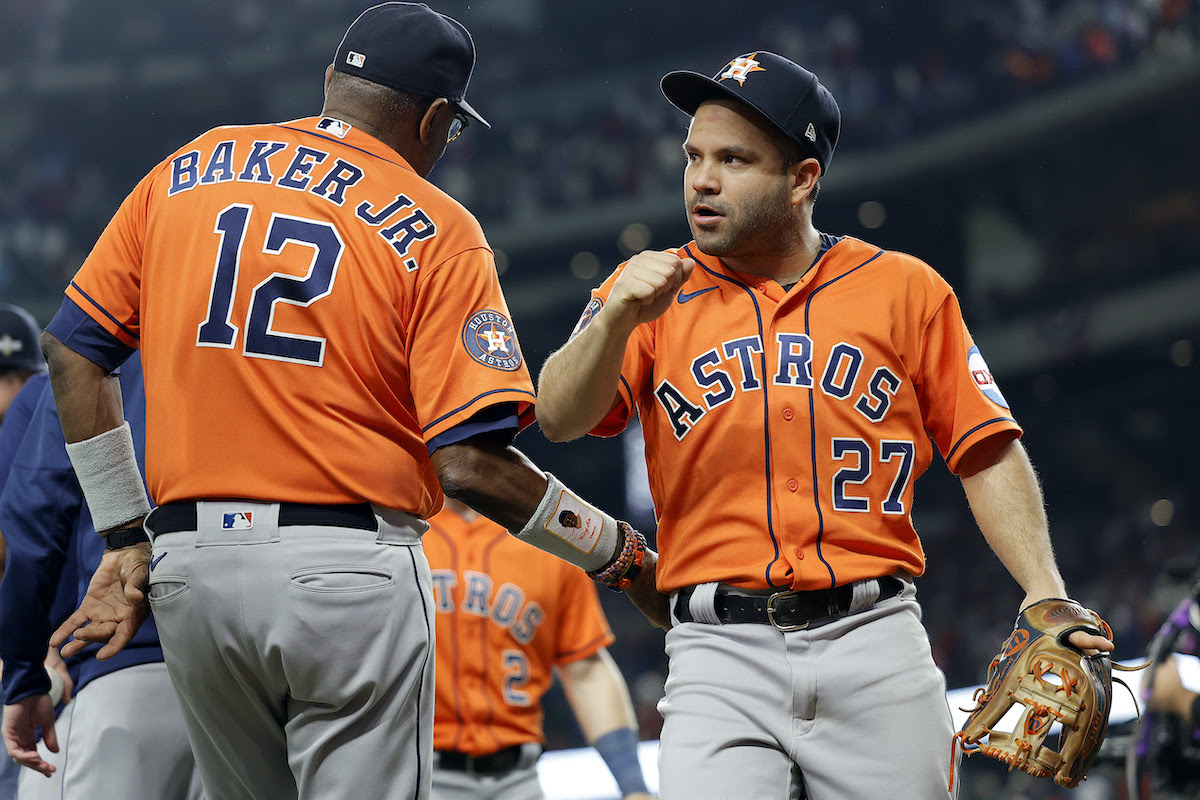 Astros Shred Scherzer to Take Game 3 of ALCS (8-5), Hand Rangers 1st Loss in October
We've got a series! Wednesday marked the first time this October the Texas Rangers lost a playoff game, and it came with Max Scherzer on the mound. The Astros punched back in Game 3 with a critical win to keep the series alive and avoid a 3-0 deficit. Houston put up a three-run 2nd inning before Jose Altuve's solo shot in the 3rd that inched him closer to history (see below). The Astros rung up five runs on Scherzer before he was pulled. Texas put forth a valiant effort to make it a game thanks to a 2-HR night from Josh Jung, but the 'Stros never relinquished the lead. Christian Javier was good enough on the mound for Houston, logging 5.2 IP, 3 Ks, 3 Hits and 2 ER. And instead of 3-0 at Globe Life Field, the Astros have a chance to take it back to Minute Maid Park with an all-square series.
Altuve Chasing History
Jose Altuve was hitless in the ALCS before the 3rd inning on Wednesday night. His solo home run on Tuesday was the 25th postseason blast for the 33-year-old. He's just four back of Manny Ramirez (29) for the all-time playoff HR record in MLB history. Only two other players have 20-or-more — Bernie Williams (22) and Derek Jeter (20).
Watch: Astros Take Game 3 Over Rangers (8-5)
TEX Leads Series (2-1)
Tonight's Schedule
NLCS Gm 3: Phillies at D-Backs (5:07 pm ET)
PHI Leads Series (2-0)
ALCS Gm 4: Astros at Rangers (8:03 pm ET)
TEX Leads Series (2-1)
Read More
USA Today: Astros Awaken With ALCS Game 3 Conquest Over Rangers
CBS Sports: Astros' Bats Come to Life in Game 3 Win Over Rangers
______________________________________________________________________________________
HIGHLIGHTS
NHL: Red-Hot Red Wings Off to Hot Start
Alex DeBrincat had two goals and an assist to help lead the Red Wings to a 6-3 win over the Penguins on Wednesday. Detroit is now 3-1 with 19 goals through four games. The Red Wings have missed the postseason for seven straight years. Turnaround season?
NBA: Jordan Poole Drops 41 in 3 Quarters
New Wizards star Jordan Poole lit the NBA preseason on fire Wednesday night with 41 points (six 3s) in just three quarters of play. Poole was acquired by Washington this offseason, but he's already stepping into his new role as the star of D.C.
______________________________________________________________________________________
STORYLINES
Purdue's Zach Edey, North Carolina's Armando Bacot, Kansas' Hunter Dickinson and Duke's Kyle Filipowski were all voted CBS Sports Preseason First Team All-Americans, which means 80% of our First Team Stands 6-foot-11 or taller. (CBS Sports)
It's been an odd season in general when trying to decipher who belongs at the top in this parity-drenched league. Right now, though, there are a handful of one-loss teams entering Week 7. (Bleacher Report)
FC Cincinnati's Rise to the Top
In its previous three years of existence, Cincinnati had been on the business end of plenty of beatdowns after they were awarded an expansion team in the MLS in 2018. Now, they're MLS' best with the Supporters' Shield in hand. (ESPN)
______________________________________________________________________________________
NEWS