They Are Who We Thought They Were
11/20/2023
By: Jeff Yoder
Welcome Back
It's a short week ahead with Thanksgiving on the horizon. But before you head out and leave your email behind, the next few days are cooking up a sports appetizer you won't want to miss. It's Eagles at Chiefs tonight on Monday Night Football in a Super Bowl LVII rematch, and it's projected to be the most-watched NFL game of the year. There's also a batch of ranked college basketball matchups from Hawaii. Let's rewind the weekend before today's big slate (bottom of today's edition).
Programming Note: The Sportsletter will not be sent from Thursday (Nov. 23) to Sunday (Nov. 26). We'll return to your inbox on Monday (Nov. 27).
Letter Rip!
NFL
'They Are Who We Thought They Were'
Lions, Dolphins & Texans Among Teams That Overcame Adversity and Answered the Bell in Week 11
"They are who we thought they were!" The famous Dennis Green line rings true on the morning after Week 11 Sunday in the NFL. A dozen matchups delivered some opportunities for teams we pegged as playoff contenders to solidify that title. Four did just that with blowout wins — the Cowboys (+23), 49ers (+13), Bills (+26) and Jaguars (+20). Then, there were three teams who had to grind out a victory despite some adversity. The Dolphins, Lions and Texans avoided upsets with second-half pushes… the way playoff teams should. Those three made us believers. Overall, seven out of 12 Sunday games were decided by one score, and that made for some exciting finishes. Here are five key storylines from some teams claiming big wins to start their holiday stretch run.
1. Cowboys' Bland Ties NFL Record With 4th Pick-6
The Cowboys smoked the Panthers (33-10) and CB DaRon Bland came away with his NFL record-tying fourth pick-6 of the 2023 season. Dallas improves to 7-3, and its their sixth 20-point win of the season.
2. Stroud Extends Win Streak Despite 3 INTs
The Texans were 21-16 winners over the Cardinals for their third straight win. QB C.J. Stroud overcame a career-high 3 INTs (he had 2 INTs all season before Sunday) to still earn the win.
3. Lions Are 8-2 for 1st Time Since 1962
The Bears gave the Lions a run for their money, but Detroit notched their third straight win thanks to a fourth-quarter comeback that included 17 points in the final frame. The Lions beat the Bears (31-26), and they're 8-2 for the first time in the Super Bowl era.
4. Purdy Has Perfect Passer Rating for 49ers
Forgot about Brock Purdy? The Niners quarterback posted a perfect passer rating on Sunday (158.3) as San Francisco handled Tampa Bay (27-14). Purdy was 21/25 with 333 yards and 3 TDs. He's the first QB in 49ers history with more than 20 attempts and perfect passer rating.
5. Bills Blast Jets to Separate AFC East
Buffalo had a big question mark hanging over their heads after losing four of their last six, but a monster win over the Jets put them back above .500 (6-5) and in full control of their own destiny down the stretch. Josh Allen (275 yards, 3 TDs, 1 INT) bounced back, and the Bills defense forced the Jets to bench QB Zach Wilson.
A number of big-name players were hit with critical injuries in Week 11. Some of them could be season-enders, and a lot required a cart ride to the locker room. Here are some of the high-profile victims of major injuries: DE Joey Bosa (Chargers), RB Aaron Jones (Packers), RB Kenneth Walker III (Seahawks),
NFL Week 11 Scores & Highlights
Giants def. Commanders (31-19)
Monday Night Football (Tonight)
Eagles at Chiefs (8:15 pm ET, ESPN)
Read More
CBS Sports: Browns Sign Veteran QB Joe Flacco to Roster
Yahoo! Sports: Cowboys' DaRon Bland Ties NFL Record With 4th Pick-6 of the Season
B/R: Russell Wilson Leads GW Drive, Broncos Win 4th Straight Game
ESPN: NFL Week 11: Biggest Questions, Risers & Takeaways From Sunday
______________________________________________________________________________________
CFB
Seminole Setback: FSU's Misfortune
#5 Washington Earns Big Win & #4 Florida State Loses QB Jordan Travis, Setting Up a Potential CFB Playoff Twist
The CFB Playoff picture got its first major plot twist on Saturday between the #4 and #5 teams when a season-altering injury shifted the landscape of college football. #4 Florida State lost QB Jordan Travis to a gruesome leg fracture. The injury most certainly ends his season, and maybe FSU's playoff hopes. Despite a 58-13 win over North Alabama, the 11-0 Seminoles dropped in the AP Poll (from #4 to #5) following #5 Washington's narrow win over #11 Oregon State (22-20). We'll wait for the CFB Playoff committee to reveal this week's rankings on Tuesday night to find out how they see FSU's future given the circumstances. Elsewhere, #1 Georgia and #2 Ohio State were big winners while #3 Michigan outlasted a tough test against Maryland for the program's 1,000th victory. We're one step closer to bowl season.
CFB Scores & Highlights
#1 Georgia def. #18 Tennessee (38-10)
#2 Ohio State def. Minnesota (37-3)
#3 Michigan def. Maryland (31-24)
#4 Florida State def. N. Alabama (58-13)
#5 Washington def. #11 Oregon State (22-20)
#6 Oregon def. Arizona State (49-13)
#7 Texas def. Iowa State (26-16)
#8 Alabama def. Chattanooga (66-10)
#9 Missouri def. Florida (33-31)
#10 Louisville def. Miami (38-31)
New AP Top-10: 1. Georgia (11-0), 2. Ohio State (11-0), 3. Michigan (11-0), 4. Washington (11-0), 5. Florida State (11-0), 6. Oregon (10-1), 7. Texas (10-1), 8. Alabama (10-1), 9. Louisville (10-1), 10. Missouri (9-2) | Full Top-25
______________________________________________________________________________________
NBA
NBA Rewind: 5 Stars & Heat Checks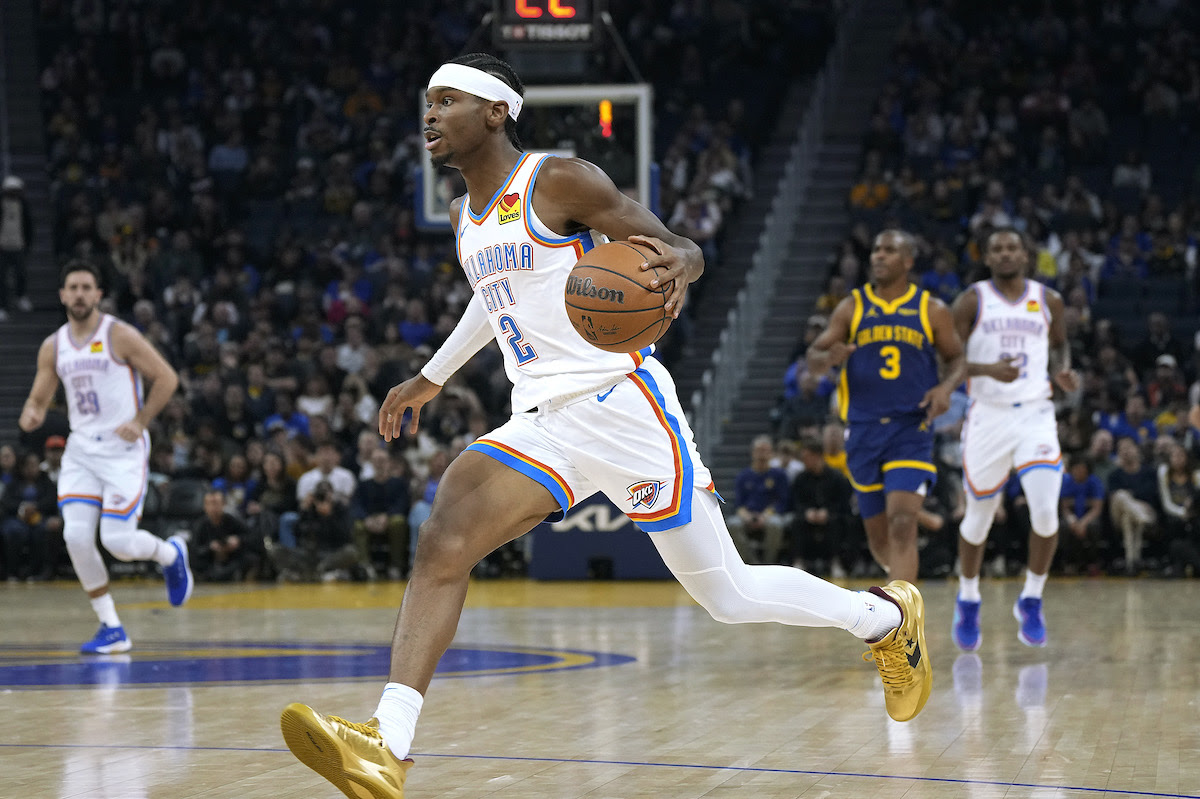 SGA, Giannis, LeBron & Other Superstars Pour In Big Nights Across NBA as Some Teams Finding Their Strides
The first month of the NBA season is in the books, and a busy weekend on the hardcourt produced a handful of standout performances. Eight teams are riding win streaks of three games or more, including the Celtics and Kings on six-game heaters. On this Monday morning, we'll pack a weekend full of games into the top-5 performances, including three 40-pieces, Kevin Durant's back-to-back 39-point nights, and a vintage 37 from LeBron that included game-winning free throws. That man simply does not age. NBA rewind:
️ 5 Stars of the Weekend
De'Aaron Fox (SAC): 43 pts, 8 rebs, 7 asts
*Fox 1 Shy of Career-High as Kings Sweep Weekend
Giannis Antetokounmpo (MIL): 40 pts, 15 rebs, 7 asts
*Bucks Beat Doncic & The Mavs (132-125)
Shai Gilgeous-Alexander (OKC): 40 pts, 7 rebs, 6 asts
*Thunder Stun Warriors in OT Thriller (130-121, OT)
Kevin Durant (PHX): 39 pts, 8 rebs, 10 asts
*Durant Scored 39 in 2 Games This Weekend
LeBron James (LAL): 37 pts, 6 rebs, 8 asts
*LeBron Beats Rockets at the FT Line (105-104)
NBA Heat Check (Win Streaks)
Boston Celtics (W6)
Sacramento Kings (W6)
Oklahoma City Thunder (W5)
Milwaukee Bucks (W4)
Phoenix Suns (W3)
Cleveland Cavaliers (W3)
Orlando Magic (W3)
New York Knicks (W3)
______________________________________________________________________________________
HIGHLIGHTS
Lightning Round
F1: Verstappen Conquers Inaugural Vegas GP
The first-ever Las Vegas Grand Prix was a spectacle to behold late Saturday night. Max Verstappen — who else? — won the inaugural event in a dramatic finish, beating out Charles Leclerc and Sergio Perez despite a penalty and a minor collision. It was Verstappen's record-extending 18th win of the Formula 1 season.
GOLF: Ludvig Aberg Ties 72-Hole PGA Record
We don't frequently give much love to the PGA Tour slate this time of year, but Ludvig Aberg made us pay attention this weekend. The 25-year-old Swede torched the St. Simons Island Course (Georgia) over the weekend at the RSM Classic, carding back-to-back 61s on the 3rd and 4th rounds to tie the PGA Tour's 72-hole record (253 strokes).
NHL: Flyers on 5-Game Winning Streak
Don't look now, but the Philadelphia Flyers own the NHL's longest active win streak after two victories in 24 hours on Saturday and Sunday. The Flyers topped the Golden Knights in overtime (4-3) thanks to Sean Couturier's OT winner before slamming the Blue Jackets (5-2).
______________________________________________________________________________________
NEWS
______________________________________________________________________________________
SCHEDULE
Today's Must-Watch List
Monday Night Football
Eagles at Chiefs (8:15 pm ET, ESPN)
NBA
Knicks at Timberwolves (8:00 pm ET)
Clippers at Spurs (8:00 pm ET)
NHL
Bruins at Lightning (7:00 pm ET)
Flames at Kraken (10:00 pm ET)
Concacaf Nations League
USMNT vs. Trinidad & Tobago (7:00 pm ET, TNT)
NCAAM (Maui Invitational)
#7 Tennessee vs. Syracuse (2:30 pm ET, ESPN2)
#2 Purdue vs. #11 Gonzaga (5:00 pm ET, ESPN2)
#1 Kansas vs. Chaminade (8:00 pm ET, ESPNU)
UCLA vs. #4 Marquette (11:30 pm ET, ESPN2)